President Obama's YouTube-hosted endorsement of Hillary Clinton has accumulated an extroardinary amount of dislikes in the short time since publication, while comments on the video appear to have been disabled.
The video's like-to-dislike ratio currently stands at 48,873 dislikes to 18,790 likes. Whether the video is being downvoted by Trump fans or disgruntled Bernie supporters is unclear. What is clear is that the video isn't very popular.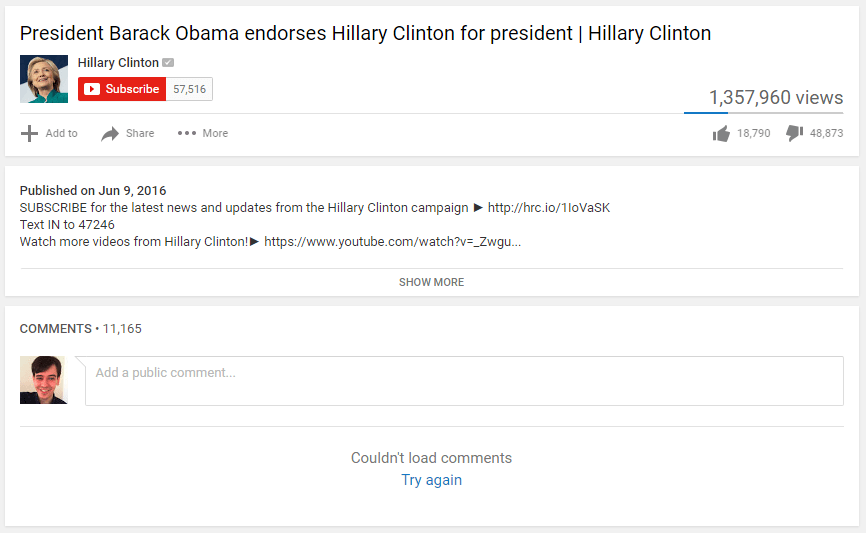 At the time of writing, comments underneath the President's endorsement do not load. YouTubers disabling comments to avoid an embarassing deluge of criticism is not new, of course — unpopular progressives like Anita Sarkeesian disable comments underneath their videos as a standard practice.
In this case, comments appear to have gone down after initially being switched on. As seen above, the comment count stands at 11,165 — but none of them can be read.
Compared to her most prominent rivals, Bernie Sanders and Donald Trump, Hillary Clinton's campaign has not been marked by a great deal of enthusiasm on the web. The Reddit community for Clinton supporters, for example, has a mere 17,500 subscribers — compared to more than 143,000 for Donald Trump and over 235,000 for Sanders.
With those numbers, it's little wonder that a pro-Clinton video is performing poorly. Hiding the criticism, however, is unlikely to improve the situation for the presumptive Democratic nominee.
You can follow Allum Bokhari on Twitter, add him on Facebook. Email tips and suggestions to abokhari@breitbart.com