Thunder Dungeon, a popular Facebook comedy page with over 400,000 likes, has become the latest victim of Facebook's bizarre and unexplained suspension wave.
The page, like many others, frequently received lots of people reporting its content either accidentally or for fun, but earlier this week the page's owner received a gut-wrenching notification in his inbox informing him of Facebook's action.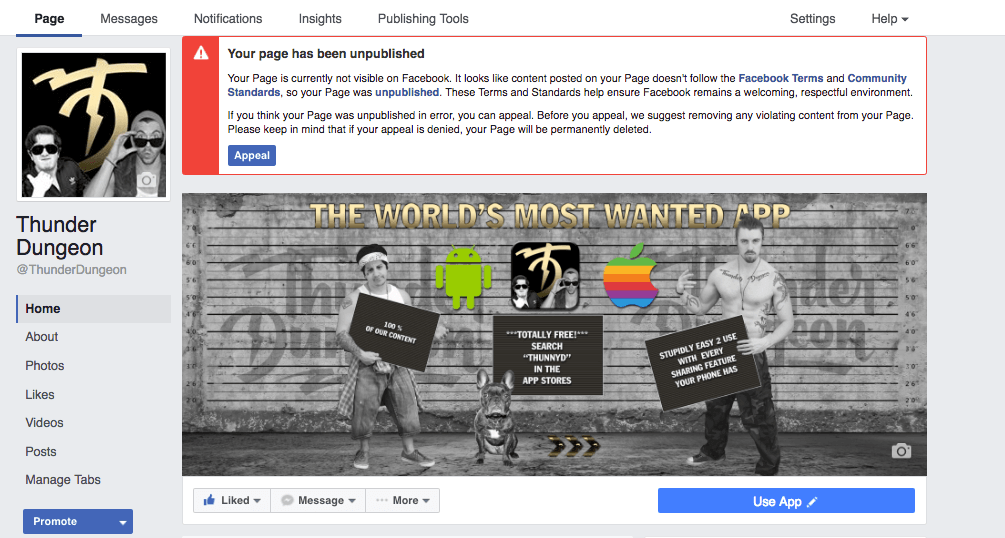 "Coming from a business background, I knew that if we didn't directly control the platform, we had to play by their rules. We built our own apps and started migrating our audience over. But since Facebook is so socially relevant, it has become such a large part of our business (and everyone elses) that we can't ignore," said the page owner in an email to Breitbart Tech.
"They make massive ad revenues off of our content and in return we get access to their audience/reach to grow our brand. It should be a mutually beneficial relationship. However, even after you follow everyone of their 'subjective' rules, investing your time (and money), they sporadically ban whomever they feel like."
As the page has been "unpublished" instead of removed or suspended, it technically still exists on Facebook's servers, however no one can actually see or access it.
The page had over 405,000 likes at the time of being unpublished, and although they have been in touch with Facebook's customer support, the problem still remains unresolved.
Dozens of Facebook's top comedy pages have banded together this month as part of an anti-censorship revolt in response to the social network's unexplained waves of content deletion and suspension.
One of the revolt's organizers, Devin Shire, decided that he had had enough of Facebook's arbitrary censorship after a picture he uploaded portraying the rapper Drake as a Nintendo 64 controller was removed for being against the "community standards," and the revolt has since been joined by hundreds of fellow frustrated page owners with audiences of up to a million likes.
Thunder Dungeon has launched a temporary backup page and is currently in contact with representatives at Facebook. We will update this story accordingly.
Charlie Nash is a reporter for Breitbart Tech. You can follow him on Twitter @MrNashington or like his page at Facebook.