Live-streaming personality Phillip "Phizzurp" Klemenov was killed in a fatal car crash on October 2, 2016. He was 24 years old. The former member of H2K — a professional Call of Duty e-sports team — had amassed more than 6 million views on his increasingly popular Twitch channel, and the sudden loss of his life has rocked the community that interacted with him on a daily basis.
On October 10, Klemenov's funeral service was live-streamed on his channel by family member Yan Gorshtenin, in order to give his thousands of dedicated fans the opportunity to attend:
Memorial service for Phillip Klemenov (Phizzurp). All donations go directly to our family. Please, if you have any memories or anything you'd like to share about Phillip, post it on our family Facebook page: https://www.facebook.com/Phizzurp-Phillip-Klemenov-Family-1650568101900648/
Subscribed viewers were permitted to pay their respects in the integrated chat room during the service, which was restricted to subscribers-only mode in order to minimize the chances of Twitch community members from disrupting the event.
Unfortunately, some particularly dedicated sociopath(s) still made it their mission to invade. During the live stream of the service, one of the chat's administrators was hacked in order to flood attendees with this repeated message: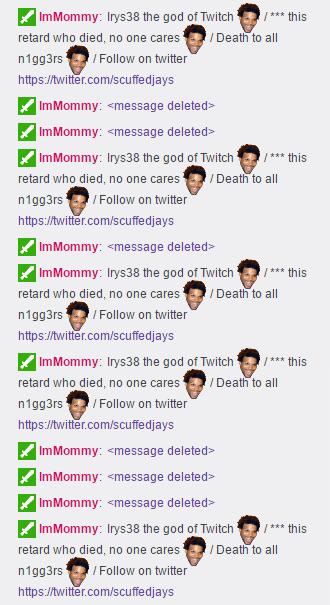 The person behind the linked Twitter account has categorically denied involvement — apparently while having his Twitter account hacked as well. As of now, however, he still has yet to delete any of the multiple racial epithet-laden posts.
The coarse actions of a few have failed to sway those who wished to pay tribute to Klemenov. As of the time of this writing, the videos of his funeral have been viewed more than 54,000 times. So far, donations for the funeral expenses have raised over $18,000. In addition, gaming website UMG will be hosting a $10,000 memorial tournament in Phizzurp's honor.
Follow Nate Church @Get2Church on Twitter.