Facebook's Messenger application will now monitor users conversations and suggest music to listen to based on artists and bands that they mention while talking to other users.
The Verge reports that Facebook Messengers smart assistant M will now be suggesting music to users based on their conversation habits. When music is brought up in a conversation, M takes note of this and suggests to play the music through Spotify, M also looks for keywords such as "play some music" or "listen to music" in Messenger. If a specific artist is played, M offers to play that artists music through Spotify via a prompt at the bottom of the screen which can be seen in the photo below,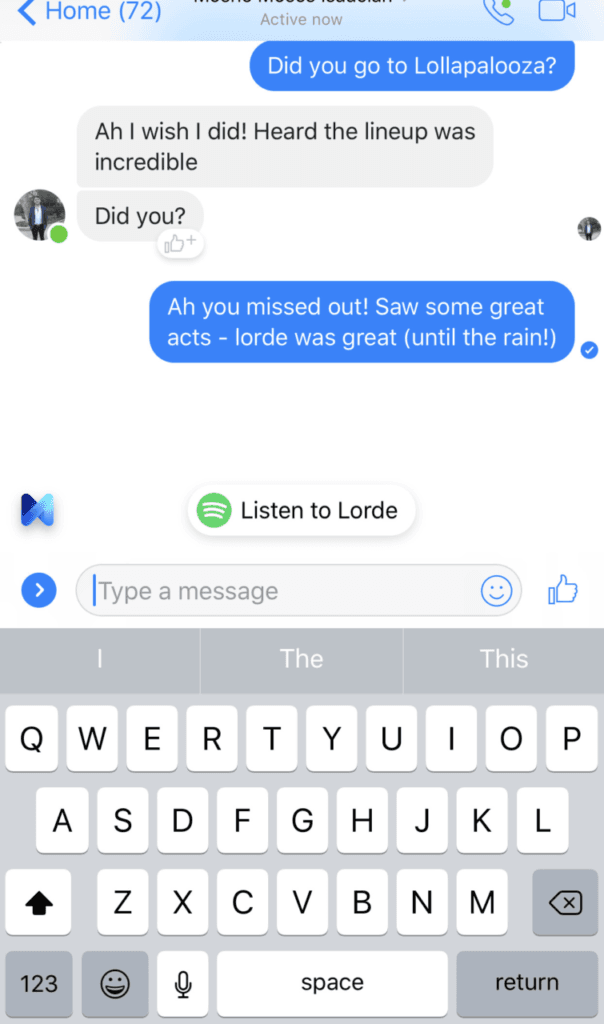 If you mention an artist and click the Spotify prompt, you're brought to a Spotify web page displaying the artist's music. If you instead simply say "find music," the prompt brings you to a Spotify page displaying your recently played music, playlists and suggestions to create group playlists. Facebook began Spotify integration in March with the option for users to share Spotify music and playlists via the Messenger app. At the time of the initial integration, Spotify told The Verge, "users can expect further enhancements."
Facebook's M began monitoring conversations to perform a number of tasks earlier this year such as Uber rides, peer-to-peer payments, and stickers, or create event calendars. In April Facebook introduced Delivery.com suggestions and recipe suggestions from Food Network, Spotify suggestions were added just over a week ago. M suggestions can be disabled via clicking a user profile in the upper left hand corner, selecting M settings and turning off suggestions.
Lucas Nolan is a reporter for Breitbart News, covering issues of free speech and online censorship. Follow him on Twitter @LucasNolan or email him at lnolan@breitbart.com.