Twitter slapped Turning Point USA Communications Director Candace Owens with a temporary suspension after she highlighted racist posts made by Sarah Jeong, the recent New York Times hire whose long history of bigoted tweets about white people has placed the newspaper at the center of a public outcry. The beleaguered platform then reversed the ban, calling it an "error" in an email to Owens.
Owens' tweets mimicked the wording of Jeong's, with one important difference: Owens substituted the words "Jewish people" for "white people," in an attempt to show that some forms of racism are considered more acceptable than others.
Donald Trump Jr. made a similar point in an exclusive interview with Breitbart News this weekend, when he said "people would be losing their minds" if Jeong had made her bigoted comments about black people or Hispanics.
Twitter, already under fire from Republicans (including the president) over political bias, now appears to have proven her point.
Even though Jeong made the following tweets, she has not been suspended, and the tweets remain undeleted.
Dumbass fucking white people marking up the internet with their opinions like dogs pissing on fire hydrants

— sarah jeong (@sarahjeong) November 29, 2014
Are white people genetically predisposed to burn faster in the sun, thus logically being only fit to live underground like groveling goblins

— sarah jeong (@sarahjeong) December 24, 2014
Meanwhile, Owens did receive a temporary suspension, as well as an order to delete her tweets, for using precisely the same language as Jeong, swapping "Jewish people" for "white people."
Owens even clarified in the tweet itself that she was repeating Jeong's statements, not making original statements of her own. Twitter still banned her.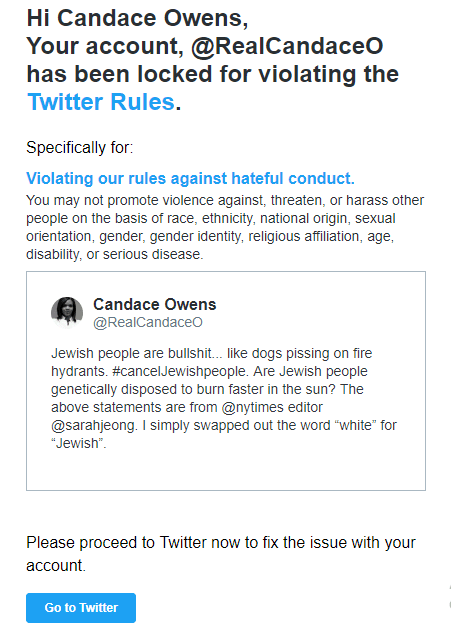 "I actually AGREE with Twitter" said Owens, in a comment to Breitbart News. "These tweets are an example of hateful conduct. It begs the question — why was it okay when the hate was directed at White people? Why are her tweets still up?"
"In every way imaginable — Twitter has just proved my point. Racism in this country has been sanctioned against white people."
After word of the suspension began to go viral on social media, Twitter reversed itself and reinstated Owens' account. Twitter claims the suspension was an "error," which seems to be their standard response when conservatives are suspended, shadowbanned, or do not show up in searches, as was the case with Rep. Matt Gaetz.
BLOWN AWAY by the amount of patriots that just came to my side to make this happen.
I will be periscoping LIVE about this entire debacle, in 30 mins.
I am blessed to know you all. 🇺🇸 pic.twitter.com/r91vwRoVuA

— Candace Owens (@RealCandaceO) August 5, 2018
The New York Times has defended its decision to hire Jeong, even as further evidence of her history of deranged racism on social media piles up. Jeong says she "deeply regrets" her racist tweets (of which there are hundreds) but maintains that they were merely "satire" and "counter-trolling."
Allum Bokhari is the senior technology correspondent at Breitbart News. You can follow him on Twitter, Gab.ai and add him on Facebook. Email tips and suggestions to allumbokhari@protonmail.com.