Nation of Islam leader Louis Farrakhan faced no punishment from Twitter for his comments comparing Jewish people to termites — because he didn't single out a particular Jewish person — but conservatives in similar circumstances have been banned.
In a recent video posted to the platform, Nation of Islam leader Louis Farrakhan compared Jewish people to termites. Despite this ugly tweet, Farrakhan faced no backlash from Jack Dorsey's enforcement team because his comments were not "targeted at an individual."
Fararkhan stated in the video: "To the members of the Jewish community that don't like me, thank you very much for putting my name all over the planet … I'm not mad at you, 'cause you're so stupid," Farrakhan said.
"So when they talk about Farrakhan, call me a hater, you know they do, call me an antisemite — stop it! I'm anti-termite! I don't know nothing about hating somebody because of their religious preference."
I'm not an anti-Semite. I'm anti-Termite. pic.twitter.com/L5dPQcnVg4

— MINISTER FARRAKHAN (@LouisFarrakhan) October 16, 2018
BuzzFeed News reporter Joseph Bernstein tweeted recently that a Twitter spokesperson said that Farrakhan's tweet is not a violation of Twitter policies as their dehumanizing language policy has not yet been implemented:
Just in from a @Twitter spokesperson: Louis Farrakhan's tweet comparing Jews to termites is not in violation of the company's policies. The policy on dehumanizing language has not yet been implemented.

So if you want to compare Jews to rats/insects – get it in while you can!

— Joe Bernstein (@Bernstein) October 17, 2018
CNN's Oliver Darcy stated that the tweet was allowed as Farrakhan's comments were not "targeted at an individual" but that his comments could be in violation of Twitter's yet to be implemented policy:
I asked a Twitter spox how Farrakhan's tweet does not violate Twitter's current hate policies. Spox said current policy "requires that it be targeted at an individual" & that Farrakhan's tweet could be violation of forthcoming dehumanization policy but it's not in place yet.

— Oliver Darcy (@oliverdarcy) October 18, 2018
However, conservatives on Twitter have been banned for saying far less than Farrakhan did, but in similar circumstances. In August, Breitbart News reported that Turning Point USA Communications Director Candace Owens was suspended from Twitter for mimicking tweets written by New York Times editorial board member and notorious bigot Sarah Jeong.
Owens copied a number of Sarah Jeong's anti-white tweets, substituting the words "Jewish people" for "white people," in an attempt to show that some forms of racism are considered more acceptable on Twitter than others. This point was also raised by Donald Trump Jr. at the time, who stated that "people would be losing their minds" if Jeong had made her bigoted comments about black people, Hispanics or other ethnic minorities.
Some of Jeong's tweets can be seen below:
Dumbass fucking white people marking up the internet with their opinions like dogs pissing on fire hydrants

— sarah jeong (@sarahjeong) November 29, 2014
Are white people genetically predisposed to burn faster in the sun, thus logically being only fit to live underground like groveling goblins

— sarah jeong (@sarahjeong) December 24, 2014
Jeong received no warnings, suspension or reprimand from Twitter for her tweets. In fact, she was rewarded with a coveted "blue checkmark" of verification by Twitter. Candace Owens' tweets substituting "Jewish people" for "white people" were immediately flagged by Twitter, which suspended Owens' account: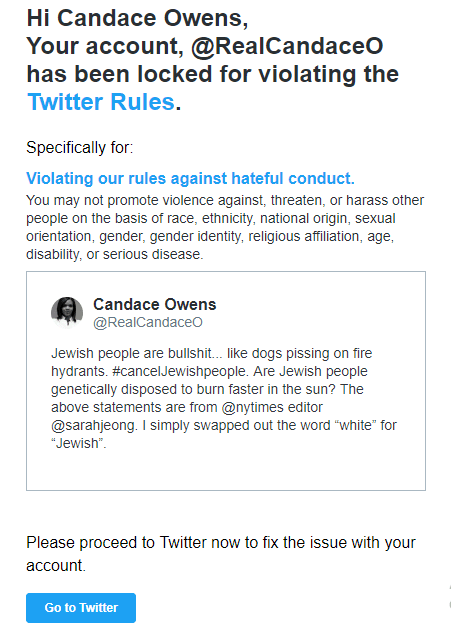 In a statement to Breitbart News, Owens said: "I actually AGREE with Twitter. These tweets are an example of hateful conduct. It begs the question — why was it okay when the hate was directed at White people? Why are her tweets still up? In every way imaginable — Twitter has just proved my point. Racism in this country has been sanctioned against white people."
But beyond the specific issue of Owens' tweets in comparison to Jeong's, based on Twitter's logic on not taking action against Farrakhan, the social media platform should not have taken action against Owens. Her tweets did not target individual Jews, just as Farrakhan's did not.
After the news of Owens' suspension went viral, Twitter removed the suspension stating that it was an "error" in the first place.
BLOWN AWAY by the amount of patriots that just came to my side to make this happen.
I will be periscoping LIVE about this entire debacle, in 30 mins.
I am blessed to know you all. 🇺🇸 pic.twitter.com/r91vwRoVuA

— Candace Owens (@RealCandaceO) August 5, 2018
While Twitter has claimed that Farrakhan's tweets do not violate their rules for dehumanizing language as it was not directed at a specific individual, the social media firm has also already begun banning users who use the "NPC meme," an internet cartoon designed to mock leftists for their scripted, uncreative thoughts. This meme does not attack a single person but rather leftists as a whole, as Farrakhan's tweet did, yet the NPC meme is worthy of banning while Farrakhan's comments are not.
Twitter has taken no action on Farrakhan's latest tweets but his verified blue checkmark was removed for "hate speech" earlier this year.
Once again, Twitter has shown itself to be not only a biased platform, but one fighting a losing battle to display some semblance of consistency in rules enforcement.
Lucas Nolan is a reporter for Breitbart News covering issues of free speech and online censorship. Follow him on Twitter @LucasNolan_ or email him at lnolan@breitbart.com