Breitbart Texas traveled to the Mexican border cities of Reynosa and Matamoros to recruit citizen journalists willing to risk their lives and expose the cartels silencing their communities.  The writers would face certain death at the hands of the Gulf Cartel if a pseudonym were not used. Breitbart Texas' Cartel Chronicles are published in both English and in their original Spanish. This article was written by the guest columnist @MrCruzstar.
REYNOSA, Tamaulipas — Emails made public by WikiLeaks revealed that the Tamaulipas government purchased software from the company Hacking Team in 2014. This is the year that played key tole in the government's new security strategy.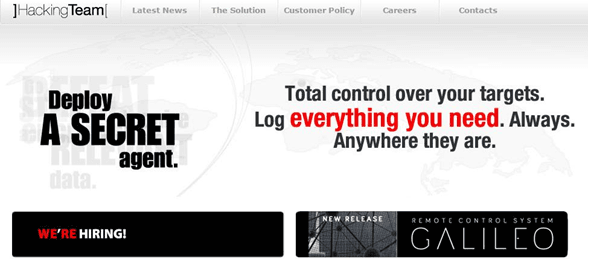 Recently WikiLeaks released multiple documents from Hacking Team which revealed that multiple agencies and offices within the Mexican government had been using the software with no oversight.
The 316 emails from Hacking Team about Tamaulipas are available online. The information reveals the negotiations to acquire the hacking software and the training of state employees for its use. Hacking Team is one of the top ten cyber defense contractors in Europe.
The company offers, among its products, a hacking software program that is able to infiltrate mobile phones and tablets in an anonymous fashion and retrieve all of their information. The date of the negotiations, and the purchases, match with the May 2014 launch of the new security strategy for Tamaulipas where state agencies and federal agencies teamed up for their operations.
Information obtained through the leaked emails shows that the end user of the software is a secret unit within the police. The software had a cost of $323,000 dollars.

Preventive Defense or Offense?
The state security agency called Fuerza Tamaulipas has been delivering important blows to the various criminal organizations across the state. Intelligence work backed by the monitoring of social media networks has provided important information as to the structure of the cartels.
Some internet activists who use social media platforms to inform about shootouts (situations of risk) and corrupt actions by Mexican authorities have been the target of harassment by "unofficial" actors whose anonymous profiles are used to reveal personal information of social media users.
The likely use of this software to silence dissent on social media has become an obstacle against the citizens who use social media as a warning tool for shootouts in a state where the fights against drug cartels take place in public areas placing the community at risk.
A law enforcement source consulted claimed that the purchased software is used in monitoring to prevent leaks in security operation and in the administration of the government. The information published by WikiLeaks would not be made available through official channels; the hacking of the Italian company revealed that various state governments in Mexico are using their spy software.