Breitbart Texas traveled to the Mexican States of Tamaulipas and Coahuila to recruit citizen journalists willing to risk their lives and expose the cartels silencing their communities.  The writers would face certain death at the hands of the various cartels that operate in those areas including the Gulf Cartel and Los Zetas if a pseudonym were not used. Breitbart Texas' Cartel Chronicles are published in both English and in their original Spanish. This article was written by Coahuila's "JM Martinez"
PIEDRAS NEGRAS, Coahuila — Mexican authorities in this border city carried out a massive search for a 16-year-old teenager who is believed to have kidnapped a two-year-old girl, brutally raped her and left her for dead. The teenager will be charged as an adult.
The case began earlier this week when neighbors found the unconscious two-year-old girl that had been left for dead under a bed. Local and state authorities arrived to the Lazaro Cardenas neighborhood and met with Guadalupe Gonzalez Reynaga, the neighbor who found the young girl.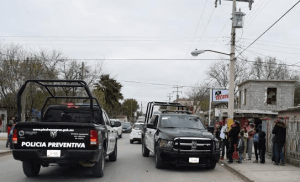 Gonzalez told authorities that she had been outside of her house when one of her nephews came running and asked for help. The youngster told her that "Alex had killed a girl", referring to 16-year-old Victor Alejandro Ledezma Lopez.
Gonzalez ran down the street to the house where "Alex" lived and was able to see the teen run out of the house as they approached. She went in and saw the young girl under the bed where she had been left for dead. The two-year-old was nude and her injuries showed that she had been brutally raped, the woman claimed. 
The girl, who is also from the neighborhood and lives less than a block away from the crime scene, was placed in a car and rushed to a local hospital by her relatives. Authorities have set up an ongoing manhunt in order to track down "Alex" who, according to neighbors, had last been seen under the influence of various drugs, He had also been observed running around the neighborhood with a knife. 
Just a day after the brutal rape, authorities were able to track down "Alex" near the railroad tracks on the city's outskirts. According to investigators, Alex's birth was never legally registered so the teen doesn't have a birth certificate to prove his real age. State investigators are moving to charge the teen as an adult.