Apparently God's gift to political journalism is making a man so arrogant that his prejudice against Republicans causes him to exploit the suffering of tropical storm victims for a political jab. At least, this is what PBS's Gwen Ifill believes.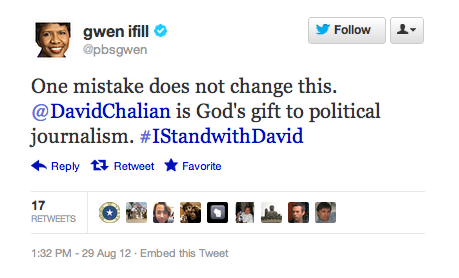 Gwen Ifill's bias is somewhat legendary. Her last egregious bias covered here was her insistence at referring to Hispanic George Zimmerman as "white." 
Other journos have come to Chalian's defense: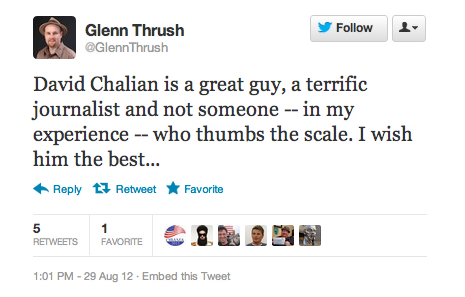 Chalian didn't make a mistake; he made a confession. If these journos want to further demonstrate their zeal to excuse anything and everything in the name of bias by rallying around their friend, by all means. The media does us a favor when they show themselves as such. 
Reporters at MSNBC refused to cover speeches from minority Republicans on the floor last night, Mia Love had her Wikipedia page vandalized with racial slurs, so it's not shocking that a reporter like Chalian would make such an open confession of his bias on a hot mic.