Less than 24 hours after a male student at the University of York killed himself, York announced it would not be marking International Men's Day after pressure from feminist campaigners, Breitbart has learned. International Men's day seeks to raise awareness of men's health issues and the male suicide epidemic.
A spokesman for the university declined to comment on the death pending an investigation but North Yorkshire Police told Breitbart: "Police were called by the ambulance service at about 2.30am on Monday 16 November to a report of a 21-year-old man with life-threatening injuries at an address in Lawrence Street, York. He was taken to York Hospital but has since sadly died."
Breitbart was made aware of the death after an anonymous tip-off from another York student angry that the university appeared to be downplaying the seriousness of men's mental health issues by announcing it would "not mark" International Men's Day.
British Labour MP Jess Phillips was forced to issue a statement earlier this month insisting she did care about men's health issues after laughing at the idea of International Men's Day in Parliament. Phillips has since pledged to launch a campaign about skyrocketing male suicide rates.
Men's issues journalist and formed editor of Loaded Martin Daubney told Breitbart: "This is a tragic human consequence of a systematic prejudice against young men whereby suppressing their ability to express their emotions can lead to very real consequences. The University of York should hang its head in shame."
https://twitter.com/LordEdwards95/status/666370762140459009
200 staff, students and alumni wrote a letter on Monday to the University of York demanding that it retract its commitment to mark International Men's Day. As we reported yesterday, the letter described the ideal of "equality for everyone" as "misogynistic rhetoric." It also complained that organisers did not "seek a dialogue on such issues with women's equality campaigns or initiatives" before making their decision to mark International Men's Day.
"We believe that men's issues cannot be approached in the same way as unfairness and discrimination towards women, because women are structurally unequal to men," the letter concluded. Signatories included the student union LGBTQ and Women's Officers and lecturers from Politics, English, Philosophy, History and Law Departments, according to student newspaper Nouse.
The university complied with this demand the same day, barely 24 hours after the unnamed young man's death. The feminist letter-writing group published a second open letter today complaining of "abuse" and "harassment" they say they have received following their campaign to have International Men's Day cancelled. The organisers said they were "at risk" from men's rights activists.
The university has apologised for the "unhappiness" caused by its previous support for International Men's Day. In a public statement on its website, it added: "The Equality and Diversity Committee is clear that the main focus of gender equality work should continue to be on the inequalities faced by women … The statement marking this year's International Men's Day has been withdrawn and we can confirm that we will no longer be marking International Men's Day 2015."
Meanwhile, York students have been expressing their disbelief today that the university apparently sees no need to highlight men's health issues. "As a student currently going through a rough time and struggling a bit with mental health, I think it's sad to know that the university isn't willing to address these issues given that the biggest killer of men under 45 is suicide and that it effectively doesn't care," a student who asked to be referred to as "Will" told Breitbart.
"I also find it bewildering that we celebrate international women's day but not men's when men are in fact the minority on campus." Will asked that his full name be omitted because "I don't want [the university women's officer's] army of fembots on my back."
Another student, Matthew Edwards, said this morning: "Our student union has done nothing to help us because it is a left-wing mouthpiece. I have received abuse for my stance within YUSU and from feminists particularly. Thank you for running the article. Fathers 4 justice may be coming to protest on Thursday."
In response to a request Edwards to consider installing a Men's Officer on campus, York's Women's Officer Ananna Zaman posted an image on Facebook that read: "Carry yourself with the confidence of a mediocre white man." The image was liked by 45 people.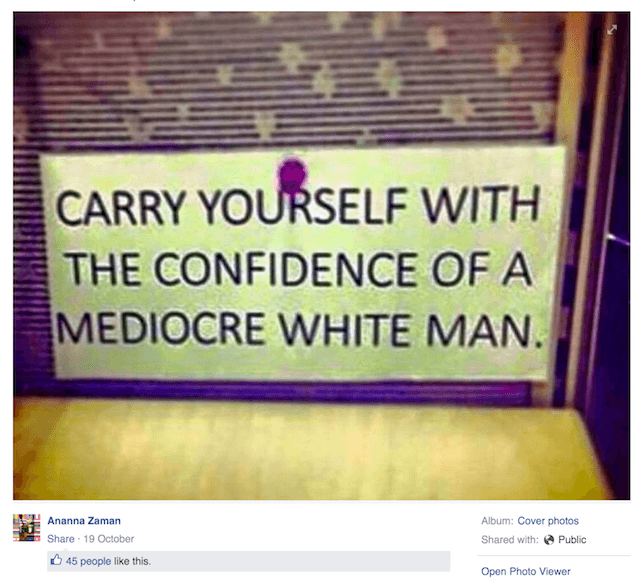 Glen Poole, UK Co-ordinator for International Men's Day, told Breitbart: "Research tells us that men find it easier to get help when the problem they are dealing with is socially acceptable. No-one thinks twice about taking a pill to help with a headache. But when the pain inside your head is so great you'd rather kill yourself than carry on, reaching out for help can feel impossible, particularly for men with little experience of getting help with their personal problems and concerns.
"Creating an environment where men's issues are openly discussed can play a major role in helping men get help. So when academics and students resist attempts to talk about men's issues, as happened in York, they help create a kind of suicidal culture where men are shamed into staying silent about the issues they face as a man."
A petition calling on the University of York to celebrate International Men's Day now has over 1,000 signatures. 
Follow Milo Yiannopoulos (@Nero) on Twitter and Facebook, or write to him at milo@breitbart.com. Android users can download Milo Alert! to be notified about new articles when they are published.