LUBBOCK, Texas — Breitbart Texas has exclusively obtained a leaked document warning federal agents about an ISIS-related terrorism threat across the entire US-Mexico border. Though the document focuses on the Texas-Mexico border, Breitbart Texas has confirmed that federal agents across the entire US-Mexico border have received the ISIS terror warning.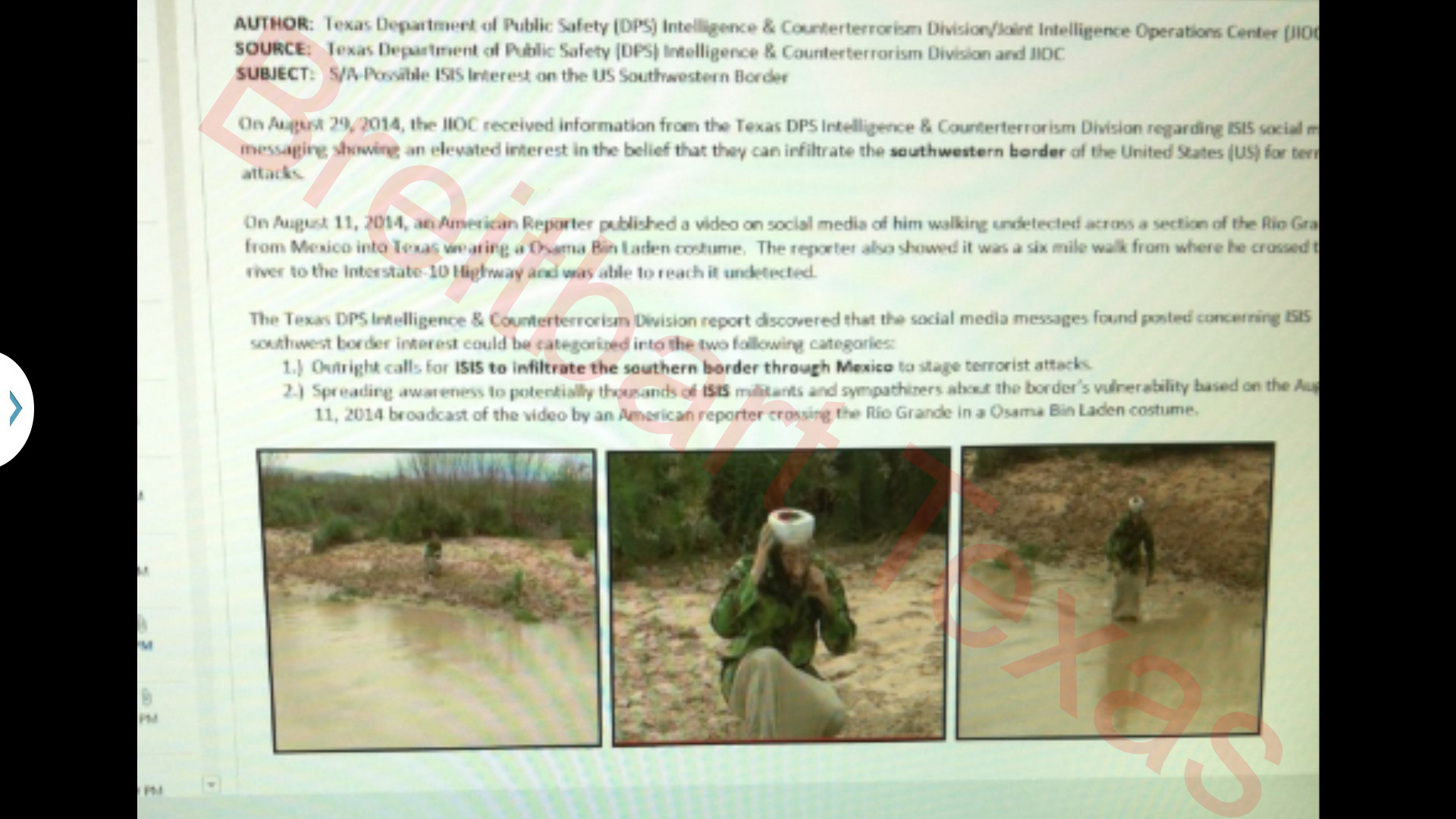 The document was released by the Texas Department of Public Safety and warned that ISIS was actively promoting and encouraging supporters to take advantage of the porous Texas-Mexico border to carry out terrorist attacks against US citizens.
The document attributed the increased interest by ISIS to a report done by journalist James O'Keefe. Though the report did not mention O'Keefe by name, it showed images of O'Keefe crossing the porous Texas-Mexico border while wearing an Osama bin Laden mask. 
In addition to the report, U.S. Border Patrol Agents confirmed that the U.S. Border Patrol agency was indeed taking the threat seriously. A Border Patrol agent in the Laredo Sector told Breitbart Texas that they had credible information that ISIS was attempting to find individuals and groups in Nuevo-Laredo Mexico to assist in gaining entry into the united states. 
A Border Patrol agent in the El Paso Sector would only tell Breitbart Texas that a warning was issued to agents pertaining to ISIS. 
The Border Patrol agent spoke to Breitbart Texas on the condition of anonymity. 
Judicial Watch first reported on a threat from ISIS being issued to federal agents in El Paso agents earlier in the day. They claimed that their sources warned of an imminent terrorist threat. Breitbart Texas was unable to identify any sources in federal law enforcement agencies to verify that a specific and imminent terror plot was currently under way. Breitbart Texas spoke with the president of Judicial Watch, Tom Fitton. He said, "This is a dire situation and I can't emphasize enough the seriousness of the threat posed here. If your law enforcement sources do not have the information we have, they are being ill-served by their leadership. We put this out to protect the safety of law enforcement and citizens along the border. this is a public safety announcement."
Follow Breitbart Texas Managing Director Brandon Darby on Twitter: @brandondarby.