A series of photos have emerged claiming to show
dismembered bodies in Mexico. The photos paint a grim picture of the raging war taking place just south of the Texas border. The war that reignited this month has pitted two rival factions of the Gulf cartel against each other turning the cities of Matamoros and Reynosa into war zones where the residents are forced to go about their daily lives while trying to avoid firefights and gory crime scenes.
The series of photos were sent to Breitbart Texas by the citizen journalist group Matamoros Zona De Peligro (MZP) and were also published by Blog del Narco. In two of the photos that were reportedly taken this week, three dismembered bodies were left behind in a box and in an ice chest with cardboard that the reported cartel hitmen used to write a message on.
"Esto les pasa por ayudar a los ciclones (This is what happens when you help the Ciclones)," the Narco message revealed referring to one of the cartel factions. A source reportedly made the discovery under a bridge near the rural community
of Los Indios just west of Matamoros.
In another of the photos, the dismembered body of a man is shown with various body parts thrown on the ground. The source indicated that the yet unidentified man was dumped behind a hotel in the outskirts of Matamoros.
As Breitbart Texas previously reported, the cartel war is being fought by members of Los Ciclones, which are based in the Mexican border city of Matamoros, and the Metros, who are based out of the border city of Reynosa.
While both sides continue
to have regular fierce firefights, the Mexican government has worked an intense campaign to suppress the information about the true number of casualties, rather than focusing on stopping the criminal activity which has historically been aided by corrupt government officials.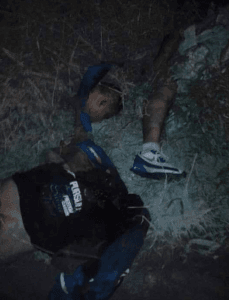 Follow Ildefonso Ortiz on Twitter and on Facebook.
Editor's Note: This article is part of Breitbart Texas' Cartel Chronicles. Ildefonso Ortiz and Breitbart Texas Managing Director Brandon Darby traveled to the Mexican border cities of Reynosa and Matamoros to recruit citizen journalists willing to risk their lives and expose the cartels silencing their communities.  The writers would face certain death at the hands of the Gulf cartel if pseudonyms were not used. Breitbart Texas' Cartel Chronicles are published in both English and in their original Spanish.