One Texas legislator seems to be finding criticism over a bill he filed too much to take, lashing out at critics on Twitter, then deleting some of his most intemperate remarks, as well as deleting critical comments from his Facebook page before finally taking down the page altogether.
Ever since Texas State Representative Jason Villalba (R-Dallas) filed HB 2819, a bill that makes it a crime for bloggers and citizens to film, photograph, or record police officers within 25 feet, he has been the target of intense criticism from both the right and the left.
As Breitbart Texas reported, Villalba reacted by immediately going on the defensive, using his social media accounts to fight the backlash against his bill. Some of his tweets posted in the early hours before the original Breitbart Texas article on the bill was published were deleted. For example, Villalba deleted this tweet that was posted at 3:41 a.m. on March 13, 2015: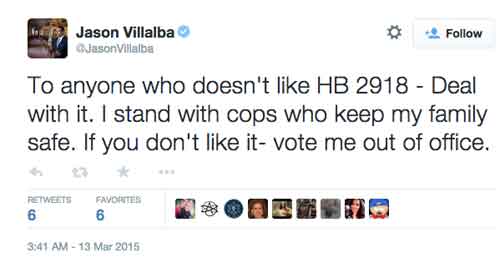 Numerous commenters noted that Villalba was deleting negative comments from his campaign Facebook page, and blocking critics on Twitter.
@RepStickland @JasonVillalba I would like to see Villalba's response, but as part of his conservative transparency effort he has blocked me.

— Joseph Wade Miller (@J_Wade_Miller) March 13, 2015
I am blocked by this guy – Jason Villalba / Eichmann /Lapdog! So, I DID accomplish something today! #JasonVillalba pic.twitter.com/1TcQfpbJhJ

— TomSongs (@RealTomSongs) March 20, 2015
Because I asked a sincere ? about a law that would affect my life as a photojournalism student?@JasonVillalba #HB2918 pic.twitter.com/XZ7Jos54tp

— Kate Rhoads (@katejrhoads) March 20, 2015
@JasonVillalba just blocked me for asking why he blocked @katejrhoads What the devil is going on here? pic.twitter.com/Wxf3j1Z2Ua

— Wylie H. Dallas (@Wylie_H_Dallas) March 20, 2015
Villalba's decision to block Kate Rhoads is attracting extra scrutiny. Rhoads, a journalism major at Brookhaven Community College in Farmers Branch, Texas and the editor of her college's paper, the Brookhaven Courier, was not disrespectful in the question she tweeted at Villalba. "If Title 8, Ch. 38 of the TX Penal Code already makes it illegal to impede police activity, why is HB 2918 needed?" she asked, only to be blocked by him in response.
The Dallas Observer interviewed Rhoads about the controversy, and she told them that she was working on a story about HB 2918, and was "fulfilling my journalistic duty to give voice to both sides of the issue," but "he responded by blocking me on Twitter."
Rhoads added that she was "taken aback" that a lawmaker who is supposed to serve his constituents "would resort to such a petty tactic" to avoid answering questions about his bill. "As a student of photojournalism and an editor of a college newspaper," said Rhoads, "I am extremely interested in how this law would affect the world of photojournalism and the First Amendment freedoms it restricts. I asked him the question out of sincerity and in a way I considered to be not rude or inappropriate at all."
At some point during the last few days, Villalba either deleted or made private his campaign Facebook page. The link (https://www.facebook.com/TexansforJasonVillalba) that is listed on his Twitter profile and on the Texans For Jason Villalba website just redirects to the Facebook home page, which is what happens when a Facebook page is taken down. Humorously, before Villalba took down the Facebook page, he had slightly more than 1,000 "Likes," but a "Recall Jason Villalba" Facebook page, launched shortly after HB 2819 was filed, gained more than 4,000 "Likes" in less than a week.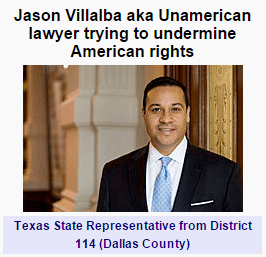 Another war of words taking place on Villalba's biography on Wikipedia. Anyone can edit, amend, or add or delete content on a Wikipedia page, even anonymously in most cases. 
First created in September 2013, the page saw only sporadic edits, until HB 2918 was filed, launching nearly fifty revisions since then. Some of the new revisions were factual, adding information about Villalba filing HB 2918.
However, many other revisions were negative attacks on Villalba, which, although some could be considered humorous, are deemed to be "vandalism" under Wikipedia's policies. 
Reviewing the page's revision history shows a back-and-forth pattern of vandalism and reversions several times a day over the past week. One edit changed Villalba's party affiliation from "Republican" to "RINO" (short for "Republican In Name Only," an insult often tossed at Republicans deemed to be weakly committed to conservative principles) and changed his religion to "OBAMA." 
Other edits made changes to the text of his biography. A sampling:



The flurry of edits and vandalism on Villalba's page have resulted in anonymous editors no longer being able to make edits, after the page was marked "protected" by Wikipedia's moderators
a few days ago
.
While Villalba has
finally conceded
that the bill has flaws that he blamed on "clumsy drafting" and
promised to amend
several sections of the bill, he has still continued to fight aggressively with his critics on social media. He was even blocking critics on Twitter as late as Friday, March 20. This tweet, posted Tuesday evening — after he had admitted to the
Dallas Morning News
 that the bill was flawed — lashed out at critics attacking him from the "glowing anonymity of a faceless keyboard:"
So many people gain empowerment from behind the glowing anonymity of a faceless keyboard. As for me, I shall battle in the arena. #TxLege

— Jason Villalba (@JasonVillalba) March 18, 2015
This tweet was soundly mocked on the Recall Jason Villalba Facebook page, posted with the comment "He's talking about us." Numerous people noted that they had questioned him on Facebook, Twitter, or through personal inquiries to his legislative office using their real names, but Villalba had blocked of them on Twitter and deleted his Facebook page.
Villalba will have his chance to "battle in the arena" next Thursday, March 26, when HB 2918 is scheduled for hearing before the House Select Committee on Emerging Issues In Texas Law Enforcement. The public notice for the hearing says that it will be held at the Capitol in room E2.030, as soon as the House adjourns for the day. HB 2918 is the sixth out of seven items on the Committee's agenda for the day.
The Committee hearing is open to the public, and will also be livestreamed on the Texas House website.
Breitbart Texas will continue to follow this story.