MCALLEN, Texas — Mexican authorities arrested a top female drug lord wanted in the United States for bribing federal officers. The female drug trafficker, known for her glamorous photographs on social media, was a common sight in this border city and in the Mexican cities of Reynosa and Miguel Aleman.
Mexico's Attorney General's Office (PGR) announced this week, the arrest of 38-year-old Ana Marie Hernandez, better known as "La Muneca." She was arrested at the request of the Interpol and the U.S. Marshals Service, information provided to Breitbart Texas revealed.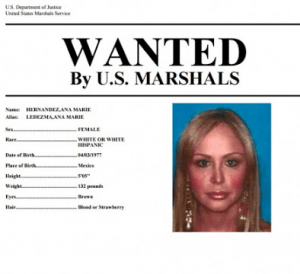 Hernandez was recently caught after a lengthy series of surveillance operations in order to track her down, according to the PGR. She is currently in a Mexican prison where she will undergo an extradition process.
Court records, obtained by Breitbart Texas, reveal that Hernandez had been on the run for a few years after she pleaded guilty to drug conspiracy charges and bribery in El Paso.
The U.S. Drug Enforcement Administration arrested Hernandez in 2010 after an investigation into a drug trafficking cell that operated in El Paso. The cell operated, in part, due to a corrupt U.S. Customs and Border Protection officer named Daniel Ledezma and his brother-in-law Raul Leonel Fournier. Hernandez is identified in court records as Ledezma's wife, in addition to being the communication link that helped coordinate the drug shipments.
After her guilty plea, Hernandez fled to avoid her sentencing hearing and has been on the run ever since. Information obtained by Breitbart Texas from U.S. law enforcement officials points to "La Muneca" having been a link of sorts between drug traffickers in Chihuahua and Sinaloa, and the Gulf Cartel in Reynosa.
Sources outside of law enforcement have confirmed that "La  Muneca has in fact been not only active in Reynosa, but also in the Texas border cities of Mission and McAllen where she was regularly seen at local night clubs.
Ildefonso Ortiz is an award winning journalist with Breitbart Texas you can follow him on Twitter and on Facebook.
Note: This piece originally contained an image of another La Muñeca, who also appears to be connected to the Gulf cartel. At her request, we removed the ambiguous image.