Breitbart Texas traveled to the Mexican States of Tamaulipas and Coahuila to recruit citizen journalists willing to risk their lives and expose the cartels silencing their communities.  The writers would face certain death at the hands of the various cartels that operate in those areas including the Gulf Cartel and Los Zetas if a pseudonym were not used. Breitbart Texas' Cartel Chronicles are published in both English and in their original Spanish. This article was written by "M.A. Navarro"
CIUDAD VICTORIA, Tamaulipas — Two rival factions of the fearsome Los Zetas drug cartel continue to fight over this city and the lucrative drug trade routes in that the region.
Breitbart Texas has been reporting on the ongoing dispute between the two factions. These battles resulted in the town's government asking residents to avoid going out at night. Kidnappings, executions and shootouts have become commonplace in this city despite the many assurances that government officials have provided over time.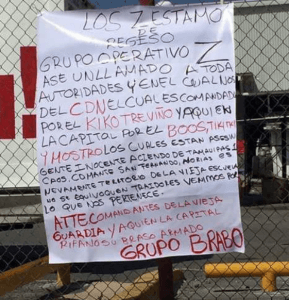 One of the groups fighting too keep control of this region is the Los Zetas faction called Cartel Del Noreste (Northeastern Cartel) which is led allegedly led by Enrique "Kiko" Trevino. The groups leader is a close relative of jailed Zetas boss Miguel Angel "Z40" Trevino Morales. The Trevino Morales group is currently in control of the Nuevo Laredo area and had control of Ciudad Victoria. During the last four months a splinter group has begun to challenge their dominance.
The new group uses the name Grupo Bravo. A series of banners that were recently hung around the city show that the group is also going by the name "Vieja Escuela Z" or Old School Zetas. This new faction is actually made up of Zeta members from the southern Tamaulipas region known as Ciudad Mante.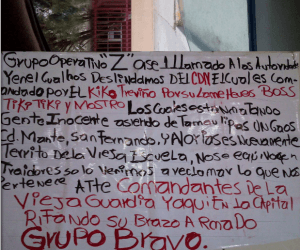 The members of Grupo Bravo or Old School Z's accuse their rivals of being behind the murder and kidnappings of innocents. The feeble attempt at trying to make one cartel seem benevolent when compared to the other has not worked.
Most recently, the citizens from this city were going to hold a silent protest aimed at bringing awareness to the lawlessness that has taken over the region. That protest was cancelled after the citizens claimed they did not trust that their government could provide them with the security conditions needed to hold the event.
One of the main security concerns deals with the Mexican army pulling hundreds of soldiers away from Tamaulipas without filling in the void. This action has left the brunt of the fight against cartels at the hands of the state police force known as Fuerza Tamaulipas. The members of this police force have been holding protests and threatened to go on strike claiming that state officials have not paid their wages.