Breitbart Texas traveled to the Mexican States of Tamaulipas and Coahuila to recruit citizen journalists willing to risk their lives and expose the cartels silencing their communities.  The writers would face certain death at the hands of the various cartels that operate in those areas including the Gulf Cartel and Los Zetas if a pseudonym were not used. Breitbart Texas' Cartel Chronicles are published in both English and in their original Spanish. This article was written by "J.A. Espinoza" from Matamoros.
MATAMOROS, Tamaulipas — The mayor of this border city has called out organized crime as being behind a shut down in public transportation that has left citizens stranded. The shutdowns appear to be tied to the criminal organizations supporting certain candidates and trying to keep people out of the events of other candidates.
This week, Matamoros Mayor Leticia Salazar said that she had received calls form concerned citizens about the lack of buses and vans used for public transportation. "I have information about it that ties various groups, including organized crime," Salazar said in a message that she posted on social media.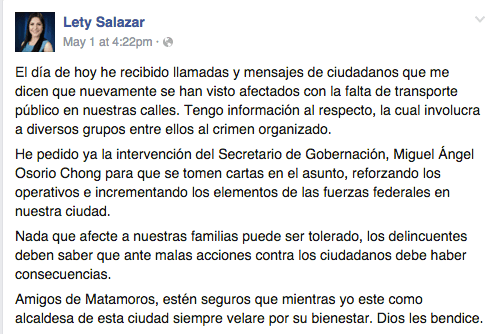 The problems with public transportation began last months when political campaigns for mayor, governor and others officially kicked off in this border city. Politically connected sources in Tamaulipas spoke with Breitbart Texas and confirmed that the lack of public transportation is due to the fact that unions and syndicates are pressured by drug cartels to support a particular candidate. Also some of those same unions have commitments of their own for political and financial gain resulting in the traffic shutdown.
In response to the actions by the public transportation drivers and their ties to organized crime, Salazar has requested the help of Mexico's federal government asking them to step in by increasing the number of military patrols targeting organized crime.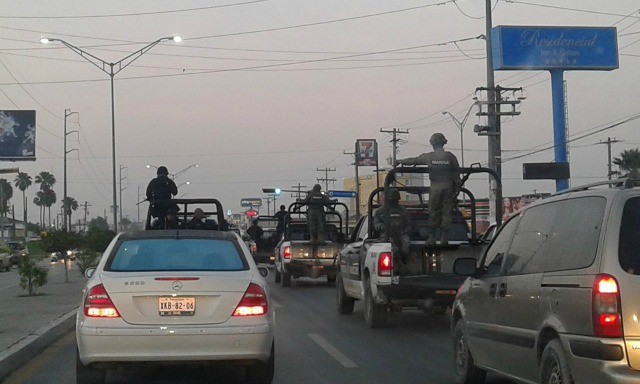 "Nothing that affects our families must be tolerated," Salazar said in her prepared statement. "Criminals must know that actions that affect our citizens must have consequences."