Stand for Fort Worth (SFFW), an anti-transgender policy group, says the Fort Worth Independent School District is trying to silence the voices of those who oppose the new Transgender Student Guidelines.
Members of the newly formed citizen watchdog group expressed concerns to Breitbart Texas that Fort Worth ISD seeks to silence "law abiding citizens from speaking out" over the transgender policies at the school district's next regular board meeting on Tuesday, May 24. They accuse the district of "rigging" the public comments portion to quiet the opposition.
This strong assertion followed a series of anomalies residents reported to the group. It included Fort Worth ISD filling public comment speaker spots earlier than the board meeting agenda online procedures prescribed and conflicting information residents received from the Fort Worth ISD's Board of Education office about when they could sign up for public comment.
On May 18, the district's online "Overview: Board Meeting Agenda and Procedures" read: "Public Comments are heard every meeting. Speakers may sign up (1) as soon as the meeting agenda is posted, up until one hour before the start of the meeting, by contacting the Board of Education office…or (2) by arriving early on the day of the meeting to fill out a 'speaker card' to be turned in to a Communications staff member before the meeting is gaveled to order."

However, in a taped phone conversation obtained by Breitbart Texas, Fort Worth resident "Jody" learned Fort Worth ISD was already signing up speakers since Monday, May 16 from Board of Education call taker "Laura." The meeting agenda was not expected to be posted until Friday, May 20. Laura told Jody: "We were given a directive on Monday to go ahead and start signing people up."
That order, she said, came from Fort Worth ISD Chief of Human Capital Management, Sammy Monge. She said, "There was so much interest in speaking this time" as the reason for the change. According to the call taker, eight or nine people already signed up.
Texas jumped into the bathroom battlefront when Fort Worth ISD Superintendent Dr. Kent Paredes Scribner unilaterally enacted transgender student guidelines. Lt. Gov. Dan Patrick blasted Scribner for decisions driven by "personal political agenda." Patrick also told the superintendent his job was not "social engineer." Scribner, hired by Fort Worth ISD last October, contended he merely signed off to implement a transgender policy the board approved in 2011.
On May 16, Texas Attorney General Ken Paxton stood with SFFW, as was reported by Breitbart Texas' Lana Shadwick. The bi-partisan, multi-racial coalition of taxpayers, parents, churches, and community organizations has 1,840 "likes" on its Facebook page and nearly 2,400 signatures on a #protectmykids petition calling for the repeal of the transgender policy.
Tuesday marks the first regular board meeting since Fort Worth ISD adopted the transgender student guidelines. Even Fort Worth ISD Director External and Emergency Communications Clint Bond told Breitbart Texas that before the transgender bathroom came up, "very seldom" did the district receive calls to sign up for public comment before the board agenda was published. He said they post it either the Thursday or Friday before "as we normally do 72 hours prior to the meeting."
As a governmental body, public school districts must post board meeting agenda at least 72 hours before the next scheduled meeting in accordance with Texas Association of School Board (TASB). The Open Meetings Act Handbook 2016 from the Office of the Texas Attorney General says a school board cannot unfairly discriminate among speakers based on their viewpoint. According to TASB, a school board cannot agree to hear only one side of a topic during public comments.
On May 19, Breitbart Texas reached out to the school district's spokesman, Bond, for clarification on the early signups, the alleged directive, and conflicting public comments procedure. Bond announced, "I can take a call for a meeting two or three weeks – four weeks – from now." This contradicted the posted public comments rules.
Bond even told Breitbart Texas the district has no policy which says they can or cannot take calls beginning on a certain date," apparently regardless of what the district's website stated. He said, "To say we changed policy for this particular meeting is not accurate."
He read an October 2011 policy BED(Local) Board Meetings – Public Participation. He said this was the "governing" policy. It had different public comments time considerations.
It stated, in part: "Persons who wish to participate in either portion of the meeting shall sign up either by contacting the Board of Education office by telephone at least one hour before the meeting or by signing up with the presiding officer or designee at the Board meeting prior to the start of the meeting."
This policy is not located in the Board Meeting Agenda and Procedures where parents, taxpayers, and other community members see the public comments sign up procedures that require potential speakers to wait until after the meeting agenda posted before calling Fort Worth ISD's education board office to reserve a slot.
For the average person to find this Texas Association of School Boards (TASB) policy, one must back out of the board meeting agenda and procedures landing page. One must know the BED(Local) policy name to locate this document elsewhere under BED(Local) Board Meetings – Public Participation. Otherwise, one must know to do a search for a TASB policy housed elsewhere on the board's website under Section B: Local Governance.
When Breitbart Texas read him the "Overview: Board Meeting Agenda and Procedures," Bond said, "Perhaps our website needs to be reviewed."
A few hours after Breitbart Texas spoke to Bond, the Fort Worth ISD verbiage for the board meeting agenda and procedures overview changed online.
Gone were the words "as soon as the meeting agenda is posted." The section now reads: "Speakers may sign up (1) until one hour before the start of the meeting, by contacting the Board of Education office…(2) by arriving early on the day of the meeting to fill out a 'speaker card'…"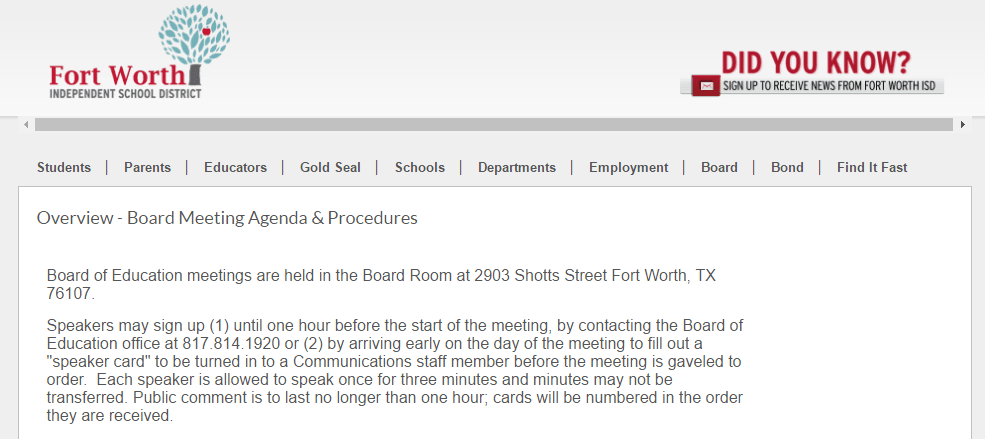 Despite what the Fort Worth ISD spokesman said, area resident Dinah Hillman Rowland called the district's Board of Education early, on May 11, to reserve a spot for the May 24 meeting she was told to call back on Fri., May 20. She told Breitbart Texas the call taker said "they weren't reserving spots until 8 a.m. on May 2oth."
Dr. David Teitelbaum, a 30-year Fort Worth resident, waited until the morning of May 20th to reserve a spot to speak on May 24. He told Breitbart Texas all 20 slots were filled when he called. The call taker offered him a spot on the waiting list.
The Fort Worth ISD school board parcels out its one hour of regular board meeting time for public comments, 20 speakers at three minutes each. Twelve of the 20 slots were already filled on May 19, Bond confirmed to Breitbart Texas.
Breitbart Texas inquired about these two incidents, as well. Bond responded, "It's not a conspiracy, I can assure you."
No one asserted anything was a conspiracy except for him. Breitbart Texas said we only sought to get to the bottom of a lot of conflicting information that did not add up. Bond chalked up the phone call between Jody and Laura to "miscommunication." He said he was sorry if Laura misunderstood her directive from Monge "to make sure we are taking calls as soon as they come in."
Transparency is a high priority to SFFW. One reason the group formed was over how Fort Worth ISD's transgender student policies were "surreptitiously put into place by Scribner," bypassing community taxpayer debate, district parental input, and school board approval, noted SFFW spokesman Zeb Pent.
"Superintendent Scribner should be ashamed for once again secretively excluding parents and taxpayers from having input at a routine Board meeting," Pent told Breitbart Texas. He holds Scribner responsible for these sudden public comments procedural changes.
Pent added, "Stand For Fort Worth started over this issue, but our eyes are opened to the greater need for citizen awareness on the issues [in general]. Where we go from here is anyone's guess, but people already want to donate to the cause."
Follow Merrill Hope, a member of the original Breitbart Texas team, on Twitter @OutOfTheBoxMom.