Breitbart Texas traveled to the Mexican States of Tamaulipas and Coahuila to recruit citizen journalists willing to risk their lives and expose the cartels silencing their communities.  The writers would face certain death at the hands of the various cartels that operate in those areas including the Gulf Cartel and Los Zetas if a pseudonym were not used. Breitbart Texas' Cartel Chronicles are published in both English and in their original Spanish. This article was written by "C.A. Hernandez" from Nuevo Laredo. 
NUEVO LAREDO, Tamaulipas — A video leaked to Breitbart Texas by Mexican law enforcement shows a man being interrogated by cartel gunmen moments before his execution. The video revealed a dire warning about upcoming violence in this border city.
The violence comes as two rival factions of the Los Zetas Cartel, the Cartel Del Noreste (CDN) and the Vieja Escuela Z (Old School Z)/Grupo Bravo have been at war for more than seven months. During their struggle, the Tamaulipas capital of Ciudad Victoria has been ground Zero for daily executions, regular beheadings, shootouts, drive by shootings and other acts of violence that have spread terror among average citizens. The violence has since spread to Nuevo Leon resulting in a recent prison riot as the two rival cartels continue their fight for control.
On Tuesday, an image of an execution victim was leaked to social media that showed the victim of an execution. As previously reported by Breitbart Texas, posting executions through false Facebook and Twitter accounts has become a new way for cartels to spread their message rather than hanging banners.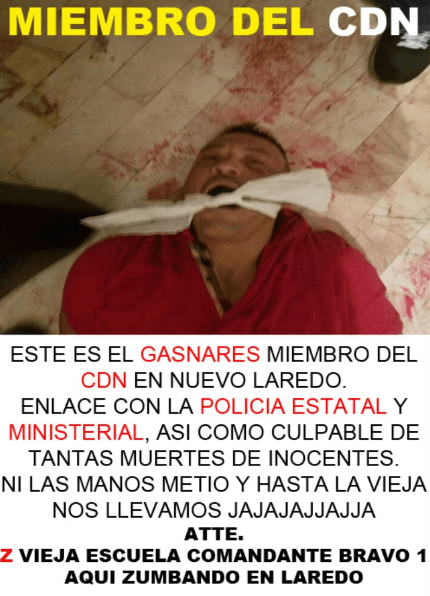 Later, cartel gunmen sent the video to Mexican authorities and to other individuals using a fake email account. In the video a man later identified as Jose Wenceslao Gaznarez is seen speaking moments before his execution. The law enforcement official claimed to be the link between the CDN and the state police in Nuevo Laredo and he began to name some of his colleagues by nicknames.
A group of gunmen wearing face masks with skulls in them then poses behind Gaznarez moments before the execution. According to social media posts by Grupo Bravo, the cartel will be making a push for the border city of Nuevo Laredo. In the message Grupo Bravo warns citizens to avoid driving with tinted windows and to be careful at the expected violence. The criminal organization claims that they will do away with kidnapping and extortion.