Editor's Note: Breitbart Texas traveled to the Mexican States of Tamaulipas and Coahuila to recruit citizen journalists willing to risk their lives and expose the cartels silencing their communities.  The writers would face certain death at the hands of the various cartels that operate in those areas including the Gulf Cartel and Los Zetas if a pseudonym were not used. Breitbart Texas' Cartel Chronicles are published in both English and in their original Spanish. This article was written by "A.J. Espinoza" from  Matamoros and Breitbart Texas' Ildefonso Ortiz.
MATAMOROS, Tamaulipas — Under heavy guard, U.S. federal agents escorted a former top lieutenant within the Sinaloa Cartel out of the U.S. The man is now set to face trial for two murders in Mexico City.
On Wednesday afternoon, U.S. federal authorities extradited Hector Luis "El Guero" Palma. Mexican authorities at the international bridge that connects this border city with Brownsville Texas took custody of the drug lord and moved him to the airport in Matamoros. Palma was loaded onto a government airplane under heavy guard and flown to Mexico City.
Breitbart Texas had recently reported on the legal situation surrounding Hector Luis "Guero" Palma. The capo had been arrested by Mexican authorities in 1995 and in 2002. The U.S. requested his extradition. The extradition came after a grand jury charged him with drug trafficking offenses in the United States. Palma was extradited years later, but he was given credit for his time served in Mexico and was released from the U.S. Bureau of Prisons this month. Instead of releasing him, authorities turned him over to U.S. Immigrations and Customs Enforcement to handle the extradition to Mexico.
Since Wednesday morning, Mexican security forces including federal police officers, soldiers and marines had been patrolling the streets of this city as they prepared for the extradition of one of the top capos within the Sinaloa Cartel.
Shortly before 5 p.m. authorities closed off access to Gateway International Bridge as heavily armed federal agents and officers began to walk Palma to the middle of the bridge. From the Mexican side, Mexican authorities awaited for Palma before walking him back to their country.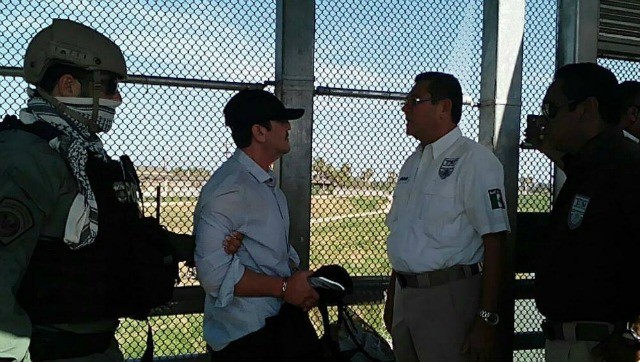 At the moment of the extradition, Palma looked considerably leaner from his younger days and appears to have aged rapidly. On Wednesday night, Palma was already in Mexico City at a federal facility under heavy guard. According to Mexico's Attorney General's Office, Palma is now set to face trial for two murders that took place in Mexico City.