A Sinaloa Cartel hitman has been sentenced to 24 years in federal prison for his role in kidnapping a man in Texas who was then tortured, murdered, and mutilated in Mexico.
This week, Francisco Javier "Pichas" Pulido went before U.S. District Judge David Briones; who handed down the 24 year prison sentence followed by a five year probation term and a fine.
Pulido is one of five Sinaloa Cartel operatives who have been jailed in connection with the kidnapping and murder of Sergio Saucedo, a man from Horizon City who had a 670 pound drug shipment seized by authorities.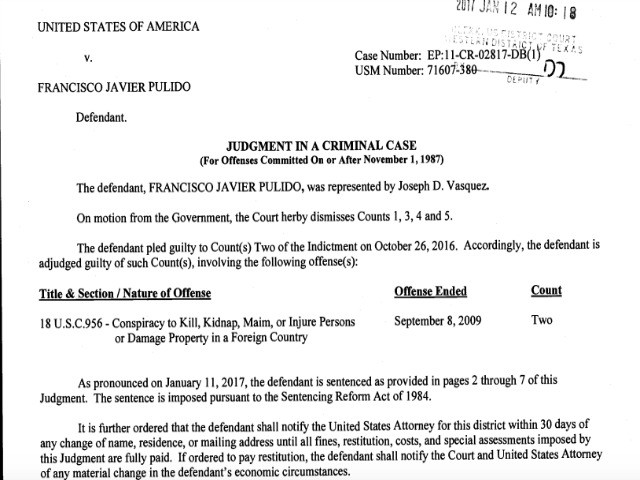 The murder was ordered by Jose Antonio "El Jaguar or El 14" Torres Marrufo. According to a criminal indictment filed against the key leadership of the Sinaloa Cartel, beginning in 2007, Marrufo became the regional leader for the cartel in Ciudad Juarez.
The Sinaloa Cartel is the criminal organization made up of two large criminal groups led by famed drug lords Joaquin "El Chapo" Guzman Loera and Ismael "El Mayo" Zambada. The Sinaloa Cartel is responsible for most of the drugs that are smuggled into the United States.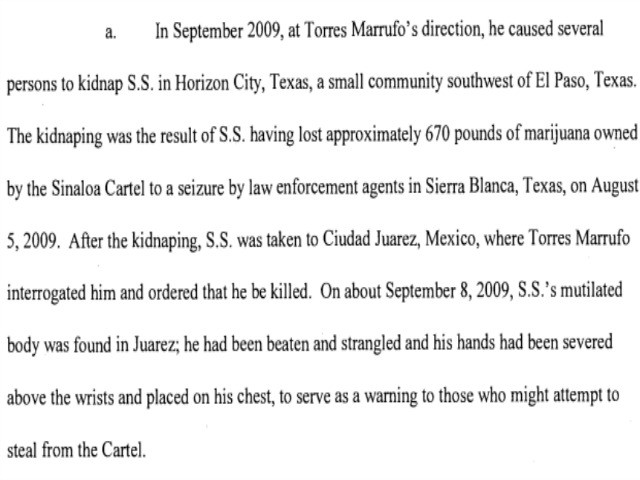 According to the criminal indictment filed against Marrufo, in September 2009, he had ordered the kidnapping of Sergio Saucedo, from his home in Horizon City, Texas, over the loss of 670 pounds of marijuana. After the kidnapping, Saucedo was taken to Ciudad Juarez where Marrufo interrogated him and ordered his execution. On September 8, 2009, Saucedo's body was discovered in Juarez. He had been beaten and strangled. Saucedo's hands had been severed and placed on his chest "to serve as a warning to those who might attempt to steal from the Cartel," the criminal indictment revealed. Marrufo, along with other key leaders from the Sinaloa Cartel, remain at large.
Pulido was arrested in March 2016 on a 2011 indictment charging him with multiple crimes for his role in the case. He pleaded guilty in October 2016 to conspiracy to kidnap and murder a person in a foreign country.
Ildefonso Ortiz is an award winning journalist with Breitbart Texas. He co-founded the Cartel Chronicles project with Brandon Darby and Stephen K. Bannon.  You can follow him on Twitter and on Facebook.