PIEDRAS NEGRAS, Coahuila — A recently captured Mexican cartel boss managed to purchase multiple properties in this border city at an estimated value of $2.5 million dollars.
Last week, Mexican federal authorities arrested Antonio "La Hamburguesa or the Hamburger" Romo Lopez, a lieutenant within the Gulf Cartel. The capture was carried out after a gun battle and five-hour chase through a mountain region with Mexican authorities in Zacatecas. Romo Lopez was arrested with his two bodyguards Armando N "Huevotes or Big Testicles" and Ernesto N "Garrotas or Big Claws".
According to Mexican authorities, Romo Lopez was the regional boss in Zacatecas for the Gulf Cartel and was one of the individuals largely responsible for the escalating violence in the state. Mexican and American law enforcement officials revealed to Breitbart Texas that Romo Lopez was operating in Zacatecas, Tamaulipas, and Sonora.
After Romo's arrest, Fernando Purón the mayor of Piedras Negras, Coahuila, made a public announcement claiming the cartel leader had multiple properties with an estimated value of $50 million pesos or approximately $2.5 million USD. Piedras Negras is a border city immediately south of Eagle Pass, Texas.
According to public statements made by Purón, he turned over various documents that indicate Romo's possession of various properties in Piedras Negras. The recently captured cartel leader in the past worked as the regional boss and purchased multiple properties during his time there. After Romo left Piedras Negras, rivals vandalized some of the buildings. Purón claimed he demolished some of the buildings and painted over others at the outset of his administration.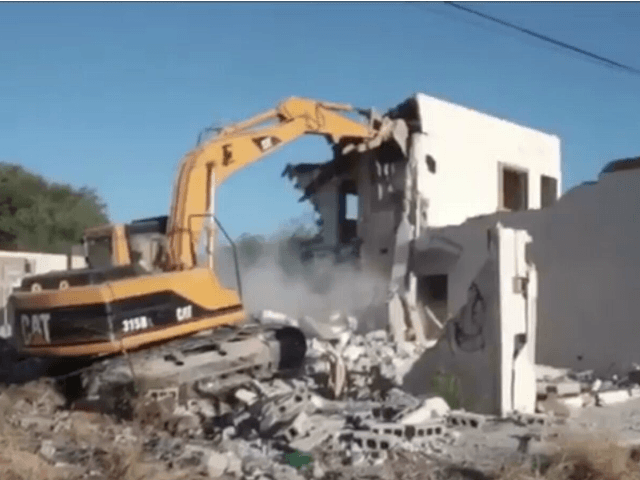 The Mexican mayor claimed to have asked federal authorities to seize Romo's properties and others to keep cartels from holding their assets after their eventual release.
Editor's Note: Breitbart Texas traveled to the Mexican States of Tamaulipas, Coahuila, and Nuevo León to recruit citizen journalists willing to risk their lives and expose the cartels silencing their communities.  The writers would face certain death at the hands of the various cartels that operate in those areas including the Gulf Cartel and Los Zetas if a pseudonym were not used. Breitbart Texas' Cartel Chronicles are published in both English and in their original Spanish. This article was written by "J.M. Martinez" from Piedras Negras, Coahuila.