REYNOSA, Tamaulipas — Eight innocent bystanders and motorists were injured in a cartel skirmish as rival gunmen squared off near a shopping center in one of this border city's main avenues. The fighting led to at least one shooter dying.
The incident took place outside a popular shopping center called H100 along Boulevard Hidalgo and quickly spread to two other neighborhoods as rival Gulf Cartel gunmen exchanged shots. Mexican military personnel and Tamaulipas state police rushed to the area, but were not able to stem the violence. Reynosa is immediately south of the U.S. cities of McAllen, Hidalgo, Pharr, and Mission.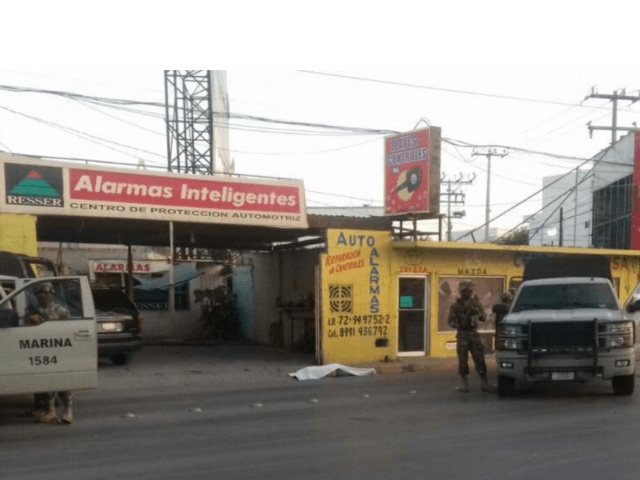 The battle was made worse by rush hour vehicle and foot traffic. Information provided to Breitbart Texas by Mexican law enforcement sources revealed that a young girl was hit by stray gunfire, while a man was struck by a car after he dove to the ground for cover. Six other victims, including another young child, were injured in a series of crashes due to gunmen chasing each other along the streets while firing weapons. A teenager identified as a Gulf Cartel member was killed in the shootout.
Since May, two rival factions of the Gulf Cartel have fought for control of lucrative drug trafficking and human smuggling areas, Breitbart Texas reported. The turf war has led to almost daily gun battles, kidnappings, executions, and an increase in violent robberies.
Editor's Note: Breitbart Texas traveled to the Mexican States of Tamaulipas, Coahuila, and Nuevo León to recruit citizen journalists willing to risk their lives and expose the cartels silencing their communities.  The writers would face certain death at the hands of the various cartels that operate in those areas including the Gulf Cartel and Los Zetas if a pseudonym were not used. Breitbart Texas' Cartel Chronicles are published in both English and in their original Spanish. This article was written by "A.C. Del Angel"  from Tamaulipas.