MONTERREY, Nuevo Leon — Threatening messages between rival factions of Los Zetas Cartel continue to crop up in the metropolitan areas of this border state following a wave of executions.
In the suburb of Santa Catarina, police officers found a narco-banner on an overpass along the highway that connects this city with Saltillo, Coahuila. Authorities were not able to arrest anyone for placing the banner which claims the murders and attacks are against their rivals, not innocent parties. Los Zetas previously split into two factions–Vieja Escuela Z and Cartel Del Noreste.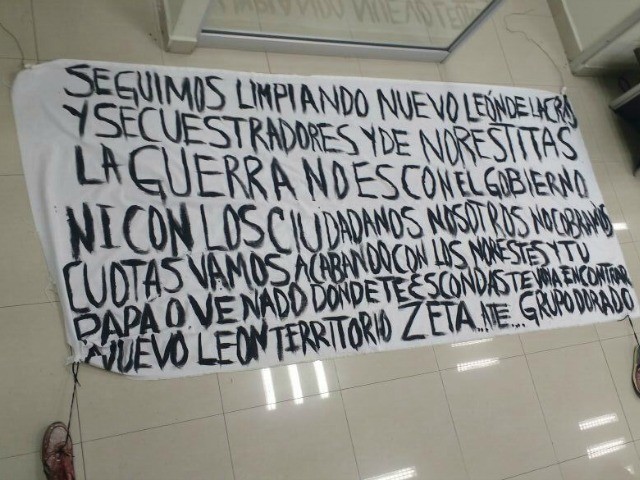 The message translated reads:
We keep cleaning Nuevo Leon of dirtbags and kidnappers and little northerners (a reference to CDN). The war is not with the government nor the citizens. We do not collect extortion fees we are finishing the Noreste and you Papa or Venado wherever you are hiding I will find you. Nuevo Leon is Zetas territory …Atte …Golden Group.
Another narco-banner with a similar message was hung by Los Zetas on the Pope Bridge along Morones Prieto Avenue, a short distance from the Monterrey City Hall. The message once again claimed the violence was not meant for civilians or government forces.
A bloody response from the CDN soon followed in the Monterrey suburb of Apodaca at the Multipark industrial area, where a man was executed by cartel gunmen. A narco-message was left on the body as well.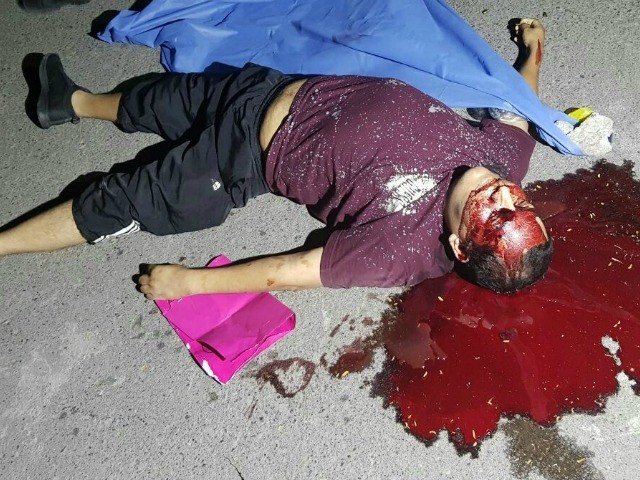 Authorities collected various 9mm casings near the scene. The victim was wearing athletic clothing and bore a poster message signed by the CDN.
"This goes to all the grasshoppers!!! We are here Atte: CDN JR24."
Editor's Note: Breitbart Texas traveled to the Mexican States of Tamaulipas, Coahuila, and Nuevo León to recruit citizen journalists willing to risk their lives and expose the cartels silencing their communities.  The writers would face certain death at the hands of the various cartels that operate in those areas including the Gulf Cartel and Los Zetas if a pseudonym were not used. Breitbart Texas' Cartel Chronicles are published in both English and in their original Spanish. This article was written by Tony Aranda from Nuevo Leon.