A dangerous cell of the Sinaloa Cartel dubbed Gente Nueva del Tigre, from the border state of Chihuahua, joined efforts to help the victims of the Mexico City earthquake by donating emergency supplies and food.
The criminal group left a shipment of supplies in the town of Cuauhtemoc, Chihuahua, and a message claiming they were behind the gifts. Since a 7.1 earthquake struck Mexico City knocking down dozens of buildings and killing more than 300 victims, thousands volunteered to help or donated relief supplies.
The photographs are the first of their kind since cartels are responsible for the majority of murders, kidnappings, extortion, and other crimes that prey on average citizens.
The images of boxes with food, toilet paper, blankets, and other donated items by the cartel were initially published by the Facebook page Cuauhtemoc Sin Miedo. The citizen journalists there continually report on executions carried out by gunmen, particularly those from Gente Nueva Del Tigre who are currently led by Julio "Comandante 109" Escarcega.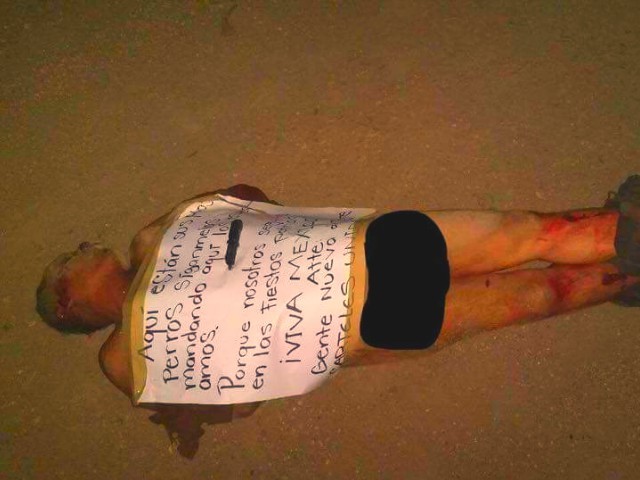 "We are sending this help, we hope that it is useful to those hurt by the earthquake. We are here to help the people. Atte Gente Nueva Del Tigre, Carteles Unidos."
Red Cross personnel collected the donations. The region where the cartel operates is being fought over with rival factions from the La Linea/Juarez Cartel. The groups are fighting for control of drug trafficking, kidnapping, and extortion operations leading to bloody gun battles throughout the state. In March, Breitbart Texas reported on a fierce shootout that went on for hours as rival factions of the Juarez Cartel fought–leaving various citizens trapped in the crossfire.
Editor's Note: Breitbart Texas traveled to the Mexican States of Tamaulipas, Coahuila, Nuevo León and other areas to recruit citizen journalists willing to risk their lives and expose the cartels silencing their communities. Breitbart Texas' Cartel Chronicles are published in both English and in their original Spanish. This article was written by Jose Luis Lara, a former leading member who helped start the Self-Defense Movement in Michoacán and Tony Aranda from Nuevo León.