MONTERREY, Nuevo Leon — A group of gunmen presumably with the Gulf Cartel kidnapped and incinerated the son of a former Mexican congresswoman from this border state.
A possible debt with the cartel appears to have been the reason for the kidnapping and murder. Law enforcement sources in Nuevo Leon revealed to Breitbart Texas that the case began when police officers in the town of Santa Catarina received a call about an incinerated man left in a rural field along the highway to Saltillo.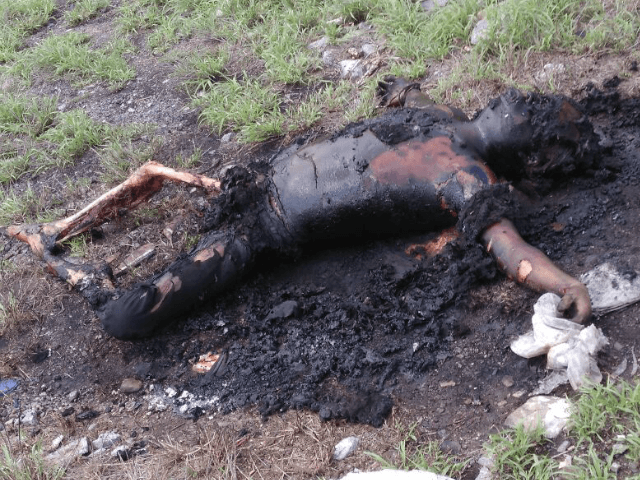 When authorities arrived, they discovered the body of 38-year-old Victor Ibarra Martinez–who has been identified in a preliminary fashion as the son of the former congresswoman Margarita Martinez. Authorities were not able to formally identify the body since the remains were badly burned. Nuevo Leon law enforcement sources revealed to Breitbart Texas that Ibarra Martinez was considered kidnapped since September 26.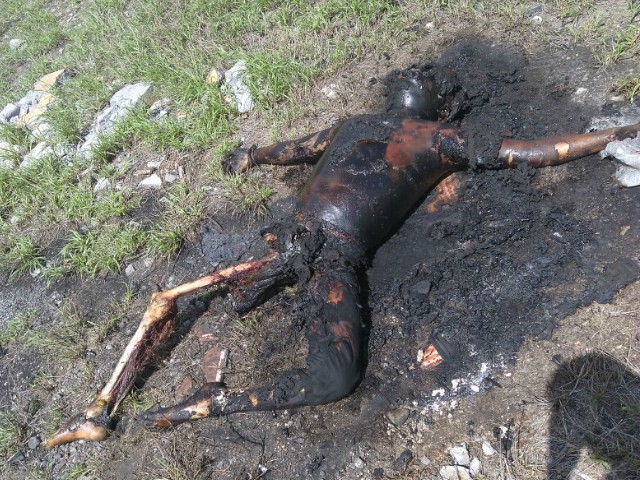 The son of the Mexican politician ran a bar in the Cumbres neighborhood of Monterrey prior to his kidnapping and one of the working theories points to a possible debt to organized crime. Another another scenario indicates the motive had been a kidnapping to pressure the victim's mother to pay $5 million pesos ($270,000 USD). Next to the victim, the cartel gunmen left a poster board with the following message: "To the ex-congresswoman Margarita Martinez, from Escobedo: you preferred to let your son die rather than spend your money, Atte. CDG".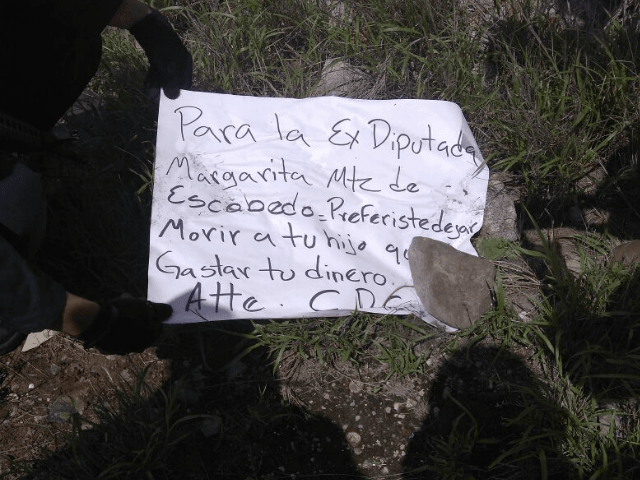 Law enforcement sources revealed that the body showed signs of having been tied up with his leg chewed by animals.
During Margarita Martinez's term as mayor of Escobedo, Nuevo Leon, she was forced to use armored vehicles after receiving threats from Los Zetas. Later, several municipal employees, including those from her public safety department, were arrested for working with organized crime.
Editor's Note: Breitbart Texas traveled to the Mexican States of Tamaulipas, Coahuila, and Nuevo León to recruit citizen journalists willing to risk their lives and expose the cartels silencing their communities.  The writers would face certain death at the hands of the various cartels that operate in those areas including the Gulf Cartel and Los Zetas if a pseudonym were not used. Breitbart Texas' Cartel Chronicles are published in both English and in their original Spanish. This article was written by Tony Aranda from Nuevo Leon.