PIEDRAS NEGRAS, Coahuila — A series of cartel banners called out the former secretary of state as the man who helped protect key cartel gunmen by making them commanders of an elite tactical police unit.
At least five banners were left behind in various areas of Piedras Negras which accused former Secretary of State Victor Zamora of previously protecting cartel hitmen and making them leaders of the special police unit GATES (Spanish acronym for SWAT). The unit has since been transformed into Fuerza Coahuila.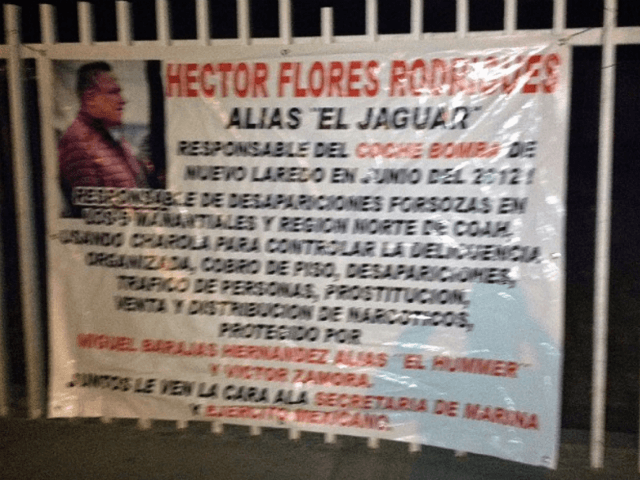 As Breitbart Texas reported, from the latter part of the 2000s until 2013 through widespread public corruption, Los Zetas Cartel was able to expand and surpass the capabilities of law enforcement in Coahuila. Their explosive growth led to the creation of GATES to fight the cartel head-on. Over time GATES and its successor, Fuerza Coahuila, managed to push cartels underground.
The banners identify regional coordinator Hector "El Jaguar" Flores Rodriguez as a cartel hitman responsible for a 2012 car bomb attack in Nuevo Laredo, Tamaulipas. In one message, Flores Rodriguez is accused of being responsible for kidnapping, drug trafficking, mass disappearances, and other activities in Coahuila. Zamora and Police Commander Miguel "El Hummer" Barajas Hernandez are named as having protected Flores Rodriguez and his activities.
The lawmen known as El Jaguar and El Hummer made headlines in 2013 when they became the target of an investigation for their alleged roles in preparing explosive devices that were used during a series of attacks in Nuevo Laredo in 2012, Mexico's Milenio reported at the time.
Editor's Note: Breitbart Texas traveled to the Mexican States of Tamaulipas, Coahuila, and Nuevo León to recruit citizen journalists willing to risk their lives and expose the cartels silencing their communities.  The writers would face certain death at the hands of the various cartels that operate in those areas including the Gulf Cartel and Los Zetas if a pseudonym were not used. Breitbart Texas' Cartel Chronicles are published in both English and in their original Spanish. This article was written by "J.M. Martinez" from Coahuila.