One of the founding commanders of La Familia Michoacana Cartel was sentenced to 43 years in prison for his role in helping the criminal organization move large quantities of methamphetamine from Mexico to several major U.S. cities. The cartel used Dallas as one of their main hubs for distributing products and coordinating the movement of cash back to Mexico.
Arnoldo "El Minsa" Rueda Medina went before U.S. District Judge Ed Kinkeade in Dallas, Texas, who sentenced him to 520 months in prison. Rueda Medina previously pleaded guilty to drug conspiracy and money laundering charges in September 2017, information released by the U.S. Attorney's Office revealed. Mexican authorities captured the notorious cartel commander on July 11, 2009. He was eventually extradited to Texas in January 2017.
Information provided to Breitbart Texas by Mexican law enforcement revealed that Rueda Medina began his career running a forging operation in Guanajuato, Mexico State, and Guerrero, where he would buy stolen vehicles and then forge documents and VIN numbers to pass them off as legitimately purchased. Since his main customers were organized crime members, he was invited to join a wing of the Gulf Cartel/Los Zetas known as "La Empresa" that eventually broke off in 2006 and became La Familia Michoacana.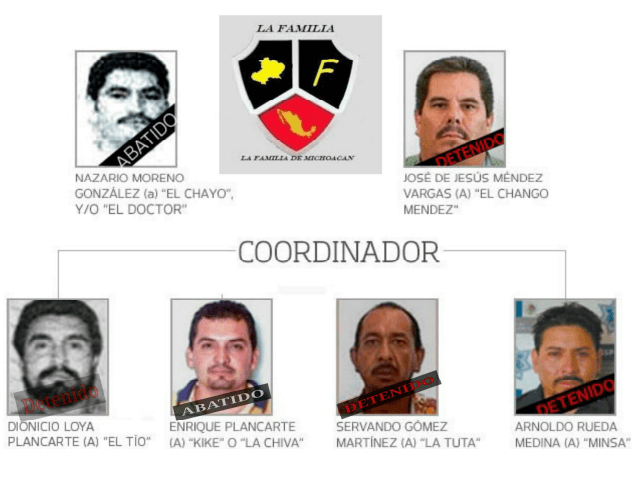 During his time with La Empresa, El Minsa climbed to the highest levels of the organization and by the time La Familia was created, he was the consigliere to the top leaders of the criminal organization, Nazario "El Chayo" Moreno and Jesus "El Chango" Mendez. In his role, El Minsa was able to set up a vast network of operatives inside Mexican law enforcement agencies and a vast series of drug production facilities that used ephedrine and other precursors smuggled from Asia into the southern port of Lazaro Cardenas, Michoacan.
According to U.S. prosecutors, from 2007 to the time of his arrest, La Minsa helped La Familia move large quantities of narcotics through smuggling routes near Laredo, Texas, and Tijuana, Baja California.
After Mexican authorities arrested El Minsa, teams of gunmen with La Familia Michocana tried to rescue him, setting off fierce gun battles through Morelia, Michoacan. Two days after the arrest of Rueda Medina, La Familia Michoacana kidnapped, tortured, and murdered 12 Mexican police officers. The cartel dumped the bodies of the 12 police officers next to a written warning taunting the Mexican government.
Ildefonso Ortiz is an award-winning journalist with Breitbart Texas. He co-founded the Cartel Chronicles project with Brandon Darby and Stephen K. Bannon.  You can follow him on Twitter and on Facebook. He can be contacted at Iortiz@breitbart.com.
Brandon Darby is managing director and editor-in-chief of Breitbart Texas. He co-founded the Cartel Chronicles project with Ildefonso Ortiz and Stephen K. Bannon. Follow him on Twitter and Facebook. He can be contacted at bdarby@breitbart.com.
Jose Luis Lara, a former leading member who helped start the Self-Defense Movement in Michoacán and a writer for the Cartel Chronicles project contributed to this report.