PIEDRAS NEGRAS, Coahuila – A team of cartel gunmen was in the process of dumping a headless body in this border city when tactical police officers encountered them, setting off a fierce firefight. The clash was recorded by various residents who were caught nearby.
The incident began shortly after noon near Carranza Boulevard in Piedras Negras when a team of gunmen dumped the body of an unidentified man wrapped in a blanket. Law enforcement sources revealed to Breitbart News that the victim was tortured and beheaded. The victim showed signs of "tabliza," where cartel gunmen use a paddle to beat their victims.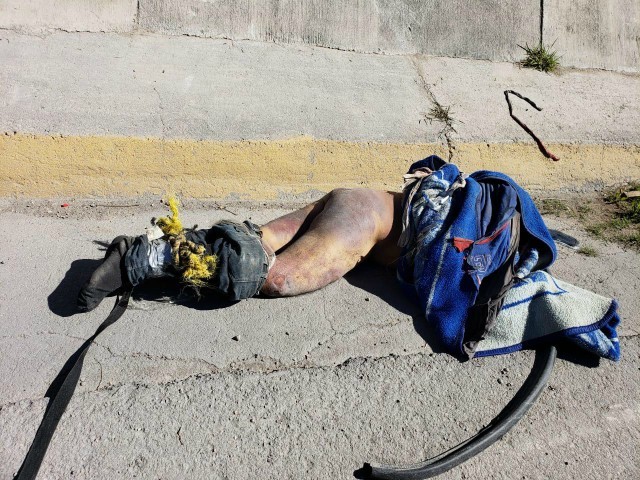 The gunmen were leaving the scene when they encountered a squad of police officers from the cartel fighting unit, Fuerza Coahuila. They fired at the officers as they attempted to flee. The police gave chase through the streets of Piedras Negras.
A woman riding in an SUV captured the moment when the Fuerza Coahuila can be seen running down the streets as they try to find some of the cartel gunmen.
Two other women riding in a taxi cab recorded the moment when they were caught in the crossfire.
Piedras Negras is under the control of a faction of Los Zetas called "Cartel Del Noreste." The criminal organization is currently led by Hector Raul "El Tory" Luna Luna, a narco-terrorist who was behind a 2008 grenade attack on the U.S. Consulate General in Monterrey. After bribing his way out of prison, El Tory carried out a series of gruesome executions and attacks on law enforcement in several Mexican states.
Editor's Note: Breitbart Texas traveled to the Mexican States of Tamaulipas, Coahuila, and Nuevo León to recruit citizen journalists willing to risk their lives and expose the cartels silencing their communities.  The writers would face certain death at the hands of the various cartels that operate in those areas including the Gulf Cartel and Los Zetas if a pseudonym were not used. Breitbart Texas' Cartel Chronicles are published in both English and in their original Spanish. This article was written by "J.M. Martinez" from Coahuila.