As Hollywood's yearly love letter to itself airs Sunday night on ABC, Breitbart News will provide live coverage of the Academy Awards. For those of you who choose to abstain from watching or if you want a great two-screen experience, follow the Oscars here with up-to-date coverage and commentary led by Big Hollywood's Christian Toto.
11:56 PM EST: Will Smith, recently honored with a Razzie for his role in After Earth, presents the Academy Award for Best Picture to…
12 Years a Slave!
Brad Pitt leads the acceptance speech to introduce director Steve McQueen. McQueen goes through a long list of thanks before closing with: "Everyone deserves not just to survive but to live… I dedicate this award to all the people who have endured slavery and the 21 million people who still suffer slavery today." Literally jumps for joy after finishing.
11:55 PM EST: Matthew McConaughey wins Best Actor for his role in True Detective. Let's be honest, that's what this is really all about. Dallas Buyers Club was just the foot in the door. Thanks God in his acceptance speech–rare among tonight's big winners. Thanks his family. Admits his hero growing up was "me in 10 years."
CHRISTIAN TOTO–Matthew McConaughey completed his journey from rom-com washout to Oscar winner Sunday night. And he made sure to acknowledge God's role in that trek during his Best Actor acceptance speech for the film Dallas Buyers Club.
"First off, I want to thank God because that's who I look up to," the new Oscar winner said. The assembled actors, directors and industry heavy hitters grew rather quiet, unsure how to react to his overt religious praise.
McConaughey, who dropped an alarming amount of weight to play a man suffering from AIDS, reverted to his aw-shucks persona from there. He thanked his father, who he said was watching from above "with a big pot of gumbo" and a "cold can of Miller Lite in his hand."
"Dad, you taught me what it means to be a man," he said.
McConaughey wrapped his speech with his now signature, "alright, alright alright" phrase as well as "Just Keep Livin," the name of his foundation which helps high school students "lead active lives and make healthy choices to become great men and women."
11:49 PM EST: CHRISTIAN TOTO–Yes, John Travolta magnificently mangled singer Idina Menzel's name as he introduced her rendition of Let It Go from Frozen at tonight's Oscar ceremony.
The gaffe quickly inspired a new Twitter handle and some funny first few tweets.
AdelaDazeem sent out the following message:
THANK YOU, JORN TROMOLTO!

— Adela Dazeem (@AdelaDazeem) March 3, 2014
11:43 PM EST: Cate Blanchett wins Best Actress for her role in Woody Allen's Blue Jasmine. The Academy has finally ended that dopey tradition of having the previous year's Actor/Actress nominees praise the current year's nominees before giving the award. Blanchett thanks Allen and the film's supporters, blasting Hollywood's sexism in calling female-led movies "niche."
CHRISTIAN TOTO–Cate Blanchett is still on Team Woody.
The actress, as expected, won the Best Actress Oscar Sunday for her biting work in Blue Jasmine. She won the bulk of previous acting honors for the role, but the open letter by Dylan Farrow accusing her father, Blue Jasmine director Woody Allen, of molesting her years ago cast some doubt on her win.
That didn't dent her chances, apparently. And she had no problem praising Allen during her acceptance speech.
"Thank you so much, Woody, for casting me," she said after praising Allen's screenplay.
Blanchett also said the film's commercial success should remind Hollywood that women-centric movies can still draw a crowd.
"Audiences want to see them, and in fact they earn money," she said.
11:34 PM EST: An erudite and graceful Sidney Poitier (at 87!) presents the Oscar for Best Director; Alfonso Cuarón wins for Gravity. Cuarón finishes his speech with a special message to his mother in Spanish; Ellen ruins the moment with a half-hearted "that's all, folks!" fakeout.
11:28 PM EST: Spike Jonze wins Best Original Screenplay for Her. 
11:25 PM EST: Best Adapted Screenplay goes to John Ridley for 12 Years a Slave.
11:23 PM EST: Ellen is collecting "pizza money" from front-row celebs in Pharrell's hat, starting with $200 in cash from Harvey Weinstein. That was, what, three boxes? The cost of living in L.A. is crazy.
11:20 PM EST: CHRISTIAN TOTO–The annual "In Memoriam" segment of the Oscars has taken heat in the past for forgetting to remember some actors, and some years featured audience members applauding to show affection for particular stars.
This year, the visual montage of those who passed over the last 12 months, including Esther Williams, Sid Caesar, Philip Seymour Hoffman, Paul Walker and Ray Harryhausen, proved both poignant and beautifully crafted.
Bette Midler capped the tribute with a perfunctory, to be kind, performance of The Wind Beneath My Wings.
11:18 PM EST: "Let It Go" from Frozen wins Best Original Song. "Happy Oscars to You, Let's do Frozen 2," husband-and-wife songwriters Robert Lopez and Kristen Anderson-Lopez sing in their acceptance speech to the tune of "The Birthday Song." This makes Robert a rare EGOT (Emmy-Grammy-Oscar-Tony) winner.
11:15 PM EST: Award for Best Original Score goes to Steven Price, Gravity.
11:11 PM EST: Idina Menzel, singing "Let It Go" from Frozen, is having as much difficulty with her timing as Bette was with her pitch. To be fair, John Travolta just introduced her as "Adele Dazeem."
11:09 PM EST: EZRA DULIS–Let's not forget the Academy's touching tribute to the death of the incandescent light bulb with this set.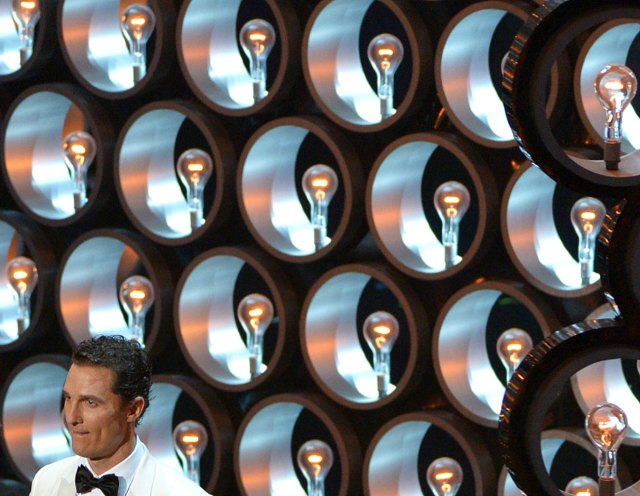 11:04 PM EST: Ellen announces, "We just crashed and broke Twitter. We have made history."
10:57 PM EST: "In Memoriam" clip very classy this year, but once it ends, out steps Bette Midler to perform "Wind Beneath My Wings"… hitting about 20% of her notes.
The full gallery of deceased members of the Academy is at Oscar.com.
10:51 PM EST: The Selfie Seen 'Round The World is now the first tweet ever to accrue one million retweets.
10:48 PM EST: CHRISTIAN TOTO–Ellen DeGeneres earned some laughs early in the Oscar telecast by joking she would order some pizza for the stars seated in the front rows.
Turns out she wasn't joking.
DeGeneres escorted a pizza dude to the first few rows in the audience and several stars eagerly took a slice. The bit had worn out its welcome long before the first pizza box opened. DeGeneres dutifully played along. It was too late to back out, which is what happens when you riff … and riff … before a live audience.
10:46 PM EST: The Great Gatsby wins for Best Production Design, to the delight of Breitbart News Advertising Executive Lauren Veneziani.
GATSBY was my #1 of last year! Thrilled it won in both categories it was nominated in tonight!

— Lauren Veneziani (@DCfilmgirl) March 3, 2014
10:42 PM EST: As of this writing, Ellen's mega-selfie has 835,000 retweets on Twitter, making it the most retweeted tweet of all time. The previous record holder was @BarackObama's victory announcement in 2012; the simple message of "Four More Years" with a photo of President Obama hugging his wife Michelle topped out at around 810,000 retweets.
10:38 PM EST: CHRISTIAN TOTO–12 Years a Slave co-star Lupita Nyong'o won the Best Supporting Actress honor Sunday, and she started her acceptance speech by acknowledging the dichotomy of her celebration.​
"It doesn't escape me for one moment that so much joy in my life is thanks to so much pain in someone else's," she said, referring to the horrors committed upon her character in the film, based on actual events.
Nyong'o also thanked her family, her co-stars and her drama school before leaving the stage to more applause.
10:35 PM EST: Whoopi Goldberg wears the iconic black-and-white stockings and ruby slippers worn by the wicked witch crushed by a house in The Wizard of Oz as she introduces a 75th-anniversary tribute to the film. Pop star Pink gives an affected performance of "Somewhere Over The Rainbow" as clips from the film play on a giant screen behind her.
10:32 PM EST: Best Film Editing goes to Gravity, Alfonso Cuarón and Mark Sanger.
10:30 PM EST: Presenter Bill Murray gives a tribute to the late Harold Ramis while announcing the winner of Best Cinematography–which went to Emmanuel Lubezki for Gravity, by the way.
10:24 PM EST: CHRISTIAN TOTO–What do you do when you're hosting the Oscars and you want to boost your Twitter profile?
Why, you stage a superstar selfie, natch.
Brad Pitt, Jennifer Lawrence, Meryl Streep, Bradley Cooper and a few other friends gathered for a selfie at Oscar host Ellen DeGeneres' behest.
10:22 PM EST: Ellen DeGeneres wraps up a terrible joke about pizza by bringing a few boxes from a local Los Angeles joint into the first few rows. We only saw Jennifer Lawrence actually taking a bite.
10:18 PM EST: Lupita Nyong'o wins Best Supporting Actress for 12 Years a Slave. Tears up during energetic, emotional, and grateful acceptance speech.
10:10 PM EST: Gravity wins Best Sound Editing, too.
10:08 PM EST: Gravity wins the Oscar for Best Sound Mixing.
10:03 PM EST: Ellen rehashes jokes, doing another selfie–this time with a pack of celebs in the background, reviving a pointless "who wants pizza?" bit from earlier, and re-mocking Liza Minnelli and Meryl Streep's number of Oscar nominations. 
If only Bradley's arm was longer. Best photo ever. #oscars pic.twitter.com/C9U5NOtGap

— Ellen DeGeneres (@TheEllenShow) March 3, 2014
9:59 PM EST: U2 performs "Ordinary Love," their song for Mandela: Long Walk to Freedom, memorializing the South African leader in the most self-aggrandizing way possible.
9:49 PM EST: Italy's The Great Beauty wins Best Foreign-Language Film, defeating the Palestinian terrorism drama Omar.
9:48 PM EST: EZRA DULIS–Let's take a moment to reflect on how awesome it is that "Oscar-nominated Jackass Presents: Bad Grandpa" exists as a phrase in the American lexicon.
9:43 PM EST: Kevin Spacey begins his speech as a presenter in character as Frances Underwood, his character from Netflix series House of Cards.
9:42 PM EST: CHRISTIAN TOTO–Oscars toasted Everyday Heroes tonight, a montage segment heavy on racial justice giants and light on military figures.
The clip parade mentioned last year's 42 as well To Kill a Mockingbird, Ali, The Blind Side, Lincoln, Ben Hur, Silkwood, Erin Brockovich, Captain Phillips and Schindler's List.
Zero Dark Thirty got referenced, as did Saving Private Ryan. Most of the time went to gay rights themes,(Philadelphia), news heroes (All the Presidents Men) and unions (Norma Rae).
9:38 PM EST: Best Documentary Feature goes to Morgan Neville, Gil Friesen and Caitrin Rogers' 20 Feet from Stardom. Darlene Love belts out the gospel song "His Eye Is On The Sparrow" during the acceptance speech.
9:35 PM EST: Live Action Short Film goes to Anders Walter and Kim Magnusson's Helium.
Best Documentary Short Film goes to Malcolm Clarke and Nicholas Reed's The Lady in Number 6: Music Saved My Life.
9:24 PM EST: Karen O from The Yeah Yeah Yeahs sings the twee "The Moon Song" from Spike Jonze's twee film Her accompanied by twee rocker (well, at least that first album) Ezra Koenig on acoustic guitar.
9:22 PM EST: Best Visual Effects goes to Gravity.
9:20 PM EST: Sally Field introduces a segment honoring "everyday heroes," which turns into a generic montage of "inspirational" film clips.
CASE IN POINT:
The #Oscars just said journalists are heroes! Take that, world that hates us!

— HuffPost Media (@HuffPostMedia) March 3, 2014
9:15 PM EST: Winner of Best Animated Short: French film Mr. Hublot
Winner of Best Animated Feature Film: Disney's Frozen
9:11 PM EST: CHRISTIAN TOTO–Jared Leto picked up his anticipated Best Supporting Actor Oscar Sunday and gave what could be the longest speech of the night.
Leto reminded viewers of those suffering from violence in both Ukraine and Venezuela, telling them the assembled crowd had them in their thoughts. He also connected his win to those who suffer for being different, a reference to his cross-dressing character in Dallas Buyers Club. He rounded out the speech by thanking his family, particularly his single mom and brother.
9:06 PM EST:
Channing Tatum is wearing clothes. This show sucks. #Oscar2014

— Lisa De Pasquale (@LisaDeP) March 3, 2014
9:01 PM EST: Award for Best Costume Design: Catherine Martin, The Great Gatsby
Award for Best Makeup & Hairstyling: Adruitha Lee, Robin Mathews, Dallas Buyers Club
The acceptance speech for the latter brings the night's first shoutout to AIDS, thanking the film for helping "the younger generation" understand the fear surrounding the disease in the 1980s.
8:59 PM EST: CHRISTIAN TOTO–Ellen DeGeneres is well known for her clean brand of comedy, and she told reporters in the days before hosting the Oscars telecast she doesn't want to hurt people with her humor.
Her Oscar monologue found her mocking both an elderly nominee and a show business legend in the first few minutes.
One of the first jokes out DeGeneres' mouth was an old age joke aimed at 84 year old Best Supporting Actress nominee June Squibb. She mentioned the Nebraskaactress, and then she repeated the mention in a louder voice as if Squibb couldn't hear her.
Next, she pointed to Liza Minnelli seated in the crowd and referred to the Oscar winner as a "male" Liza Minnelli impersonator.
The rest of DeGeneres' monologue was filled with the comedian's rambling shtick, a slight toward the limited collegiate experience of the crowd and an acknowledgement of the P.C. sensibilities that could be in play later in the evening.
"Possibility number one: '12 Years a Slave' wins Best Picture. Possibility number 2: You're all racists."
DeGeneres avoided politics entirely in her monologue, but it certainly won't go down as a comic highlight in Oscar telecast history.
8:52 PM EST: Pharrell reprises his much-memed giant hat from the Grammys as he performs his song "Happy" from the Despicable Me 2 soundtrack. Did you know the music video for the song is a full 24 hours long? Your kids will never complain during a car ride again.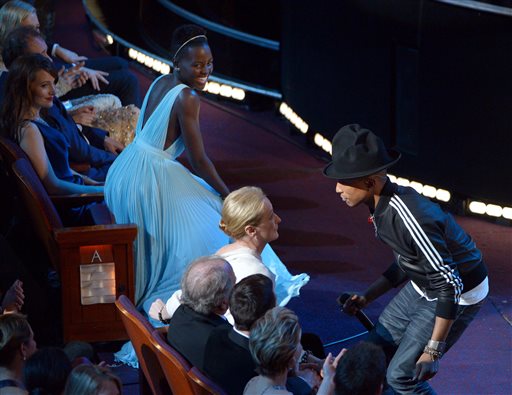 Pharrell dancing with Meryl Streep (John Shearer/Invision/AP)
8:48 PM EST: Ellen takes a selfie with her phone, saying she's tweeting it ("hashtag Oscars, hashtag blessed" she says–the actual tweet comes out a little differently). 
#Oscars #Blessed #blurry pic.twitter.com/gSo8vYJ34z

— Ellen DeGeneres (@TheEllenShow) March 3, 2014
8:45 PM EST: Jared Leto wins Best Supporting Actor for Dallas Buyers Club. Thanks his mother and brother/bandmate in 30 Seconds to Mars. Gives a shoutout to protesters in the Ukraine–very fuzzy connection to the Oscars.
8:40 PM EST: DeGeneres ribs plenty of nominees: Meryl Streep for how much she's had to spend on Oscar dresses, Jennifer Lawrence for stumbling at last year's show, Bruce Dern for "sex at rodeos," and Jonah Hill for his infamous Wolf of Wall Street masturbation scene. "You showed us something in that film that I have not seen for a very, very long time," she quips. She ends her monologue laying out two possibilities: "Possibility Number One, 12 Years a Slave Wins. Possibility Number Two, you're all racists."
8:34 PM EST: Host Ellen DeGeneres opens with a sidelong joke at the California's self-importance as Ukraine edges closer to war. Addressing viewers from around the world, she reassured them, "It has been raining. We're fine. And thank you for your prayers."
8:12 PM EST: The shots at middle America begin before the ceremony. Late-night comic Jimmy Kimmel just did a bit continuing his fixation on "mean tweets" directed at celebrities, with Kimmel jumping through a TV screen to chastise a pair of stereotypically obese, slovenly couch potatoes for poking fun of actors' red carpet fashion online. "What are you wearing? Are those board shorts?" Kimmel asks a balding slob. Get the message, folks? Hollywood is better than you–and you shouldn't take advantage of technology like Twitter that insulates them from your opinions about their elite because your life is so pitiful.