To begin with, there is no question Chadwick Boseman has earned himself a Best Actor nomination. Like Brett Ratner's "Hercules," the "Get On Up" trailers are deceptive. This is no feel-good musical biopic from Tate Taylor, the director of "The Help." This is a sprawling and serious movie about James Brown; a fiercely independent, difficult, complicated, driven, obstinate, egotistical, selfish, brave, trailblazing, patriotic and charismatic musical genius … and in a dazzling career-defining performance, Boseman captures every bit of him.  
But so too does Tate, who thankfully breaks the musical biopic mold  of "Walk the Line" (2005)  and "Ray" (2004), two fine films that watered their subjects (Johnny Cash and Ray Charles) down to drug addicts in melodramatic relationships. Tate could have easily done the same. James Brown's troubles included prison stints, IRS troubles, drug addiction (late in life), the death of a child, and three battered wives. This is the easy stuff of three-act structures intercut with musical interludes.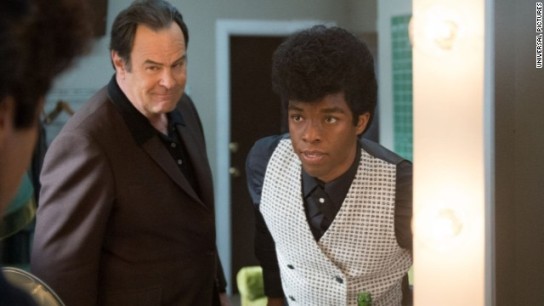 Instead, and to their great credit, Tate and his screenwriters (Jez Butterworth and brother John-Henry) take a real chance with a narrative structure that, for all 140 minutes, moves through different parts of Brown's dramatic life. Rather than lean on the over-arching cliché of a rise and fall story, Tate constructs a handful of subplots interspersed with character moments and incredibly dynamic musical sequences that — thanks to Boseman — do the impossible: capture the blazing energy that in tidal waves rolled off of Soul Brother Number One, The Sex Machine, Mr. Dynamite, The Hardest Working Man in Show Business, The King of Funk, Minister of The New New Super Heavy Funk, Mr. Please Please Please Please Her, The Boss and The Godfather of Soul.
Too many biopics attempt to define their subject using a narrow chunk of life — an understandable surrender to the demands of a tight narrative. Tate, though, swings for the fences, throws off those chains, and captures James Brown…The Man. Nothing's hidden or papered over. The warts are there. But so is the genius and a South Carolina childhood that is the stuff of horror shows.
Tate also avoids the now-tired clichés of portraying a segregated America. There isn't a single tropey scene of Brown and his first band, The Famous Flames, being turned away by a hotel, sitting in the back of a bus, or being removed from a lunch counter. The ugliness of racism isn't ignored, it's just handled with intelligence and originality.
Although Tate avoids Brown's politics (The King of Funk was a patriotic Reagan Republican who supported the Vietnam War), the essence of Brown's social and racial beliefs do get a fair hearing. Brown believed in black self-reliance (not the government), loved his country, and for a time caught hell from the black community for not being "black enough." One memorable scene set the day after Martin Luther King's assassination shows Brown giving the white police and his black audience equal amounts of hell for uncivil behavior.
Brown himself was conflicted by his own understandable wariness of the "white devil" (the way the music  business abused black performers during the early days of R&B and rock 'n' roll is legendary) and his love for Ben Bart (Dan Akroyd), a white Jewish man and surrogate father.
I especially loved how "Get On Up" didn't leave us with an artificial happily ever after. Life doesn't work that way for real people. Even though it should be, life isn't the movies. There's never a moment where, as of right now, everything is going to be okay. Until your last breath, new bullshit is always warming up in the bullpen. When we leave Tate's James Brown he's still James Brown. Sure, he's reconciled some things, but this is not a man who can or even wants to live easy. "Get On Up" doesn't pretend otherwise.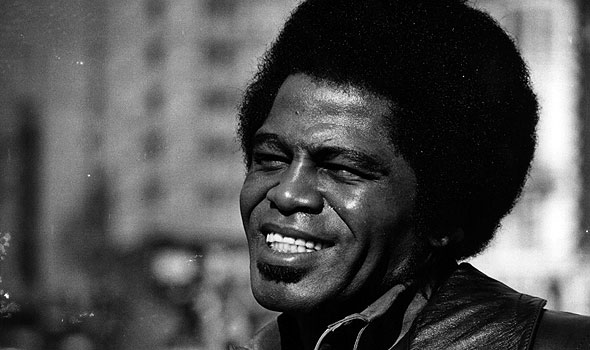 If that isn't enough to convince you to get to the movies, "Get On Up" has four of the best scenes I've seen all year. Brown's life-changing heart-to-heart with his idol Little Richard (Brandon Mychal Smith); a rehearsal where Brown explains to his band why every instrument is a drum; a hilarious scene involving Christmas sweaters; and the show-stopper — a Paris concert that you never want to end.
Tate has crafted an exhilarating and highly original portrait of a genius who couldn't be anything other than his own man. When the credits roll, you probably won't like James Brown,  but you will respect him.
Follow  John Nolte on Twitter @NolteNC