A year before controversy surrounding her memoirs surfaced, HBO star Lena Dunham posted on Instagram a photo of her sister Grace, then five years old, made up with red lipstick, fake breasts, and bearing the caption, "#tbt that time I dressed my 5 year old sister as a Hell's Angel's sex property #1997."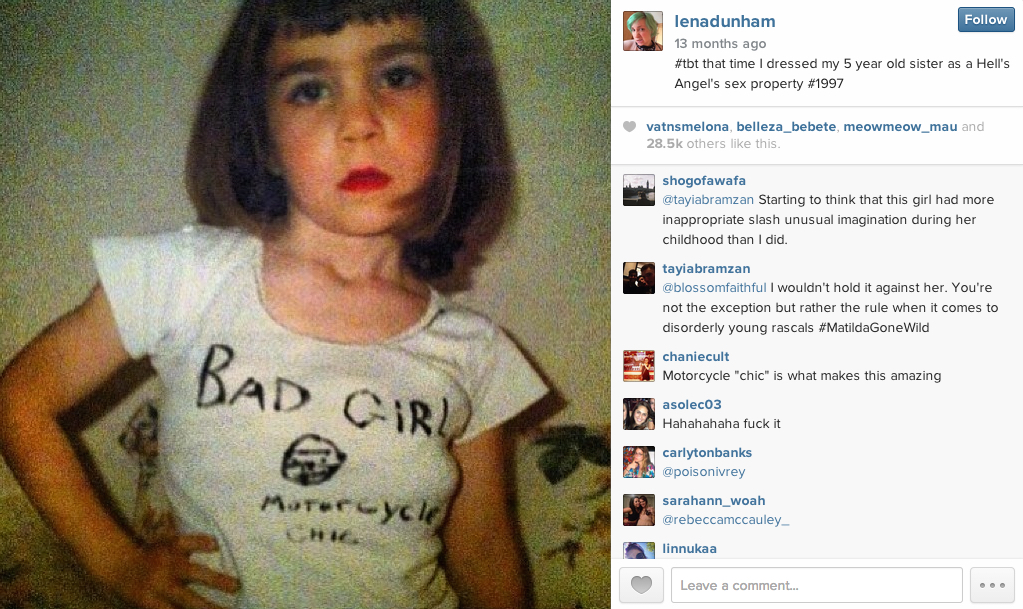 The picture surfaced as Dunham recounted in a collection of essays that, when Dunham was seven, she spread open her one-year-old's sister's vagina. Dunham also recounts that at the age of 17, she masturbated while sleeping in the same bed as her younger sister.
"I shared a bed with my sister, Grace, until I was seventeen years old," Dunham wrote in Not That Kind of Girl. "She was afraid to sleep alone and would begin asking me around 5:00 P.M. every day whether she could sleep with me… Her sticky, muscly little body thrashed beside me every night as I read Anne Sexton, watched reruns of SNL, sometimes even as I slipped my hand into my underwear to figure some stuff out."
Dunham also wrote that touching her sister's vagina was "within the spectrum of things she did." Recounting the incident when she was seven, Dunham writes:
"One day, as I sat in our driveway in Long Island playing with blocks and buckets, my curiosity got the best of me. Grace was sitting up, babbling and smiling, and I leaned down between her legs and carefully spread open her vagina. She didn't resist, and when I saw what was inside I shrieked.

My mother came running. 'Mama, Mama! Grace has something in there!'

My mother didn't bother asking why I had opened Grace's vagina. This was within the spectrum of things that I did. She just got on her knees and looked for herself. It quickly became apparent that Grace had stuffed six or seven pebbles in there. My mother removed them patiently while Grace cackled, thrilled that her prank had been such a success."
"Anything a sexual predator might do to woo a small suburban girl I was trying," Dunham wrote in another passage referring to Grace: 
"As [Grace] grew, I took to bribing her for her time and affection: one dollar in quarters if I could do her makeup like a 'motorcycle chick.' Three pieces of candy if I could kiss her on the lips for five seconds. Whatever she wanted to watch on TV if she would just 'relax on me.' Basically, anything a sexual predator might do to woo a small suburban girl I was trying. Maybe, I thought, she would be more willing to accept kisses if I wore the face mask my grandmother had for when she did her dialysis. (The answer was no.) What I really wanted, beyond affection, was to feel that she needed me, that she was helpless without her big sister leading her through the world. I took a perverse pleasure in delivering bad news to her— the death of our grandfather, a fire across the street —hoping that her fear would drive her into my arms, would make her trust me."
Grace and Lena recently explained their current relationship in a September New York Times Magazine interview.
"Without getting into specifics, most of our fights have revolved around my feeling like Lena took her approach to her own personal life and made my personal life her property," Grace said.
"Basically, it's like I can't keep any of my own secrets," Dunham said. "And I consider Grace to be an extension of me, and therefore I couldn't handle the fact that she's a very private person with her own value system and her own aesthetic and that we do different things."
On Saturday Dunham lashed out on Twitter, calling the reporting on her essays "disgusting" and defending her behavior as normal.
The right wing news story that I molested my little sister isn't just LOL- it's really fucking upsetting and disgusting.

— Lena Dunham (@lenadunham) November 1, 2014
And by the way, if you were a little kid and never looked at another little kid's vagina, well, congrats to you.

— Lena Dunham (@lenadunham) November 1, 2014
Usually this is stuff I can ignore but don't demean sufferers, don't twist my words, back the fuck up bros.

— Lena Dunham (@lenadunham) November 1, 2014
I told a story about being a weird 7 year old. I bet you have some too, old men, that I'd rather not hear. And yes, this is a rage spiral.

— Lena Dunham (@lenadunham) November 1, 2014
Follow Katie on Twitter: @k_mcq. Email her at kmchugh@breitbart.com.