They say that artists can be unreliable narrators of their own lives. But perhaps no public figure in history has struggled with self-knowledge as consistently as Randi Harper, the "anti-harassment activist" who, as we revealed in Part One, is probably the most persistent and obnoxious troll on the internet.
Because the media has protected Harper, refusing to investigate her or her long list of victims, amateur sleuths have taken matters into their own hands. Consequently, a sprawling list of claims and counter-claims now litter the internet, some of them true, some of them false.
This benefits Randi Harper. Because some of the allegations against her are flimsy — an inevitability if the media forces citizens to do its job for it — Harper can insist that none of them hold water by drawing attention to the most absurd. So it's time to separate fact from fiction and finally set the record straight about Randi Harper's history.
CLAIM: RANDI HARPER'S 'ANTI-ABUSE CHARITY' CONSISTS OF AN EMAIL ACCOUNT AND A TUMBLR


TRUE. Harper describes herself as the founder and chief executive of the "Online Abuse Prevention Initiative." She has set up a Tumblr and and email account for the organisation. But it has no staff, no proper website, no offices, no external funding and, most importantly, no 501(c)(3) registration. Harper says OAPI is "in the process" of being registered.
CLAIM: RANDI HARPER HAS BEEN IN PRISON


TRUE. Harper was arrested in 2004 in Georgia after failing to appear in court. When we approached her for comment, the normally loquacious Harper refused to comment on what she did but apparently believes it does not disqualify her from running an anti-harassment project.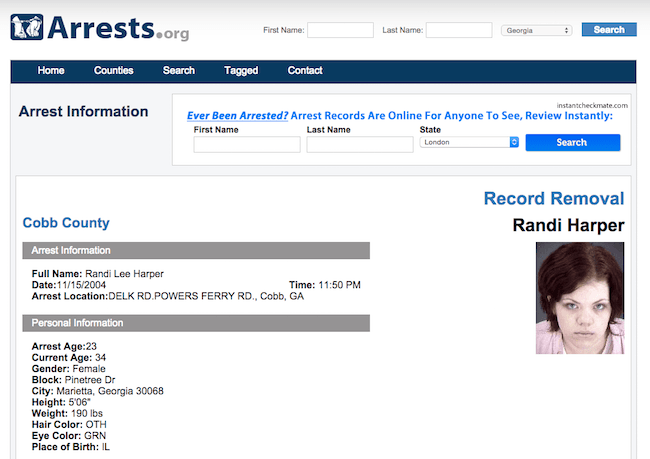 CLAIM: RANDI HARPER IS A FELON


NO EVIDENCE. Responding to Twitter allegations that her 2011 arrest related to crystal methamphetamine, Harper claimed it was down to expired tags on her husband's vehicle. Rumours abound, but to date no evidence has come to light that Harper has been arrested or convicted of felony charges.
CLAIM: RANDI HARPER USED TO GO BY THE NICKNAME 'SEKTIE' 


TRUE. As "sektie", Harper was freer in sharing her moral principles in IRC. But even under the name "randi" she made some remarkable disclosures about her attitude to men and relationships.
18:50 <@sung> how do you move into a rent control place?
18:51 <@randi> you fuck a boy, move in with him, and then
break up with him and kick his ass out.
CLAIM: RANDI HARPER IS A METH ADDICT


NO EVIDENCE. One web page on the internet alleges that, writing as "sektie," Harper repeatedly asked for the drug. But there is no evidence, to date, that she is a drug abuser.
CLAIM: RANDI HARPER ACCUSED A STANFORD ACADEMIC AND DIVERSITY ADVOCATE OF ABUSE


TRUE. Harper tweeted at or about acclaimed campaigner and academic Vivek Wadhwa, who holds appointments at Duke, Stanford, and Singularity University, over 40 times, accusing him of harassment. He sent back two tweets, both apologetic. She tweeted at him for nine months, and even wrote a fake book review on Amazon to try to besmirch his character.
CLAIM: RANDI HARPER CALLED 73-YEAR-OLD NOVELIST ANNE RICE A 'HARASSER'


TRUE. Absurd as it sounds, Harper called the Vampire Chronicles author a "harasser" after Rice objected to Harper's bogus, abusive Amazon reviews.
CLAIM: RANDI HARPER IS HERSELF A TROLL AND A HARASSER


TRUE. She is a notorious one, in fact, whose aberrant online behaviour goes back to the 1990s. Harper has relentlessly pursued dozens of innocent people over the slightest of perceived ideological infractions or personal slights over the years. You can read about four of them in Part One of this series.
CLAIM: RANDI HARPER TRIED TO GET A COLLEAGUE FIRED FOR HAVING THE WRONG POLITICS 


TRUE. As this leaked chat log shows, Harper became incensed when a colleague didn't share her brand of extremist far-left activist politics and threatened to write to his bosses at a charitable foundation when he resisted her hectoring.
CLAIM: RANDI HARPER 'SOLD HER OWN SON'


FALSE. There is no evidence and certainly none that she "sold" her own child–only that he no longer lives with her. This post, said to be by Harper, gives further details.
CLAIM: RANDI HARPER PRETENDS TO BE HER SON ON TWITTER


POSSIBLY. Harper has been tweeting about her son by name since 2009. The account Harper alleges is her son's, @freebsdson, uses remarkably similar language to Harper herself, interacts with all the same people, and was created moments after Harper claimed she had "discovered" her son on Twitter. (Right about the time Part One of this series dropped. A stunning coincidence.)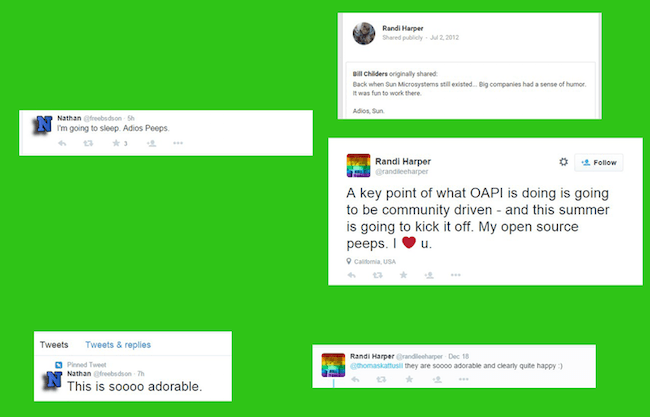 If the account really does belong to a young boy, he's the first 14-year-old in history to not only pick a name that reinforces his mother's online branding, but the first teenager ever to base his entire digital identity on his mother's endless Twitter woes.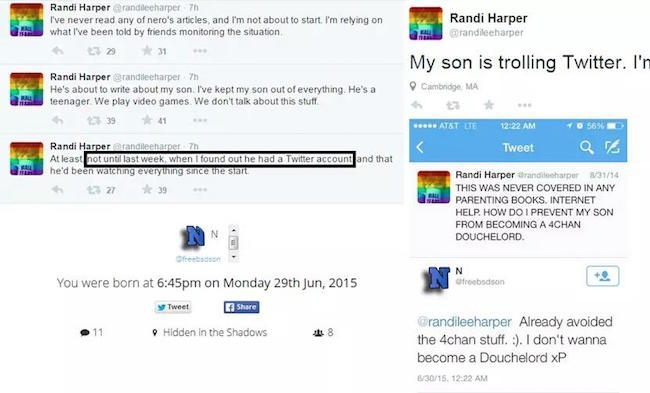 CLAIM: RANDI HARPER CLAIMED SHE WOULD 'FEED HER SON TO THE MEXICANS' IF HE MISBEHAVED


TRUE. To be fair, it's a pretty funny line. Just not entirely in keeping with Harper's holier-than-thou social justice persona. Not a gag that would go down well in ultra-liberal San Francisco.

CLAIM: RANDI HARPER DOXED A DEBT COLLECTOR


TRUE. In 2011, Harper was being pursued for a debt. Her response was to post the home phone number of the collection firm's chief executive, after first threatening to release his family's personal information.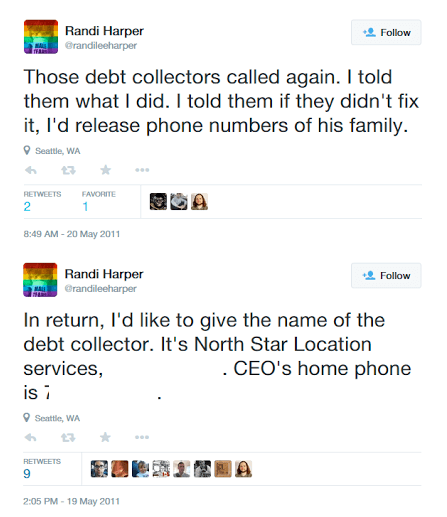 CLAIM: RANDI HARPER MADE A FALSE CLAIM OF 'RAPE THREATS'


TRUE. On at least one occasion, Harper has insinuated that rape threats were being made against her when there were none. Lawyer Mike Cernovich documented one instance.
CLAIM: RANDI HARPER'S VIEWS ON FEMINISM HAVE CHANGED DRAMATICALLY


TRUE. Randi Harper's statements just a few years ago were the direct opposite of the position she has taken now. "The feminist movement used to mean something," she wrote in 2005. "People used to take it seriously. Females used to take it seriously. Now, we've even turned on ourselves.
"Either we sneer at feminism, saying it's for hairy muff-licking bull-dykes, or we go entirely overboard with it and furiously berate any man that dares to open a door for us."
As recently as 2011, she wrote: "Saying that a female isn't going to use FreeBSD because of a humorous statement in a man page is ridiculous … If you don't want to see prejudice in IT communities, stop making everything a gender issue … propose a phrasing that is more professional and leave your gender out of it."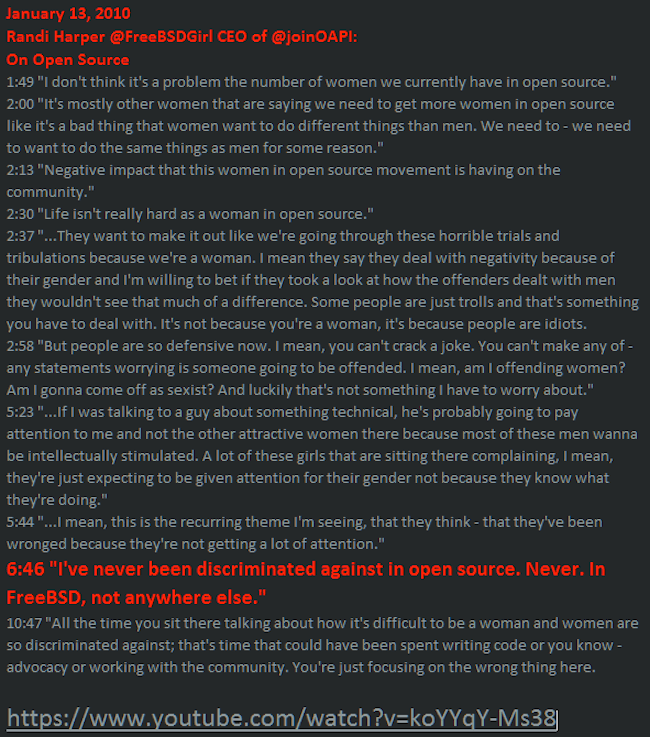 CLAIM: RANDI HARPER DYED HER DOG BLUE


TRUE. When asked about it via social media, animal charity People for the Ethical Treatment of Animals (PETA) said: "Dyeing fur can cause the animal stress and can lead to complications or allergic reactions that endanger the animal's health."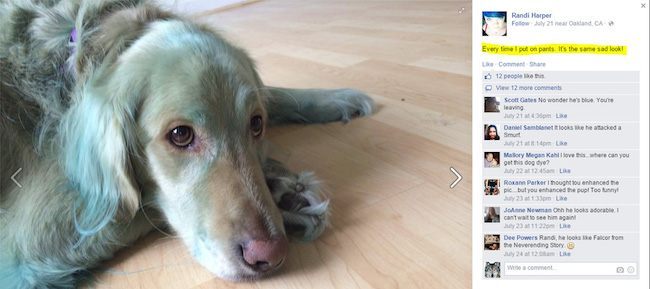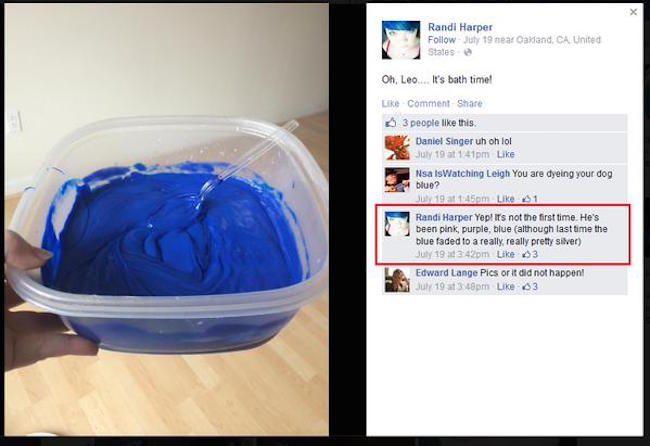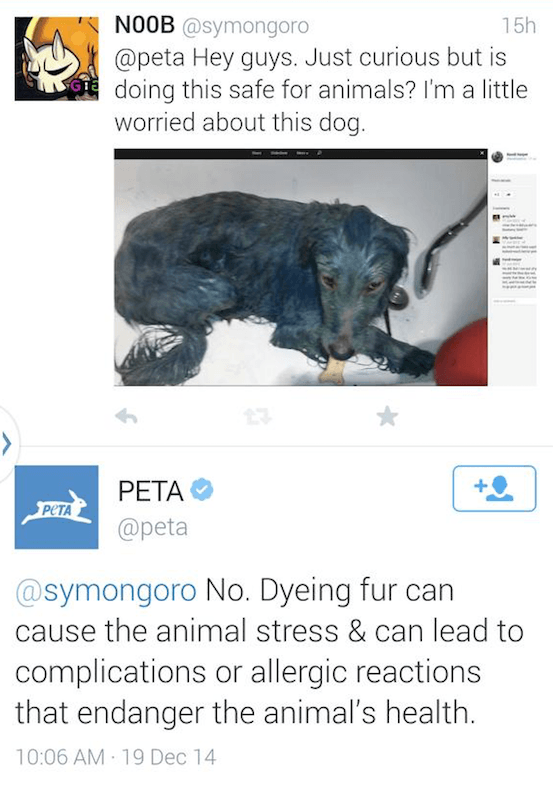 Follow Milo Yiannopoulos (@Nero) on Twitter