Kathy Griffin posed with the severed head of President Donald Trump in a bloody photo shoot for artist and photographer Tyler Shields this week.
In one image, obtained by TMZ, the 56-year-old My Life on the D-List comedian looks directly into the camera while hoisting up Trump's severed head, which is covered in dark red blood.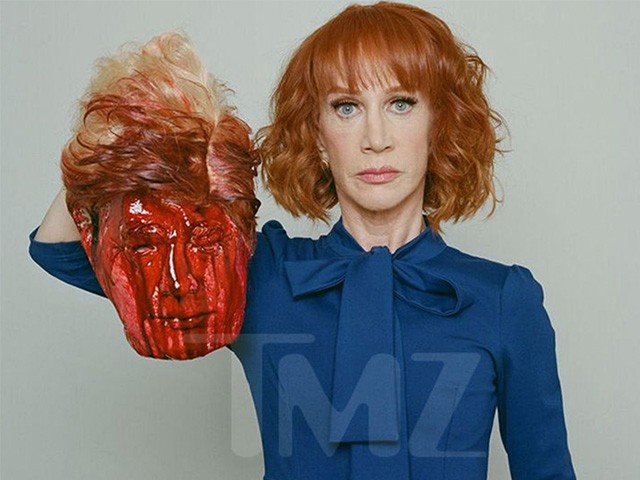 According to the gossip outlet, Griffin joked during the photo shoot that she and Shields, who is known for his shocking artwork, would need to flee the country after the pictures came out, for fear of imprisonment.
Griffin has been an outspoken critic of the president; in October, the comedian and television personality cut a mock campaign advertisement which featured her repeatedly telling the then-Republican presidential candidate to "f*ck off."
The gruesome photo isn't the first "artwork" to depict Trump being beheaded; in August, a cartoon version of Trump had his head cut off in an issue of the comic book Spawn, while comedian George Lopez previously tweeted  a cartoon image of notorious drug lord El Chapo beheading Trump in March of last year.
The Los Angeles-based Shields posted updates about his new project with Griffin on his Twitter account Tuesday, including a behind-the-scenes video of their photo shoot, however the YouTube link to the video appeared to be broken as of Tuesday morning.
https://twitter.com/tylershields/status/869584353818550272
Follow Daniel Nussbaum on Twitter: @dznussbaum