Florida-based rapper XXXTentacion released a racially-charged music video Tuesday, which ends with a young white child hanging from a noose in front of a large audience.
Visuals for the song "Look at Me" feature jarring scenes of police brutality against black people, as well as a brutal dramatization of the 1955 murder of Emmett Till, and Heather Heyer, who was killed last month after James Fields Jr. drove his car into a crowd of counter-protest marchers in Charlottesville, Virginia.
Elsewhere in the video, XXXtentacion is seen walking a young black boy and a young white boy up to a noose hanging above a concert stage. The rapper says something to each before slipping the noose over the white child's head. Moments later, XXXtentacion pulls on the rope and the child's body is raised into the air. As the camera pulls back, the boy's legs can be seen twitching as he hangs in the air in front of a crowd of onlookers.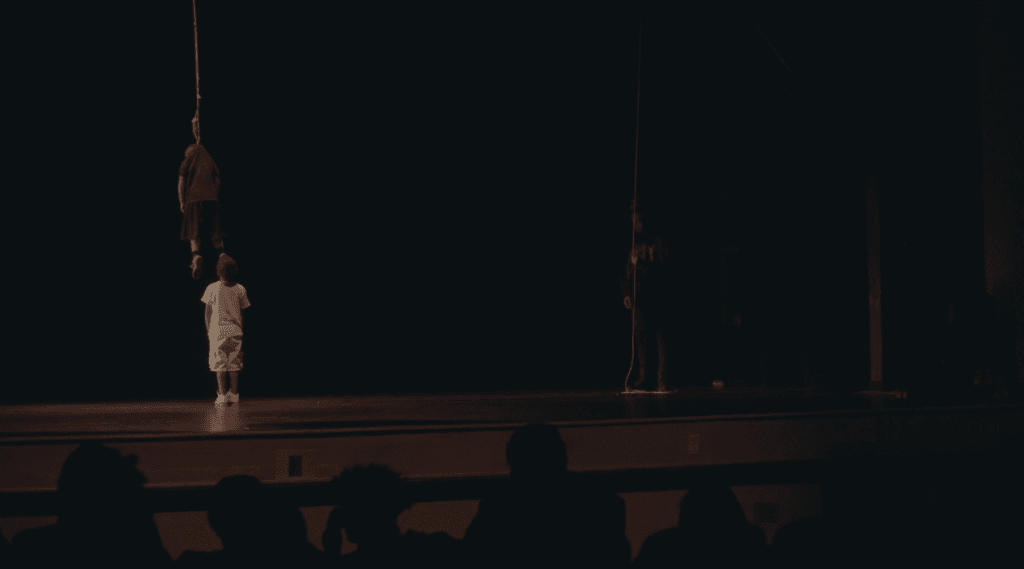 Casting director LaShawnna Stanley told TMZ that the lynching scene was difficult to cast, with one parent saying the spot was "too dark." Stanley said she went through at least 20 different children before one child's parents agreed, after being satisfied with the safety measures, stunt coordinators, and harness in place.
[Content Warning]
The video has gone viral, garnering more than 5 million views on YouTube within the first 24 hours of being released.
The visuals have also caused controversy online. Some outraged social media users have taken to Twitter, calling the clip "utterly disgusting."
"Who would even allow their child to be subjected to this. No amount of money is worth it," one revolted user wrote.
"Utterly disgusting. Any video like that should be demonitized [sic]," wrote another.
In June, XXXTentacion — real name Jahseh Dwayne Onfroy — was punched and knocked unconscious by an audience member who rushed the stage during the rapper's San Diego, California concert. The incident ignited a brawl. Police arrived at the scene to disperse the hundreds of people who had surrounded the Observatory North Park cathedral.
Last July, XXXtentacion was arrested and charged with robbery and assault with a deadly weapon.
Follow Jerome Hudson on Twitter @jeromeehudson