Last week, Breitbart News revealed a secret video game journalist mailing list used by a clique of influential writers, editors, and bloggers, some of whom attempted to bully their colleagues with it in an attempt to shape the news agenda for political purposes.
We can today reveal the complete list of journalists, some 150 key industry figures, on the list. Outlets with representation span the entire video games journalism universe and include Polygon, Ars Technica, Wired, Eurogamer, Destructoid, Kotaku, Joystiq, TechRadar, and many other well-known brands in games publishing.
But they also include freelancers and staffers for publications as solidly mainstream as the Associated Press, CNBC, and USA Today, together with technology industry stalwarts such as Motherboard, owned by VICE, VentureBeat, and CNet.
Even more disturbingly, Tom Curtis, a marketing executive from game publisher Ubisoft, and Billy Shibley, a community manager for Destiny from Activision, are also present on the list, which begs the question why marketing managers are included on a mailing list for the journalists who are supposed to be writing about their employers.
On Thursday, we shared a series of disturbing messages from the GameJournoPros mailing list which demonstrated widespread ethical failures among some of game journalism's most senior figures. The emails were evidence, we said, that video game journalism was in need of urgent reform.
This new information shows just how far-reaching the influence of GameJournoPros has been since the list was founded four years ago by Kyle Orland, senior gaming editor at Conde Nast's Ars Technica. It suggests that readers have been right to worry about ideological co-ordination between journalists across dozens of different publications.
Although not all journalists on the list are implicated in allegations of collusion, and plenty of writers have been seen, in emails leaked to Breitbart, disagreeing with the activist tactics of their colleagues, their continued participation in the list leaves them open to influence by its more vocal, activists members, including Orland and Ben Kuchera, an opinion editor at Vox Media-owned Polygon.
Additionally, one list member, who was not the member who leaked the list to us and spoke on condition of anonymity, said this morning: "I don't post but I do read it, almost religiously. And yes you do get affected by what Ben [Kuchera] and others are saying. After all they are big names. It makes you reconsider your choice of words and how you say things."
This member list was supplied by a disaffected member of the group. We contacted Orland for comment, but he had not replied as we went to press. A small number of screen names, which could not be traced to their owners or whose ownership could not be conclusively verified, have been omitted.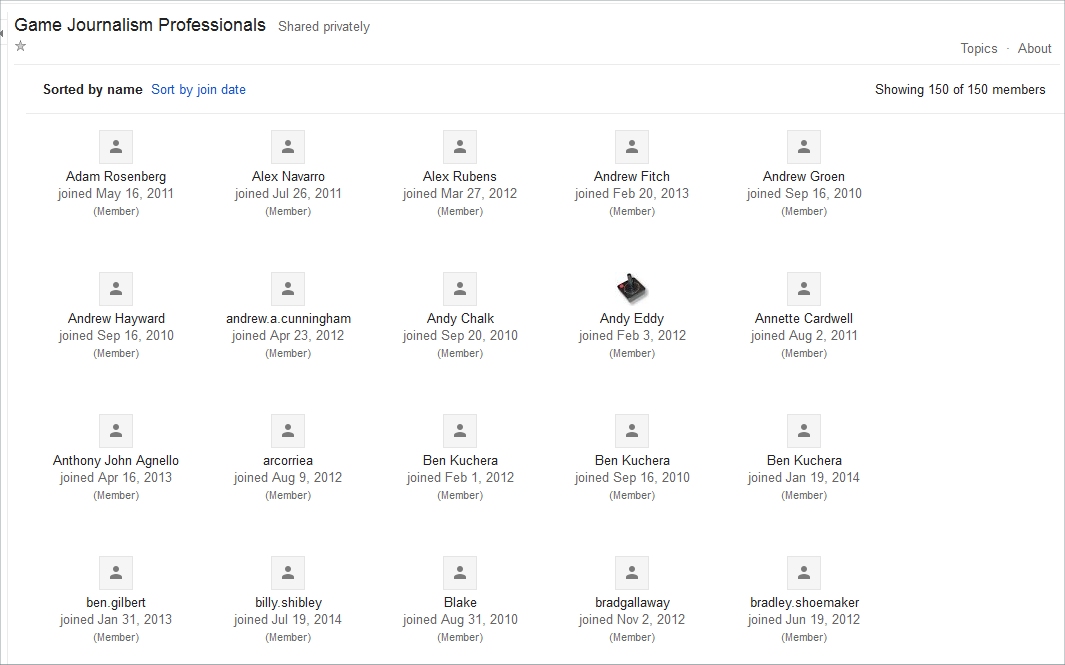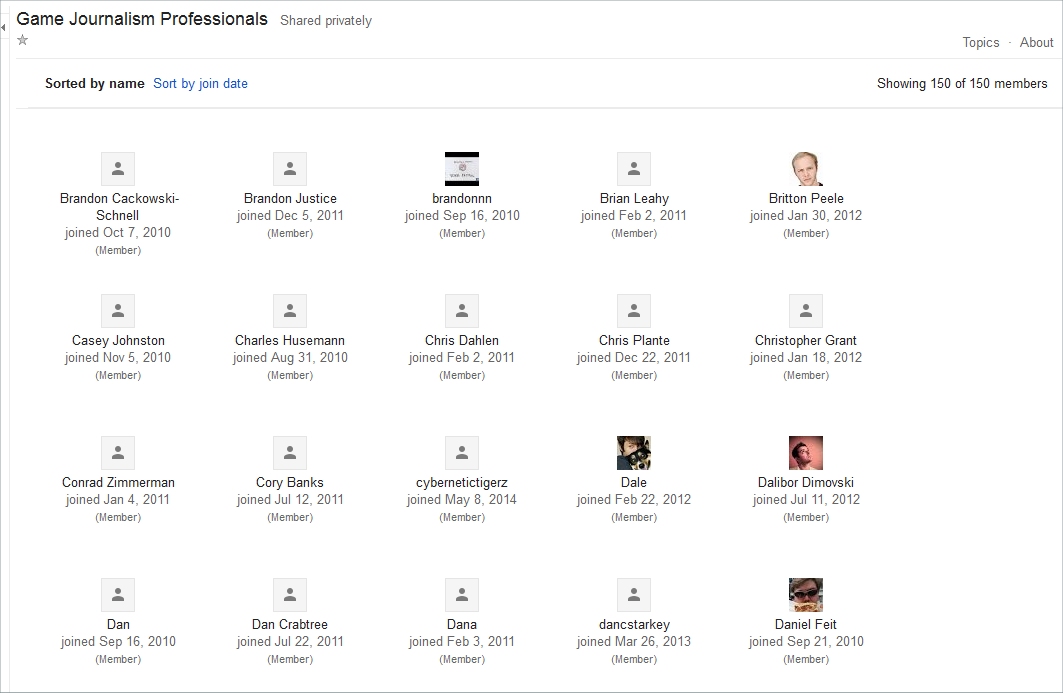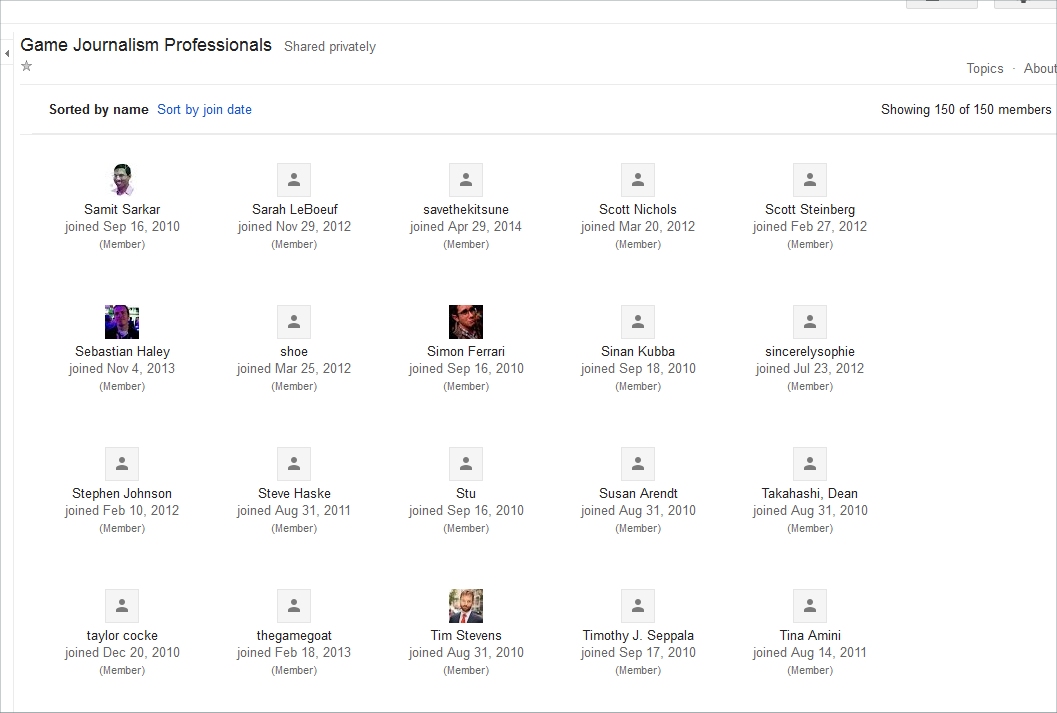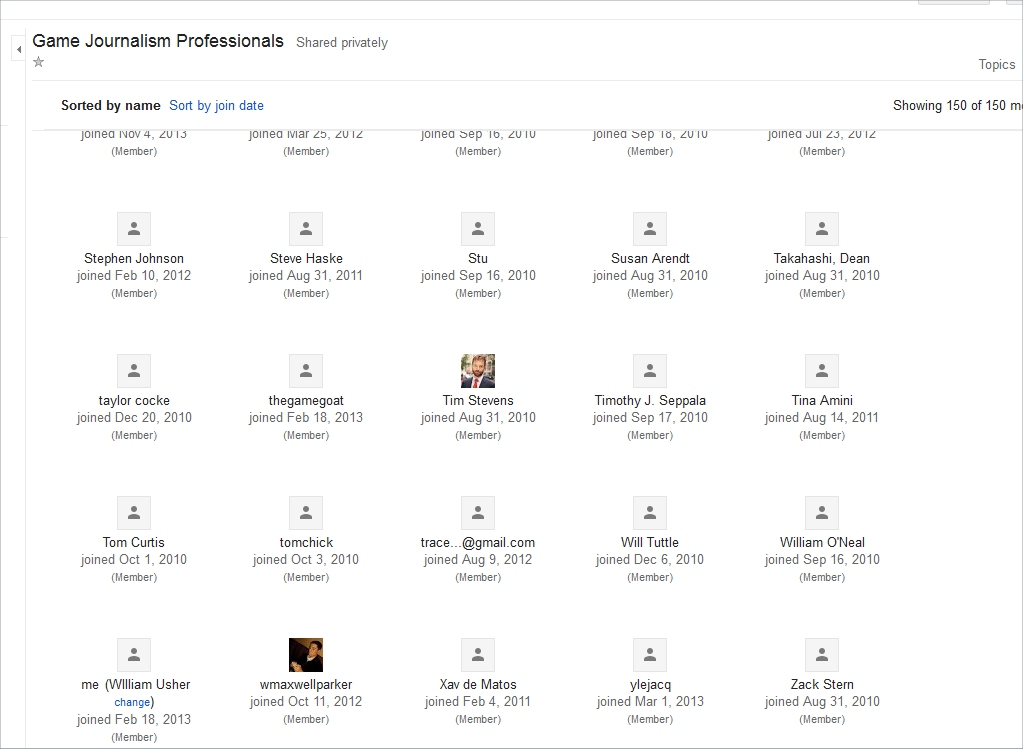 THE JOURNALISTS
Adam Rosenberg – Digital Trends
Alex Navarro – Giant Bomb
Alex Rubens – IGN, G4TV, PCWorld, Official Xbox Magazine, Polygon, @Gamer Magazine, Games Radar, Joystiq, Kotaku, Destructoid, Tech Hive, Game Informer
Alexa Ray Corriea – Polygon
Andrew Fitch – the Geekbox podcast
Andrew Groen – Penny Arcade (ex?), Wired
Andrew Hayward – StuffTV, TechHive, IGN, Macworld,Maclife, Jostiq
Andrew a Cunningham – ArsTechnica
Andy Chalk – PC Gamer
Andy Eddy – author, "Game Over Press Start To Continue"
Annette Cardwell – Yahoo! Shine, Wikia
Anthony John Agnello – Joystiq, The AV Club, Edge, Fast Company
Ben Kuchera – Editor at Polygon
Ben Gilbert – Senior Editor for Engadget
Billy Shibley – Social/Community for @DestinytheGame (Activision), former Editorial Manager at Machinima
Brad Gallaway – Managing Editor of GameCritics.com
Bradley Shoemaker – Giant Bomb
Brandon Cackowski-Schnell – The Escapist
Brandon Justice – Ex Gamefan, IGN, SEGA, EA & EGM
Brandon Boyer – Chairman, Indie Games Festival
Brian Leahy – Previously Shacknews & G4tv
Britton Peele – Entertainment Editor Dallas Morning News
Casey Johnston – Culture Editor at Ars Technica
Charles Husemann – Development Manager at Recource Gaming Nexus EIC
Chris Dahlen – Game dev and writer
Chris Plante – Senior Editor at The Verge
Christopher Grant – Editor-in-Chief at Polygon
Conrad Zimmerman – Podcaster, freelance writer/critic
Cory Banks – Former Managing Editor at PC Gamer
Dale North – Editor-in-Chief at Destructoid
Dale (Laura Dale) – Indiehaven.com, Kotaku UK, Telegraph, Guardian, MYM, MCM
Dalibor Dimovski – Gamedev
Dan (Dan Stapleton) – IGN, PC Gamer
Dan Crabtree – GamerNode
Daniel Starkey (Twitter deleted, cached) – Eurogamer, GameSpot, Joystiq, Kotaku
Daniel Feit – Wired
Danielle – Senior Reviewer at Polygon
Davetach – Polygon
David Thomas – Youtuber "Game Dave" (I believe.)
Dead Yet Living – Unsure
Dean Takahashi – Lead Writer for Games Beat at Venture Beat
Dennis Scimeca – The Daily Dot (Formerly ArsTechnica, NPR, GamesBeat, Polygon, Kotaku, The Escapist, Gamasutra
Devin Connors – The Escapist (past Tom's Guide, GameFrontCom)
Devin Kofsky – Social Media Celebrity Cruise? Freelance I think in the past.
Dtroid Niero – Destructoid
Erick Eckstein – Esquire Network, G4TV,
Erick Frederikesn / piratesyar – Technobuffalo
Garnett Lee – Shout Engine
Garrett Martin – Paste games editor, Boston Herald game critic
George Wiedman – Super Bunnyhop (youtube)
Greg Tito – The Escapist
Gregory Gay – The Escapist
Harold Goldberg – New York Times, NPR, books
Heidi Kemps – Freelance, Joystiq
Issac Ferderspiel – IndieHaven, former Game Informer Intern
Jake Gaskill – G4TV
James Fudge – Editor GamePolitics.com
Jarred Newman
Jason Fanelli – Arcade Sushi, GamesRadar, PocketGamer, Gamernode
Jason Leyanna (no twitter I found) – Realm of Gaming
Jason Schreier – Kotaku Australia, Wired
Jason Venter – Honest Gamers Editor in Chief, IGN, Gamespot, GamesRadar, Joystiq
Jason Wilson
Jaz Rignall
Jeffery Matulef – US News Editor at Eurogamer (Former AV Club, G4TV, Paste, Joystiq,OXM)
Jeremy Zoss – Zoss Media, Giant Bomb
Joe Osborne – Reviews Editor TechRadar
John Funk – The Escapist
Jonathan Deesing – Joystiq
Jorge Jimenez – Blogger?, Staff Writer Dualshockers
Joseph Leray – TouchArcade, Destructioid
Josh Tolentino – Destructioid, Japanator
Julian Murdoch – Comic Vine?
Justin McElroy – Polygon
Kate Cox – Consumerist, GameCritics.com
Kevin Kelly – Wired
Kyle Orland – Senior Gaming Editor for Ars Technica
Kyle Horner – Developer at WB Games/Turbine, Writer, Editor
Leah B. Jackson – Riot Games eSports web content coordinator (formely IGN/G4)
Logan Westbrook – The Escapist
Lou Kesten – Associated Press
Ludwig Kietzmann – Joystiq Editor-in-chief
Maddy Myers – PasteGames Assitant Editor
Mark Burnham – Online Media Manager QuinStreet (Formerly EIC at Game Front)
Matthew Kumar – Freelance, CEO of MKULTRAgames, publisher of exp.?
Matt Matthews – Gamasutra
Matthew Sakey – Freelance, NYU game center
Meghan – IGN
Michael McWhertor – Deputy News Editor at Polygon
Mike Futter – News Editor at Game Informer
Michael Rougeau – Kotaku, Gamespot, TechRadar, more
Mike Wehner – Daily Dot, USA Today, Yahoo
Mitch Dyer – Editor, IGN
Chris Morris – CNBC, Variety, Coast to Coast Radio
N'Gai Croal – Newsweek (previous)
N. Evan Van Zelfden (no twitter) – Venture Beat, The Escapist, Slate
Nathan Grayson – Kotaku
Nathan Meunier – Freelance, Podcaster
Nick Chester – Harmonix
Phillip Kollar – Polygon, Game Informer
Pikoeri Egm – EGM, ex GameFan, ex Play
Richard Mitchell – Joystiq
Rob Zacny – PCGamesN, The Escapist, Polygon, IGN
Rod "Slasher" Breslau – Past (OnGamers)
Rollin Bishop – Contributing Editor at LaughingSquid, formerly Geeokosystem, The Mary Sue
Ron Whitaker – Managing Editor GameFront
RPad.TV – Rpad.tv
Ryan Kuo – Kill Screen
Ryan Scott – Editorial Director at Geekbox Media
Ryanflemingpdx – Gamig and Cinema Editor Digital Trends (former)
Sam Machovech – Tech Reporter Ars Technica
Samit Sarkar – Polygon , formerly at Destructoid
Sarah LeBoeuf – The Escapist
Savethekitsune (Cassandra Khaw, I believe.) – Verge
Scott Nichols – Freelance Critic, Digital Spy
Scott Steinberg – Speaker & Futurist, Writes for Inc, Mashable (Past?), Huffpo
Sebastian Haley – Venture Beat
Shoe (Wild Guess – Dan "Shoe" Hsu) – VentureBeat
Simon Ferrari – Adjunct NYU GameCenter, INDIECADE, Different Games, Indie-Fund Dev outreach team
Sinan Kubba – Joystiq
Sincerelysophie (Sophie/Sam Prell) – Joystiq, G4, Destructoid
Steven Kent (Didn't find Twitter) – Book Writer, freelance lots of places from the past
Steve Haske – Wired, Medium (not a real site, anyone can do that), Complex Mag?
Susan Arendt – Managing Editor at Joystiq
Taylor Cocke – Web content coordinator at Riot Games/Lolesports, but widely written at IGN, Edge, and others.
The Gamegoat – Youtuber
Tim Stevens – Editor at Large, C'net
Timothy J. Seppala – Engadget contributing editor.
Tina Amini – Deputy Editor at Kotaku
Tom Curtis – "Digital Marketing Guy" at Ubisoft, formerly at Gamasutra
Tom Chick – quartertothree.com
Will Tuttle – Sr. Communications Manager for Xbox and Editorial Overseer of Xbox Wire, IGN (past)
William Usher – Assistant Editor Gaming Blend
Max Parker – Columnist for Pittsburgh Post-Gazette
Xav De Matos – Joystiq
Yannick LeJacq – Motherboard (VICE), Kotaku UK
Zack Stern – PCWorld, Macworld, others