At least two masked gunmen have attacked the offices of French satirical magazine Charlie Hebdo, with reports that 11 people have been killed. The attackers are believed to have successfully fled the scene and headed to the east of Paris, swapping vehicles on the way.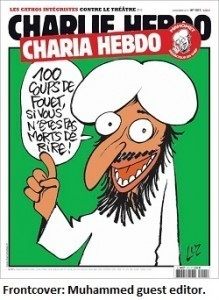 Witnesses reported sustained gunfire as the attackers opened with Kalashnikov assault rifles. The magazine has caused controversy in the past with its depiction of Muslims. A firebomb attack gutted the headquarters in 2011 after the magazine featured the Prophet Muhammed on the frontpage claiming he was the guest editor.
France Info Radio (FIR) also said police had confirmed a toll of 12 dead and five critically injured. The death toll is believed to include two Police Officers, who arrived on bikes. FIR quoted a witness as saying he saw the incident from a building nearby in the heart of the French capital.
"About a half an hour ago two black-hooded men entered the building with Kalashnikovs (guns)," Benoit Bringer told the station. "A few minutes later we heard lots of shots," he said, adding that the men were then seen fleeing the building. A police official, Luc Poignant, described the scene as "carnage".
In 2012 the magazine published a 'naked' photo of Muhammed, they have also used the magazine to mock a variety. One frontcover questions whether anyone in Europe wants Britain to be a member of the European Union.
The magazine was originally called Hara-Kiri Hebdo but was banned when it published a frontcover about the death of  Charles de Gaulle in 1970. It was relaunched the following week under the new name Charlie Hebdo in reference to the former President.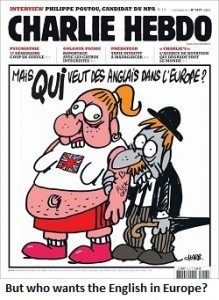 It has been claimed the gunmen were asking for people by name before shooting them. A number of France's most famous cartoonists have been reported as having been killed. The attack took place at the weekly planning meeting, so all the most senior staff were present.
The gunmen are still at large, leading France to raise it's terror threat assessment to it's highest level. The French cabinet will hold an emergency meeting at 2pm local time.
President Hollande visited the scene and said the series of terrorist attacks against France had taken place because they "are a country of freedom". He added: "No one should think they can go against the spirit of France" and pledged a "firm response".
The President said police had thwarted a number of terrorist attacks in recent weeks, he also said the actions of the Police had saved forty lives. He is believed to have been referring to the intervention by the two police officers who arrived on bikes and were killed.
A video has emerged of the attack, it shows the attackers using the standard infantry 'double tap' method with their AK47's. Their control of the weapons suggests they were well trained.
This story is developing, additional reporting from Reuters.