A school has caused outrage by using a photograph of UKIP leader Nigel Farage in a presentation about the Holocaust, leaving the party with no choice but to consult its lawyers.
The photo and quotes from the MEP along with David Silvester, who was a member of the Conservative Party for 20 years before defecting to UKIP and hitting the headlines, were used in assemblies in the run up to Holocaust Memorial Day, the Sunday Express reports.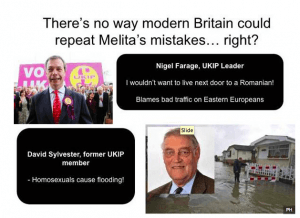 The slides included details of the death camps used in Hitler's 'final solution', Jewish Ghettos in Eastern Europe and the rounding up of Slavs and Romany gypsies.
Children were asked about the events which led up to the murder of millions of Jewish people at Chellaston Academy in Derby. They were shown slides with words such as 'Evil', 'Bloodthirsty' 'Monsters' and 'Murderers' and used excerpts from the diary of Melita Maschmann who joined the Hitler Youth and then worked as a propagandist for the Third Reich.
But following details of the brain washing which had taken place throughout the 1920s and 30s in Germany, the presentation then asked 'There's There's no way modern Britain could repeat Melita's mistakes… right?" before showing a picture of Mr Farage as well as Councillor Chris Pain who was kicked out of the party following disciplinary action.Next to the photograph they included the captions "I wouldn't want to live next door to a Romanian!" and "Blames bad traffic on eastern Europeans" – the latter comment being a self depreciating joke made on twitter which many people unfortunately took seriously.
UKIP were alerted after a pupil told his parents about the slur on Mr Farage. He said: "We were shown a slide of a multicultural society and told how great it was that pupils were from such diverse backgrounds.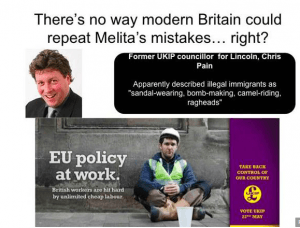 "But the teacher said that not every one agreed and then moved on to the slide showing a Ukip emblem and a picture of Nigel Farage."The UKIP leader confirmed that the party would be reporting the school for breaching the 1996 Education Act, which forbids "political indoctrination"."This was a vile slur that simply had to be corrected. It is wholly unacceptable that children should be exposed to such prejudice" he said.
Chairman of UKIP Friends of Israel Group Shneur Odze attacked the school for "cheapening the memory" of holocaust victims.
"As someone who lost most of his family, am personally offended," he said.  "Furthermore 'To misrepresent the 1930' climate of hate and its causes, not only discredits the memory of the millions murdered, it fails today's students, who don't know what to look our for."