Oregon shooter Chris Harper-Mercer was born British and supported the Irish Republican Army (IRA).
Harper-Mercer, 26, killed 10 people yesterday in a shooting at Umpqua Community College in Roseburg, Oregon.
He is said to have been British born, before moving to the United States at a young age.
His social media profiles indicated support for the IRA, the terrorist movement that attacked British Prime Minister Margaret Thatcher, and conducted a spate of terror attacks across the United Kingdom during an period called The Troubles.
He was associated with the online username "ironcross45″ which the Express claims is "a possible reference to the Iron Cross, a German military symbol reintroduced by the Nazis."
It adds: "A user with the same name spent almost £100 on a Nazi SS officers' cap on a different website more than two years ago."
The video posted on the killer's MySpace page is entitled: "The Men Behind The Wire" – a famous 1971 Irish republican anthem urging support for interned terrorists. It features images of balaclava-clad men wielding rifles.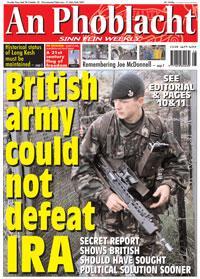 Harper-Mercer also posted what are believed to be sympathetic pictures of IRA terrorists, with one that read "Undefeated Army" and another which quoted terrorist Bobby Sands who died in British custody while on hunger strike.
"They have nothing in their whole imperial arsenal that can break the spirit of one Irishman who doesn't want to be broken," the quote reads.
While left-leaning U.S. outlets have seized on Harper-Mercer describing himself as a "conservative, Republican" on his dating profile online, it has not yet been ascertained whether this was a reference to his Irish Republican views – which he shared with State Senator and Democrat big wig Ted Kennedy, and the scarcely conservative Republican Rep. Peter King.
His step-sister said yesterday: "I am still in shock. All he ever did was put everyone before himself.
"He wanted everyone to be happy, no matter if he was sad or mad he would always try to cheer up everybody."