Police have been patrolling in front of the home of Neil Coyle, MP for Bermondsey and Old Southwark in South London, as well as providing extra security for himself and his staff at a constituency surgery this morning following alleged death threats.
They were alerted by Mr Coyle (pictured above during the General Election) to the threat against himself shortly after he received a tweet at around 1pm on Thursday afternoon reading "@coyleneil , u voted for airstrikes in syria , if I see you round ends" The text was followed by three emoticon knives.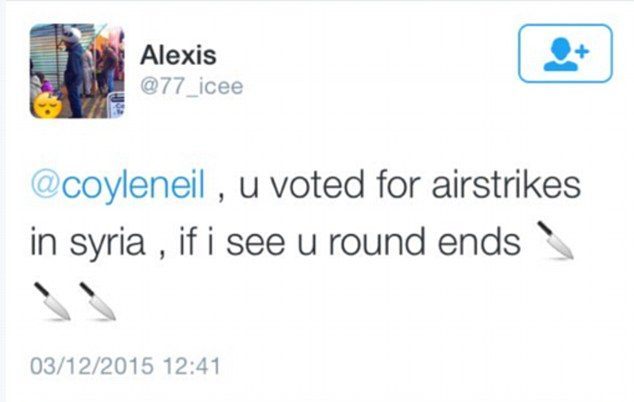 The twitter account which sent the message, @77_icee, has now been deleted.
Mr Coyle's name was one of 66 circulating on a list of "Labour Warmongers", those Labour MPs who voted in support of airstrikes against Islamic State in Syria. Although the vote was not whipped, meaning that Labour MPs were free to vote on the basis of their conscience, Labour leader Jeremy Corbyn has made it very clear that he does not support the airstrikes.
According to Mr Coyle, another tweet told him that he would need permanent protection from now on.
"I have received several threats to my safety and have flagged one to the police. It's a first for me to be threatened with violence by people claiming to be pacifists," he told MailOnline.
"I've gone to the police over this threat. I'm no traitor – I voted with my conscience just like Jeremy".
He also spoke of his fears for the safety of his wife, who is pregnant, calling the threats "grim, horrible."
The list of 66 is being circulated by Left Unity, a far left group which supports Mr Corybn but which is not part of the Labour Party. Although it merely exhorts the Labour Party to "deselect them now," many of the people on the list have had similar threats to that received by Mr Coyle.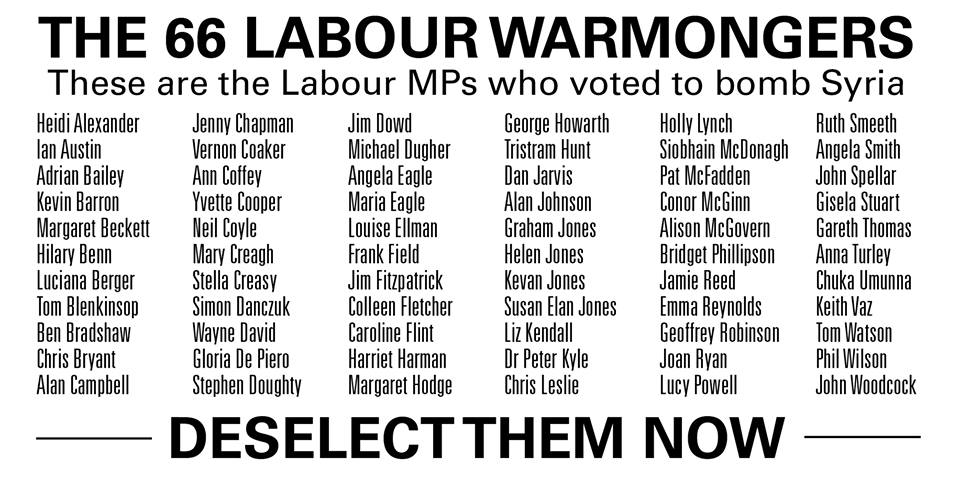 Hilary Benn MP, whose speech to the House of Commons during the debate has won him plaudits from all sides of the political sphere, also received a death threat via Twitter. It read "Hilary Benn will never walk the streets of Leeds unprotected again. #criminal #Tory".
Stella Creasy MP has meanwhile been inundated with abuse – a mob of around 300 people (some reports say as many as 500) gathered outside her constituency office on Tuesday night before trying to congregate at her house. They were only thwarted by getting the address wrong. And on the day of the debate she was forced to leave the Chamber as her office received a barrage of abusive phone calls.
Others received pictures of dead babies and decapitated heads, both at their offices and pushed through the letter boxes of their home addresses.
Shadow Commons leader Chris Bryant – another name on the list – has called for a security review in the light of the extent of the intimidation and death threats.
He said: "Several MPs have had their offices barricaded, one MP had her house surrounded. Many had photos of dead babies pushed through their front door at home. I gather today some MPs have received photos of severed heads – some have been called murderers, peaceniks, terrorist sympathisers."
When Mr Corbyn was elected as leader over the summer he promised a "gentler, kinder politics" under his leadership. Mr Corbyn and his deputy Tom Watson have now written to all party members requesting that they do not engage in harassing MPs, their staff or their family.
They said: "Our guiding principle is that Labour must never make Cameron's mistake. Politics must be conducted in a better way – more civil and more respectful.
"We all support and defend the democratic right to protest and lobby. And all MPs must be open to hearing the views of their constituents and others on matters of public importance. But, as we have both said many times, abuse and intimidation have no place in politics. And the party as a whole will not accept such behaviour, from whatever quarter it comes."
Follow Donna Rachel Edmunds on Twitter:

Follow @Donna_R_E

or e-mail to: dedmunds@breitbart.com