Criminal statistic research by the University of Copenhagen shows that in Denmark the top-ten criminal forenames in the country for men are all Arabic origin.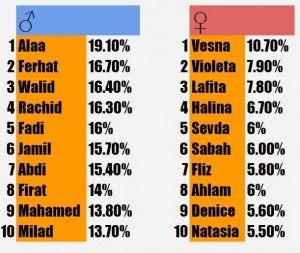 The research, which took in how likely an individual with any given forename was to have a criminal record assessed men and women's names separately. While female names were more evenly distributed and predominantly were popular in Eastern and Balkan Europe, the top ten male names were entirely of origin in majority-Muslim nations.
The male name most likely to have achieved a criminal record is 'Alaa', an Arabic name related to Aladdin that translates as 'Allah's Servant'. Remarkably, one in five of all Alaa's in Denmark have a criminal record. Alaa is followed by the popular Turkish forename 'Ferhat', and the Arabic 'Walid'.
Many of the names on the male list come from the Lebanon, Morocco, and Somalia, reports Metroxpress.
Explaining the results, Michael Lerche Nielsen of the University of Copenhagen said among migrants a small number of very similar names was very common, which intensified the concentration of criminal Alaa's.
Yet this does not change the fact that crime is twice as high among migrants and the children of migrants, according to figures from Statistics Denmark.
While the male migrant criminals are responsible for more serious offences, the Eastern and Balkan European women were more often arrested for petty crime, said researcher Gerd Battrup.
He remarked: "Here you find shop thieves. The shoplifters with the wheeled shopping trolleys".
Despite eastern Europeans occupying the top spots in the women's league, on average eastenr Europeans as a whole were not only significantly less criminal than Muslim migrants, but they were less likely to be convicted for crime than ethnic Danes too.
Regardless at the other end of the scale for the least likely to be convicted of crime, traditional Danish names dominate. Traditional women's names such as Rigmore (0.1 per cent), Amalie (0.6 per cent), and Anni (0.7 per cent) are safe bets for parents who would see their children keep on the straight and narrow.
For men Liam (0.2 per cent), Egon (0.9 per cent), and Peter (2.2 per cent) are among the least likely to be convicted.
Follow Oliver Lane on Twitter:

Follow @Oliver_Lane

or e-mail to: olane@breitbart.com