French magazine Charlie Hebdo is marking the first anniversary of the terrorist attack that killed eight of its staff with a new front cover featuring a bearded man with a gun, representing God.
The front page of the special edition, which marks one year since the attacks on 7 January, reads: "One year on, the killer is still on the run" and shows an angry looking God with a Kalashnikov over his shoulder and blood on his robe.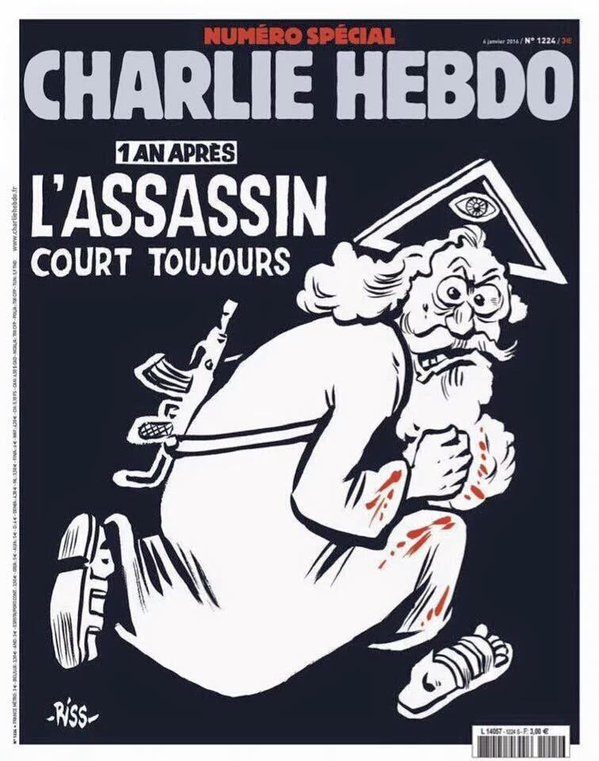 France 24 reports the magazine will be printing one million copies of the edition, with tens of thousands expected to be sent overseas.
Cartoonist Laurent Sourisseau, who drew the front cover, also wrote an angry editorial in defence of secularism. He denounces "fanatics brutalised by the Koran" as well people from other religions who had hoped the attacks would bring about the demise of the publication.
Mr Sourisseau, who is also known by the pen name Riss, narrowly escaped death himself and was seriously wounded in last year's attack.
The magazine has a long history of lampooning religion and had previously angered Muslims by drawing Mohammed on several occasions. In 2011, its offices were firebombed and its staff had to be placed under police protection.
Many of the magazine's top editorial staff, including editor Stephane Chabonnier, were killed when Islamist militants Saif and Cerif Kouachi burst the office and opened fire in the newsroom last year.
The magazine's sales had been dipping before the attack, but afterwards supporters rallied round and 7.5 million people bought the first post-attack edition.
France will hold subdued ceremonies to mark the anniversary, in the wake of November's Paris terror attacks. With the country still on high alert, soldiers will be guarding public buildings and religious sites as commemorative plaques are unveiled at the sites of the attacks.
Only families of the victims and government officials will attend the unveiling ceremonies.
Follow Nick Hallett on Twitter:

Follow @NickJHallett

or e-mail to: nhallett@breitbart.com