The Times newspaper is set to publish a "fantasy autobiography" of a disgraced former UK Independence Party (UKIP) staff member who is alleging that he was bullied by the party leader Nigel Farage.
David Soutter, who acted as the party's Head of Candidates during the 2015 General Election, is set to "tell all" in the Times tomorrow, leading a UKIP spokesman to slam the allegations as "Mr Soutter's fantasy autobiography".
I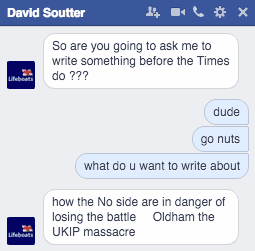 n an e-mail seen by Breitbart London, Times journalist Billy Kenber, who was behind a slew of anti-UKIP stories across 2014/15, quotes Mr. Soutter as having described Mr. Farage as "the rudest man I have ever met", claiming the UKIP boss sent "rude and abrupt messages" to party staff.
Mr. Soutter recently appealed to Breitbart London to write an article on "the UKIP massacre". He said: "So are you going to ask me to write something before the Times do ???"
Six-foot-six tall, heavy set Mr. Soutter was dragged into the public sphere last year after an alleged affair with a prospective UKIP candidate, Natasha Bolter. Mr. Soutter's actions were deemed to be particularly ill-judged after Ms. Bolter had already been allegedly involved with a former UKIP official.
Mr. Soutter was described in the Mail's coverage of the incident as "a close ally of Nigel Farage", though after the incident in question, the party leader is said to have soured on Mr. Soutter's judgement. Finding himself on the peripheries of the European Union referendum campaign, Mr. Soutter has decided to ally with the establishment-run Vote Leave campaign, ostensibly doing his part for them in attempting to undermine UKIP in tomorrow's Times newspaper.
In early January Mr. Soutter wrote to Breitbart London's editor in chief Raheem Kassam, asking whether he should "Stay and fight or bury [UKIP]?" He added: "Raheem I have spent 25 years campaign[ing] I know how to motivate artists organise them run campaigns deliver the message to the public and I am Sat on the sidelines for being loyal to N[igel]. So when I see what is going on I despair".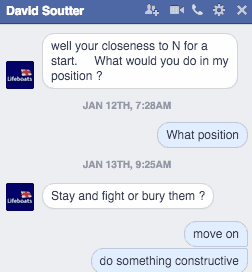 He admitted meeting with the aggressive Tory activist at the heart of Vote Leave's campaign – Dominic Cummings. Mr. Soutter stated: "I have tried to talk to [Vote Leave] but the guy who I was talking to suddenly left so I saw Cummings then he said interested but that was before Xmas".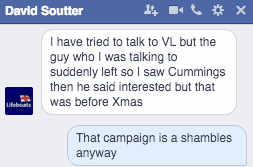 Mr. Soutter wrote again on January 21st, correctly predicting problems inside UKIP's Welsh selection process. He expressed disappointment at the selections made by UKIP Member of the European Parliament Nathan Gill, a Mormon. Mr. Soutter said at the time: "I hate Mormons" adding: "on come on Gill is a twat i need to stick the boot in apart from the fact that Wales was the parties best chance. I thought you stood with them ???"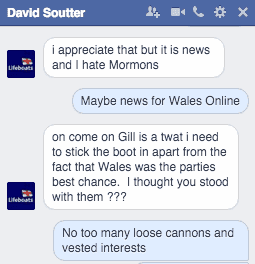 Despite his aggressive tone, Mr. Soutter is now alleging "bullying" from UKIP itself. Mr Soutter told the Times: "It's a type of bullying… I've never heard [Nigel Farage] shout, it's just in put downs. He also hates anyone else getting near the limelight".
"Behind the Farage mask there is no real substance," Mr Soutter alleges, despite claiming just months ago to have been "loyal" to the party leader. He said Mr Farage "frequently he makes it up as he goes along".
A UKIP spokesman said of the allegations: "We look forward to the the Times's next serialised installment of Mr Soutter's fantasy autobiography with great interest."
Mr. Soutter is known to be writing a book about political campaigning for which he is being assisted by the former public relations advisor for the disgraced former Member of Parliament for South Thanet, Jonathan Aitken.
Mr. Soutter told Breitbart London that he is being represented by "his agent" Ashley Merry, who worked with him in the Veritas Party under Robert Kilroy Silk. Ms. Merry said she is just a friend helping Mr. Soutter with his book.
Mr. Soutter told Breitbart London in January: "I want to be involved in the EU campaign and the actions of the party have blocked that and I am very very pissed off".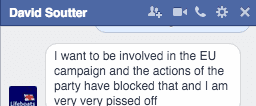 In March 2015, the Mirror reported that Mr. Soutter had told party members: "If I could bury Chris Pain on the sands of Grimsby I would do, but I can't," revealing more aggression on the side of Mr. Soutter.
Breitbart London understands that in recent months, Mr. Soutter has attended a number of meetings in the Houses of Parliament to see "good friends in both Houses".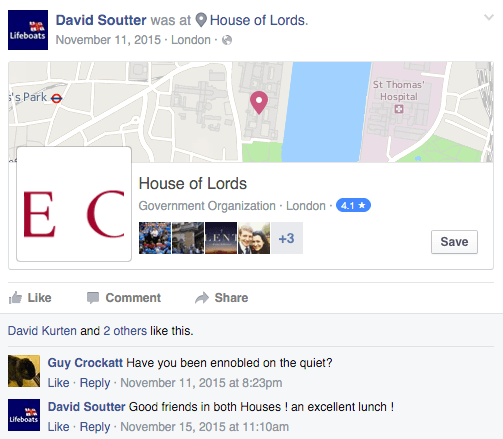 On May 15th 2015: Mr Soutter sent a text message stating of UKIP MP Douglas Carswell: "He is the archetypal Tory MP lets be honest he is a two and half term Tory MP who never managed to even become a bag carrier to one of Eurosceptic ministers".
On May 25th he wrote: "Hell and back for [Nigel]" adding: "Most people don't recognise loyalty".
On May 26th he wrote: "[Suzanne] Evans is complaint about candidates she failed the Tory selection process then deffected (sic) as they said she could not reapply that's from Tory head of selection".
On May 30th he wrote: "Nigel need to know I am still 110% behind him".
The Times, which is believed to be siding with the "in" campaign during the European Union referendum in Britain, was recently reported by one of its former editors to have breached its owner Rupert Murdoch's pledge to be politically neutral by repeatedly attacking UKIP on the run up to the General Election. Billy Kenber, the journalist now publishing Mr. Soutter's claims, was involved in one of a number of articles about UKIP at the time.
A source close to UKIP leader Nigel Farage told Breitbart London: "People will now see why Mr. Soutter was fired".