The horrific murder of Asad Shah, a peaceful Ahmadi Muslim shopkeeper living in Glasgow, has been celebrated online by Muslims who believe his brand of Islam is "false" and "heretical". Previous online postings by the group have also emerged attacking Mr Shah and his brand of Islam, while his family have been advised to go into hiding.
Asad Shah, who regularly posted videos and messages of goodwill to the internet, was stabbed repeatedly in the head outside his shop last Thursday just hours after wishing Christians a happy Easter on Facebook. One witness has said his killer also stamped on him during the frenzied attack.
The murder shocked the community and a flood of tributes has been pouring in for a man described as "warm and friendly". A GoFundMe page set up for his family has already raised more than £100,000.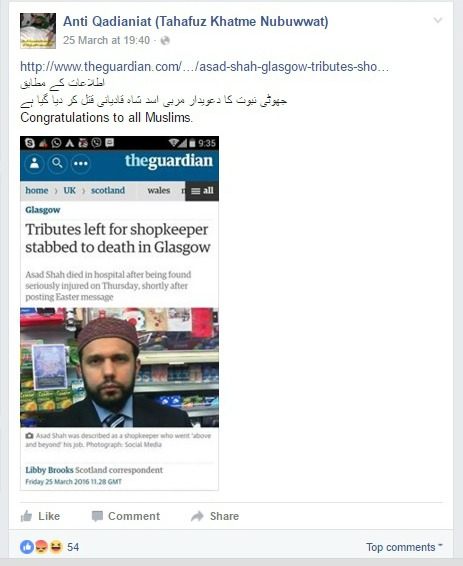 But some Muslims have welcomed the news of his death. Facebook page Anti Qadianiat (Tahafuz Khatme Nubuwwat) posted a screenshot of an article reporting his death alongside the comment "Congratulations to all Muslims."
It has now emerged that the group has a history of animus against Mr Shah for his peaceful views, posting clips of Mr Shah's peaceful preaching onto the video-hosting site DailyMotion and labelling him a "false prophet".
Ahmadi Muslims are considered a heretical cult by other Muslim sects as they recognise later prophets than Mohammed, and reject jihad. Consequently, Ahmadiyya are among the most persecuted of Islamic sects; violence against them is rife in Pakistan and elsewhere within the Islamic world.
Mr Shah's murder appears to fall within this pattern; police are treating the crime as "religiously motiviated", and have confirmed that the two suspects arrested are Muslims.
A source told Scotland's DailyRecord: "The police are ­looking at claims that this man has taken offence to religious posts that Asad made.
"The theory is that he saw what Asad was saying on Youtube and Facebook and drove up to track him down. The hardline Sunni Muslims call Ahmadiyya Muslims kafir. They say they are non-believers.
"It's not unusual in other countries to see them killed just for their beliefs, it's been going on for years.
"But if this is what has happened here in Scotland, it's worrying.
"It's a very extreme view."
It is not clear whether the two men arrested are associated with Khatme Nubuwwat, but a petition has been launched calling on Home Secretary Theresa May to investigate the group on the basis of its support for his murder.
The petition reads: "Khatme Nabuwat's sole purpose is the annihilation of the Ahmadiyya Community, who they refer to with derogatory language as 'Qadiyani cult'. Their website features fabrications about the community and their preachers say that Ahmadis are 'Wajib ul Qatl' – worthy of death.
"We believe there is no place for Muslim sectarianism in the UK and organisations that preach hatred against Ahmadis or others are not practicing free speech, they are indulging in hate speech. We urge that Khatme Nabuwat and other hate preachers who target Ahmadis are investigated and shut down, so that Asad Shah's death is not in vain."
The Facebook post celebrating Mr Shah's death has attracted some derision by Facebook users.
One commented: "If there was an anti Muslim group or Anti Pakistani group these creatures celebrating this murder would be the first to cry about being a victim. There is a special place in hell for the creatures in this group."
Another said: "This disgusts me. Congratulations because a decent man was slaughtered for his affection towards and respect for his neighbours? What happened to Mr Shah was a manifestation of pure evil."
In a statement released via the police, Mr Shah's family have said: "On Thursday evening a beloved husband, son, brother and everyone's friend, Asad Shah, was taken away from us by an incomprehensible act. We are devastated by this loss.
"A person's religion, ethnicity, race, gender or socioeconomic background never mattered to Asad.
"He met everyone with the utmost kindness and respect because those are just some of the many common threads that exist across every faith in our world.
"He was a brilliant man, recognising that the differences between people are vastly outweighed by our similarities. And he didn't just talk about this, he lived it each and every day, in his beloved community of Shawlands and his country of Scotland."
Follow Donna Rachel Edmunds on Twitter:

Follow @Donna_R_E

or e-mail to: dedmunds@breitbart.com