Remain campaign supporters are rushing to blame Brexit backers for today's horrific attack on Labour MP Jo Cox.
Just an hour after a 52-year-old man allegedly shot and stabbed Mrs. Cox, who had been campaigning for Britain to remain in the EU, many online are seeking to tar with the same brush all those behind Brexit.
There is currently no indication that the attacker was a Brexit campaigner, and reports over his shout of "Britain First" – the name of an anti-EU nationalist group – have had doubts cast upon them by Channel 5 news.
Yet in 2010, when al-Qaeda sympathiser Roshonara Choudhry stabbed Stephen Timms, the Labour MP for East Hams, many of those same voices rushed to insist that it had "nothing to do with Islam" and "Muslims can't be blamed".
London Evening Standard front 'Remain MP Gunned Down In The Street' pic.twitter.com/uU5wbifZry

— Allie Hodgkins-Brown (@AllieHBNews) June 16, 2016
Newspapers and websites around the world have also jumped to label the attacker a "Brexit supporter" and the victim a Remainer – despite the fact little is know about his political affiliations.
The Evening Standard described Ms. Cox as a "Remain MP" on their front page tonight. "HORRIFIC ATTACK: MP shot, stabbed by #Brexit supporter", is the headline on one Australian site. A Belgium paper used: "Brexit: a pro-European MP wounded by gunfire in the north of England".
@mickfisk Jo was known for her support for Syrian refugees. The gunman shouted "Britain First". Is this what Brexit has to offer.

— Shirley Joseph (@shirl_joseph) June 16, 2016
@DJPNZ Brexit focus on immigration, stoking up fear of anyone foreign. Man shoots & stabs Remain MP shouting Britain first. There's a link

— ClaudineLewis (@QuietNotStupid) June 16, 2016
https://twitter.com/chrisdeerin/status/743455821682597888
https://twitter.com/alexperryman/status/743447789171056640
Shooter of MP Jo Cox allegedly shouted "Britain First". A wake up call for aggressive #Brexit -campaigns?

— Juhana Harju (@jharju) June 16, 2016
If you ally yourself with Brexit, you are doing so alongside the piece of shit who screamed 'Britain First' while shooting an MP today.

— Liz Tray (@LizTray) June 16, 2016
Sad to see Remainers use Jo Cox's shooting to attack Brexiteers when both sides have suspended campaigning pic.twitter.com/yVML3F1OUG

— Asa Bennett (@asabenn) June 16, 2016
https://twitter.com/Koryo1992/status/743443511094165508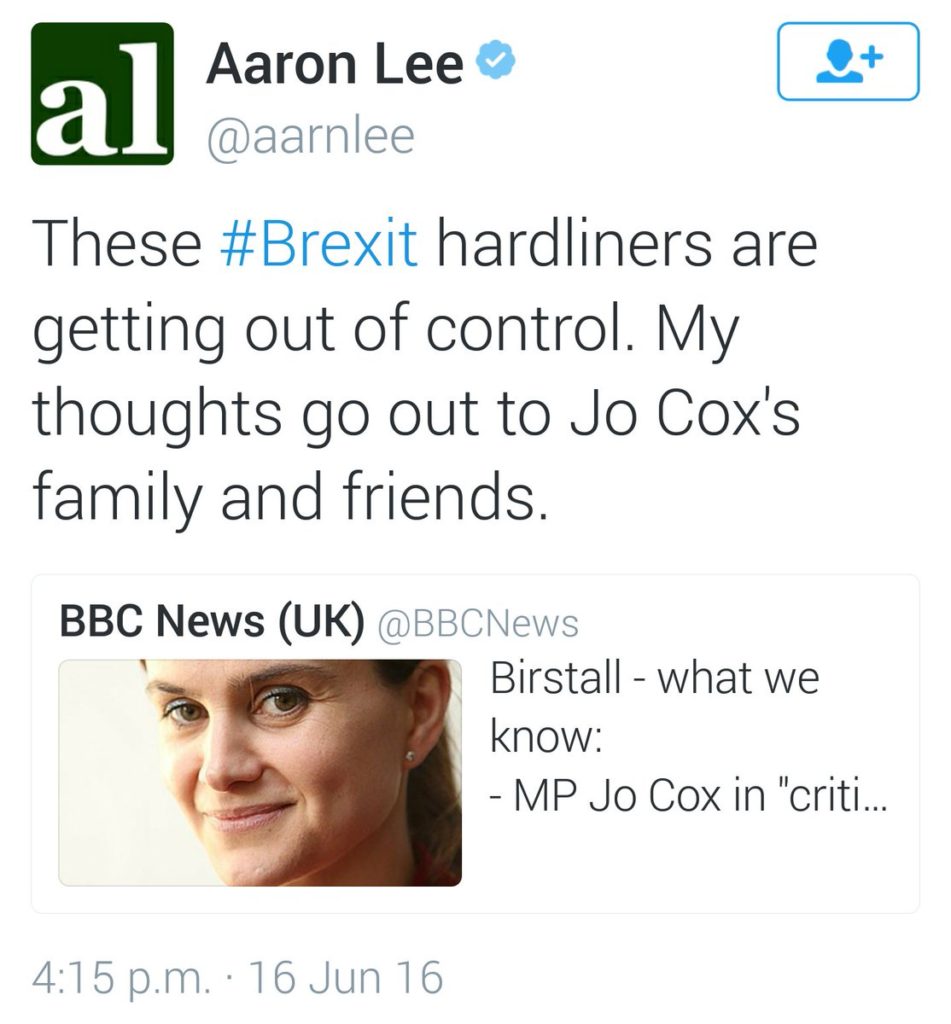 MP Jo Cox shot outside Birstall library by man shouting 'Britain First' #Brexit https://t.co/E4ucfEPtXe via @MetroUK

— Eliot Higgins (@EliotHiggins) June 16, 2016
The "Britain First" Gun/Knife attack on Labour MP Cox appears motivated by far right nationalist reaction to #Brexit+#Drumpf's "America 1st"

— Gratuitous Phil (@GuitarSunCat) June 16, 2016
I note Jo Cox MP was campaigning against #Brexit. Was the assassination attempt a side-effect of the violently polarizing referendum debate?

— Charlie Stross (@cstross) June 16, 2016
https://twitter.com/Jonny_Faulkner/status/743464251877109765