A satirical German magazine has published a front cover mocking Turkey's president Recep Tayyip Erdoğan by depicting him with a fake penis – after Chancellor Angela Merkel approved the prosecution of German comedians who insult the Islamist leader.
"The August issue is out! Now quickly subscribe before Chancellor Merkel Tayyip bans TITANIC", the magazine announced on Facebook, referring to the how a poem mocking Mr. Erdoğan had been banned by the German state in April of this year.
The Turkish government had demanded Germany prosecute comedian Jan Böhmermann after he performed the "libellous" poem, which described Mr. Erdoğan as a "goat fucker", live on German state television.
Mrs. Merkel – who at the time was desperate to win favour with the Mr. Erdoğan so he would uphold the EU's new migrant deal – personally phoned the authoritarian Islamist to apologise, describing the poem as "deliberately hurtful".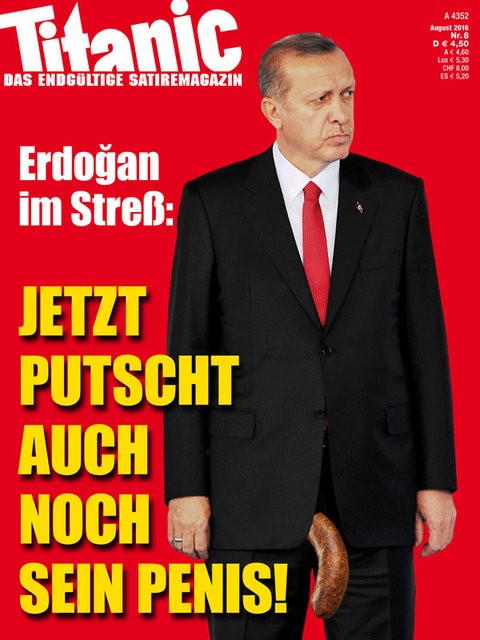 She then gave the green light to the prosecution of Mr. Böhmermann, who could face up to five years in jail in Germany for the crime of insulting a foreign leader.
Titanic, a German monthly satirical magazine based in Frankfurt, has now defiantly stuck its neck out, risking the same fate as Mr. Böhmermann by publishing the (rather generous) image of Mr. Erdoğan with a fake penis.
The cartoonists of Titanic are mainly based in Frankfurt, and are often called the "New Frankfurt School" – a tongue-in-cheek reference to the hard left, postmodern Frankfurt School in philosophy.
Just weeks ago, the Turkish president survived a coup attempt organised by secular generals in the army who accused him of interfering with the democratic process and Islamising the country.
Mr. Erdoğan has used the aftermath to consolidate his power by arresting and detaining more than 15,000 people and shutting down dozens of media organisations, including 45 newspapers and 16 television stations.
Titanic magazine also mocked the authoritarian crackdown on Facebook, writing: "Turks…Erdoğan cracks down after the failed coup: judges and teachers are fired, goats arrested and satirical magazines banned.
"But now he faces a new adversity: another coup, this time of the very, very bottom! Is it the blood, the groin or the pressure to perform? Can the pharmaceutical industry help? In TITANIC's August issue expert give the answers!"
In March, Turkey was promised billions in aid, accelerated membership to the block, and visa-free travel within the Schengen area for its 75 million citizens after Mr. Erdoğan promised to stem the flow of migrant crossing from Turkey to Greece.
The deal and Turkey's suitability for EU membership has been thrown into further doubt following the crackdown and renewed questions over human rights and democracy in the nation.