The BBC has been accused of bias after running a special edition of its leading late night news show focusing on the U.S. presidential election, interviewing numerous Hillary supporters and not one person backing Trump.
"You can never be sure, but it's going her way, so we'll ask those who know what can stop her and what kind of person she is," opened Wednesday night's episode of Newsnight.
The show dedicated around 25 minutes of its 42 minute-long slot to the U.S. election, interviewing a journalist from The Huffington Post and the editor of The New York Times — both publications are backing Hillary — and ran a short film by Mrs. Clinton's close friend Joe Klein.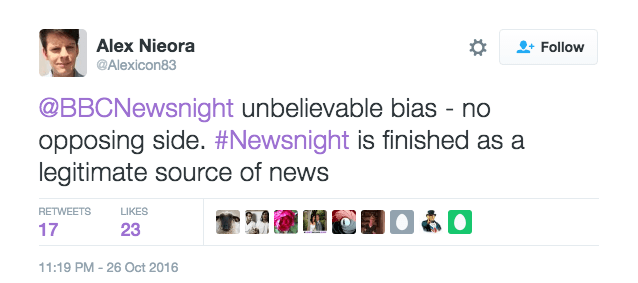 The BBC, the UK's taxpayer-funded national broadcaster, frames itself as neutral and "impartial" but is frequently accused of promoting a left-wing world view.
In the introduction, presenter Evan Davis said Trump had been "breaking the rules of democratic politics, including the ludicrous and lascivious" and conceded Hillary had been "getting less than the usual scrutiny".
The segment then moved to a discussion with Huffington Post pollster Ariel Edwards-Levy, who claimed: "Our current forecast has Hillary in the high 90 per cent chance of winning."
Joe Klein's film followed "to explain why she has his backing for the White House". Mr. Klein is a columnist for Time magazine who has written a novel about Bill Clinton's first presidential campaign.
"Who or what is Hillary Clinton, apart from probably the next president?" he asked. He claimed that despite dozens of investigations into her finances and conduct in the Benghazi controversy, her actions were always "perfectly proper" and "totally legal".
Despite numerous allegations of bribery and dishonesty, Mr. Klein reassured viewers Hillary was a "solid public servant" and "the sober designated driver".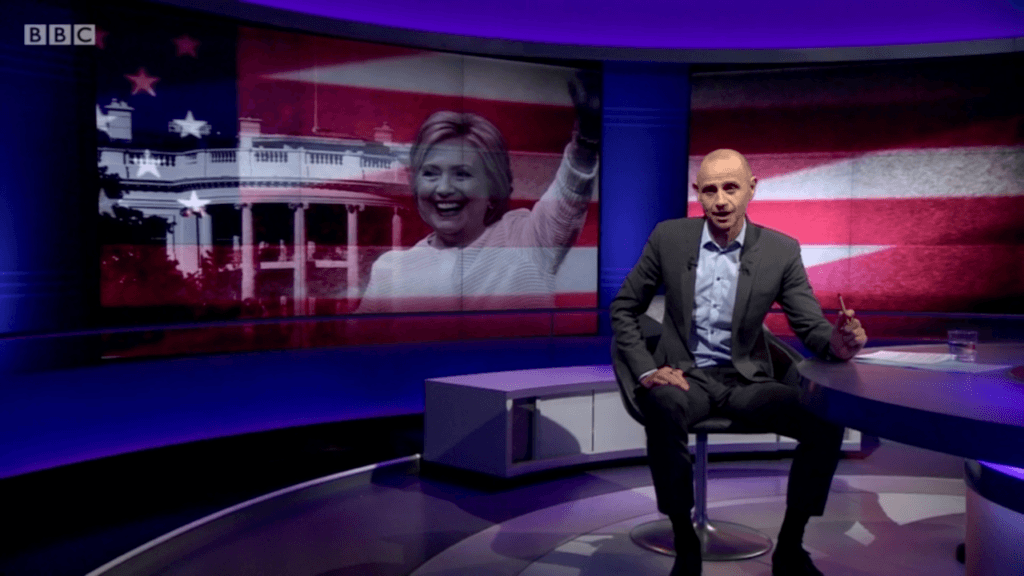 "Well, I'm not Hillary Clinton, but I think she'd approve that message", joked Mr. Evans, the presenter, as the film finished.
Dean Basquet, the editor of The New York Times, which has officially come out in support of Hillary, was next.
"The argument was that she is a strong candidate", he said in relation to the paper's endorsement, but "a very powerful anti-Donald Trump argument was part of it", he added.
He also claimed there was "no evidence" the Clinton Foundation was corrupt, insisting it was "a large, gift-giving foundation".