PARIS (AFP) – Jean-Luc Melenchon, a fiery Communist-backed eurosceptic vowing to return "power to the people" as France's next president, says he has mellowed after years spent giving the establishment a tongue-lashing.
"I'm less of a hothead," said the bespectacled 65-year-old in a recent interview. "I'm becoming a reassuring figure."
In an election season marked by widespread disillusionment with the political class, the head of La France Insoumise (France Unbowed) is now among the top four candidates in the April 23 first round of the two-stage vote.
Observers say strong debate performances showcasing a milder but still quick-witted Melenchon helped propel him into joint third place with the scandal-hit conservative candidate, Francois Fillon.
Suddenly part of a close-fought four-way affair, they are nipping at the heels of joint frontrunners Marine Le Pen of the far-right National Front (FN) and centrist former Socialist Emmanuel Macron.
The two leaders of the first round will go through to a runoff on May 7.
Melenchon "invented political stand-up. He's become a showman," said former Socialist Party colleague Julien Dray. "This style keeps him from being too harsh. He's in teaching mode, the old professor giving lessons about the world and how to change it."
Melenchon also has an internet edge, boasting more than a million followers on Twitter and his own YouTube channel — a way to circumvent the traditional media, which he accuses of bias.
– Stump rhetoric and social media savvy –
And he has turned heads with simultaneous appearances at campaign rallies using holograms, a technological first for a French presidential campaign and a sign of renewed vigour.
With the Socialist Party split between leftist and reformist camps under President Francois Hollande, its 49-year-old candidate Benoit Hamon is languishing at distant fifth place in the polls.
For many, Melenchon, after emphatically refusing to ally himself with Hamon, has emerged as the main voice on the left.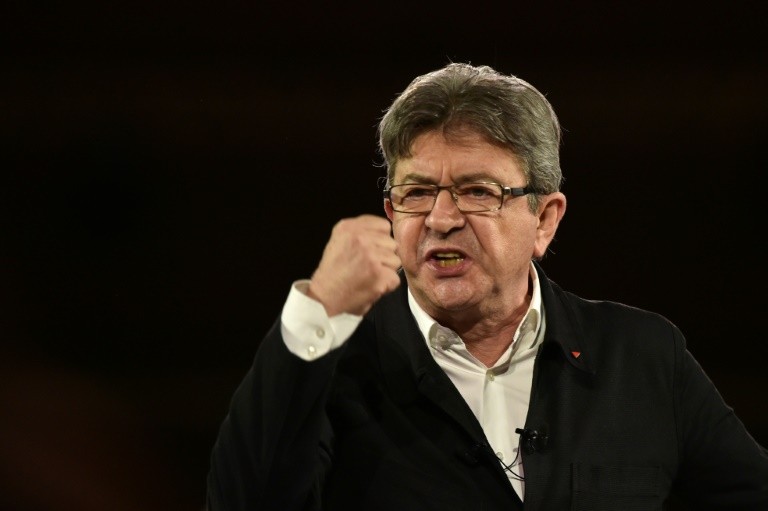 Often appearing at rallies wearing a Mao jacket, Melenchon speaks without notes as he rails against the "neoliberal" European Union and stumps for his tax-and-spend agenda.
But while he shares Le Pen's animosity toward the EU — they are both currently MEPs — Melenchon is her polar opposite when it comes to immigration.
"Today as yesterday, I am delighted that France is a mix of races and all the children are our children," he has said.
An admirer of late Venezuelan president Hugo Chavez as well as Bolivian leader Evo Morales, he advocates a policy of non-alignment and wants France to withdraw from NATO.
While his supporters see him as a defender of the people against monied interests, to his detractors the candidate who wants to legalise cannabis is a populist firebrand and dangerous — Hollande called him a "peril" while the right-leaning Figaro daily called him the "French Chavez".
Born in Tangiers, Morocco, Melenchon, who studied philosophy, was a Trotskyist student activist before joining the Socialist party at age 25.
He became the youngest member of the Senate in 1986.
– 'Our country needs another voice' –
Later he served as vocational education minister under Socialist premier Lionel Jospin from 2000 to 2002.
But in 2008, Melenchon fell out with then party leader Hollande and quit the Socialists, saying "our country needs another voice on the left".
With his virulent attacks against bosses and austerity policies, he won 11 percent of the vote when he ran for president in 2012 as head of the Parti de Gauche (Left Party).
This time he has emerged as a charismatic alternative to Le Pen and the other "outsider", the pro-business Macron, vowing to scrap France's "monarchical presidency" and give far more powers to parliament.
While anger management may have softened Melenchon's image, the candidate insists he still has fire in his belly. "You can't propose what I am proposing with the look of a choir boy… Sometimes there's no choice, you have to kick the doors open."
And he certainly had fighting words last week when he said the French would "spit blood" if Fillon, Macron or Le Pen emerges victorious in May.
"Mr Melenchon may have tried to create a softer, more controlled image, but his true nature is there for all to see," said Fillon.