President Trump was given a rapturous welcome as he arrived in Poland, with huge crowds turning out to cheer his public address at the site of the Warsaw Uprising memorial in Warsaw.
Before President Trump's arrival, Law and Justice Party representative Dominik Tarczynski had predicted the welcome was "going to be huge – absolutely huge".
Tarczynski's conservative party was elected on a wave of patriotism after it adopted a strong anti-mass migration, anti-globalist stance in 2015, and supporters recognise something of a kindred spirit in the U.S. president.
"They just love him, the people in Poland — they just really love him," Tarczysnki said.
Thousands of enthusiastic people want to see #Trump. Poland love America. #TrumpinPoland #TRUMPwPOLSCE @realDonaldTrump @POTUS pic.twitter.com/ugtibIgNyT

— BeautifulWarsaw🇵🇱❄️ (@BeautifulWarsaw) July 6, 2017
"Regarding refugees, the Polish government has the same position as Americans – we want strict restrictions on refugees," said Krzysztof Mróz, another Law and Justice politician, who laid on transport for almost 100 admirers who travelled 300 miles from his district to Warsaw to welcome the U.S. leader.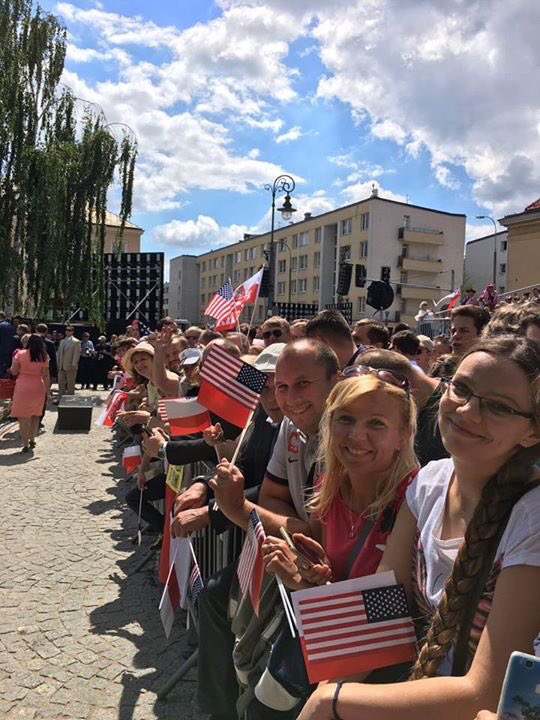 The conservative lawmakers' predictions were realised on Thursday afternoon, with thousands of people gathering around Krasiński Square to hear President Trump express his admiration for the Polish people, their long history of struggle and sacrifice for freedom, and their contributions to his own country.
.@POTUS: I come here to your country to say: America loves #Poland and America loves the Polish People! #POTUSPL pic.twitter.com/z7w3jBJFNb

— Embassy of Poland US (@PolishEmbassyUS) July 6, 2017
"The story of Poland is a story of people who have never been broken and never forgotten who they are," declared the president, who showed their appreciation by chanting his name and cheering "USA!"
The speech was preceded by a wreath-laying at the Warsaw Uprising memorial where the president spoke. He lauded the bravery of the Polish freedom fighters who struggled to overthrow their German occupiers in 1944 whilst Soviet forces looked on, unmoved, refusing to move in until after the battle was settled.
Prezydenci Duda i Trump złożyli wieniec pod pomnikiem Powstania Warszawskiego. #TRUMPwPOLSCE pic.twitter.com/OnzUKhJBz2

— Zbigniew PISARSKI (@Pisarski) July 6, 2017
President Trump also offered tacit support for the Polish government in its ongoing struggle with the European Union over whether or not it should be able to force them to accept a quota of migrants from Africa, Syria, and elsewhere by reiterating his own policy:
"While we will always welcome new citizens who share our values and love our people, our borders will always be closed to terrorism and extremism," he asserted.
.@POTUS: Together let us fight like the Poles for family, for freedom, for country and for God. #POTUSPL pic.twitter.com/ALawY8RWna

— Embassy of Poland US (@PolishEmbassyUS) July 6, 2017
The president also recounted how the Polish people committed themselves to God after one of their own, the late Jean-Paul II, was elected Pope, and how it was at this moment that the old Communist system was doomed.
"Americans, Poles, and the nations of Europe value individual freedom and sovereignty. We must work together to counter forces, whether they come from inside or out, from the South or the East, that threaten over time to undermine these values and to erase the bonds of culture, faith, and tradition that make us who we are," he declared.
"We put faith and family in front of government and bureaucracy."
Follow Jack Montgomery on Twitter:

@JackBMontgomery