Médecins Sans Frontières (MSF) has suspended its so-called "rescue" missions ferrying migrants across the Mediterranean to Europe.
Françoise Bouchet-Saulnier, responsible for MSF ship Prudence, has said the NGO will cease its activities pending explanations from Libya's nominal government over warnings that "NGOs which pretend to want to rescue illegal migrants and carry out humanitarian actions" are no longer welcome in the search-and-rescue zone in and around their waters, Radio France Internationale reports.
Earlier this week, a Libyan Coast Guard vessel approached another NGO ship — the Golfo Azzurro, operated by Proactiva Open Arms — and fired warning shots at it.
The crew say they were told: "We have been watching you for the last two days. You are carrying out suspicious activities, we have confirmation that you have dealings with traffickers, do not come back to our waters."
The Libyans supposedly added: "Never come back, otherwise [we] will shoot you."
Sucedió ayer 8:30am en aguas internacionales. Patrullera guardacostas Libios, formados y financiados #UE, amenaza y dispara #OpenArms pic.twitter.com/tYqeBDFclF

— Proactiva Open Arms (@openarms_fund) August 8, 2017
Back in February 2017, the EU Border Agency (Frontex) described NGOs in the Mediterranean as acting "like taxis" for illegal migrants, having determined that their operations off Libya helped people-smugglers to "achieve their objectives at minimum cost [and] strengthen their business model by increasing the chances of success".
Consequently, their "rescue" missions were encouraging more migrants to attempt the dangerous sea crossing to Europe and, perversely, increasing total drowning deaths.
The Frontex analysis was soon followed by several accusations of direct collusion between NGOs and people-smugglers, with the Italian authorities impounding the ship Iuventa after photographic evidence appeared to show it accepting transfers of Europe-bound migrants from smuggler boats directly.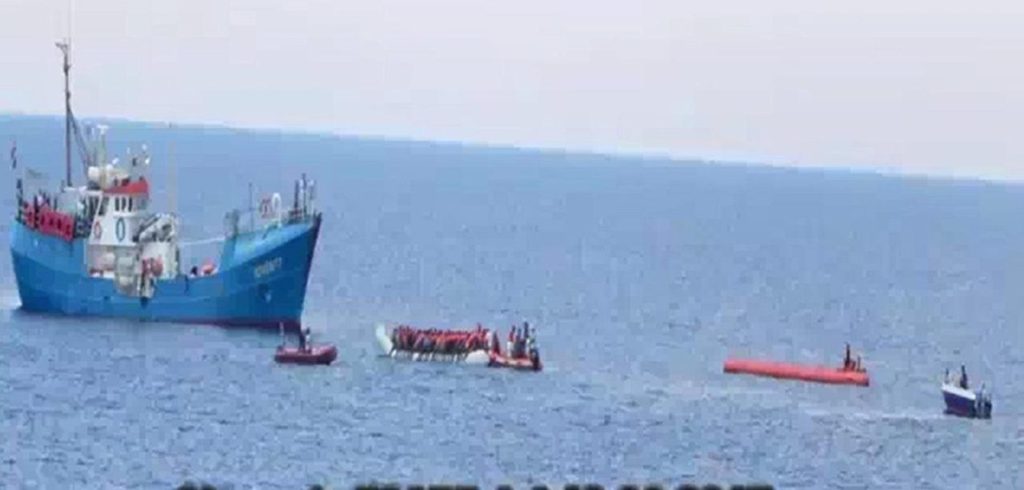 The "Iuventa"  collects migrants from individuals identified as people-smugglers by the Italian authorities. Photo: Polizia di Stato
Despite the urgings of former Australian premier Tony Abbott to adopt his own country's tough love 'Stop the Boats' strategy — which sees would-be migrants turned back at sea or processed off-shore and settled in third countries, thus slashing attempted journeys and the accompanying drownings to near zero — for a long time nothing was done.
However, the recent impounding of the Iuventa and the Libyan security forces' stern instructions to NGOs — coupled with the commencement of direct action by Italian warships within Libyan waters — may represent a gamechanging development in the region.
Source: GEFIRA
Fo

llow Jack Montgomery on Twitter:

@JackBMontgomery
Follow Breitbart London on Facebook:

Breitbart London