Crimes against the person in Sweden have risen to "the highest level since measurements began", according to the latest National Security Survey.
"Vulnerability to fraud, sexual offences and harassment has increased," confesses a press release issued by the Scandinavian country's Crime Prevention Council (Brå).
Fully 15.6 per cent of the population aged 16-79 were subjected to abuse, threats, sexual offences, personal property, fraud, or harassment in 2016, based on a sample of 12,000 people.
Brå notes that "young women aged 16-24 are the most vulnerable to sexual offences", and reveals that an astonishing 14 per cent of young women in that age group — and 1.2 per cent of young men — were "subjected to at least one such crime" in 2016.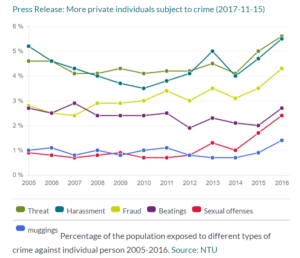 Worryingly, the Crime Prevention Council's data suggests that only 11 per cent of those exposed to sexual offences in 2016 reported them to the police, with the figures for harassment and threats similarly low, at 26 per cent and 23 per cent, respectively.
"The most common reason for not reporting the crime is that the victim does not believe the police can do anything," admitted Thomas Hvitfeldt, Unit Manager at Brå.
Åsa Strid, Hvitfeld's deputy, tried to suggest that while young women are now "not only more vulnerable to harassment, [but] also more often subjected to sexual offences", there are "no answers to why a type of crime increases" — or not any recorded in their data, at any rate.
CLAIM: Swedish Police Covered Up Migrant Sex Assaults Of Teenage Girls For YEARS https://t.co/k9NFlRTR7M pic.twitter.com/KMwNASfdMa

— Breitbart London (@BreitbartLondon) January 11, 2016
Swedish media reported in September that crime reports at piling up so rapidly that even very serious incidents, such as child rapes and gang rapes, are being left uninvestigated for extended periods of time due to lack of resources.
"It is difficult to explain why rape cases pile up, but the other crimes are considered even more serious. It is a no-win situation we have to choose from," confessed Torgny Söderberg, head of the police investigation unit in Stockholm.
Swedish Police Stop Reporting Suspects' Ethnicity For Fear of Being Branded Racist https://t.co/AO6VaIAcPv pic.twitter.com/MtRtbkYpGv

— Breitbart London (@BreitbartLondon) January 15, 2016
Few seem willing to link Sweden's growing crime wave with an enthusiasm for EU-sponsored mass migration on a par with Angela Merkel's Germany.
Lawyer Elisabeth Fritz has claimed that a majority of suspects in rape cases are migrants and urged Sweden to "lift the lid" on the issue.
Police are reluctant to record the ethnicity of suspects, and the government have refused to release detailed information on the relationship between crime and the growth of migrant communities.
Follow Jack Montgomery on Twitter:

 @JackBMontgomery
Follow Breitbart London on Facebook:

 Breitbart London